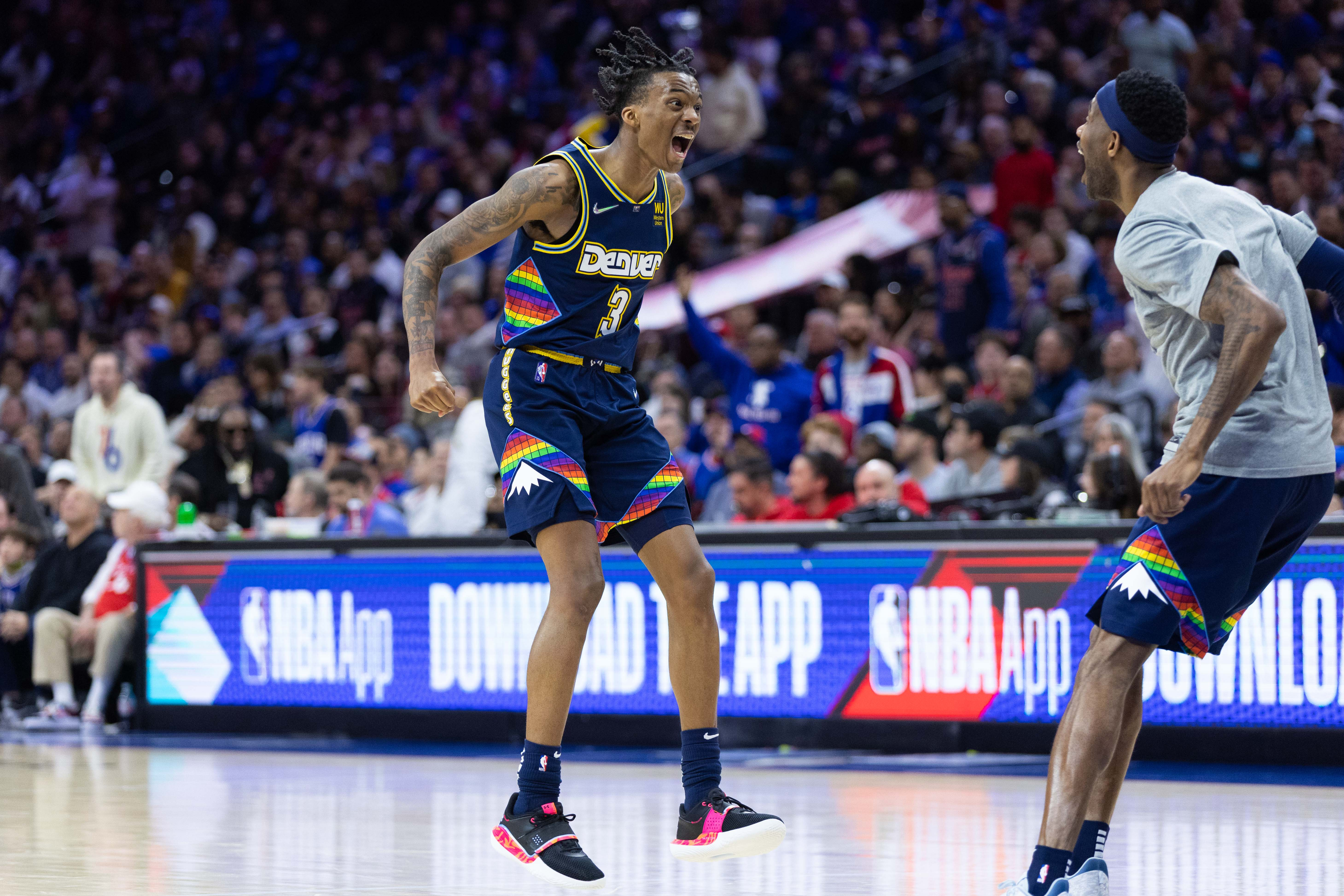 When Bones Hyland sat down behind the podium in Philadelphia after his phenomenal game in a dramatic come-from-behind win against the Philadelphia 76ers, he was answering questions with his typical extreme enthusiasm.
Who could blame him? He had just put up 21 points and four 3-pointers in Philadelphia – 30 minutes from his hometown of Wilmington, Delaware – with 600-700 of his supporters in attendance after making the half-hour drive.
"I probably had like 600 or 700 people here. Probably way more than that; it was so many," Hyland explained during his postgame press conference. "Just to come back to a hometown so close to my city – it is 30 minutes away – and put on a show here; that is a dream come true for me."
Even amidst his success and excitement, the interview took a heavier turn when Hyland was asked about the fire department that saved him from the fire that took his grandmother and baby cousin in 2019. The magnetic smile that usually adorns his face shriveled up into a blank stare. His eyes began to look distant. The infectious enthusiasm dissolved into a cold stoicism.
At that point, all Hyland could do was politely say, "next question; I am sorry," before letting his head drop as his eyes found the floor. It took Hyland over 30 seconds to raise his head and wipe away the tears before asking a reporter to repeat his question one last time so that he could answer it correctly.
The loss of his grandmother seemed overwhelming. The agony of re-living her death was clearly all-consuming. Even through the lifeless screen of a Zoom conference call, the despair was almost overwhelming when compared to the Hyland's quintessential joyfulness. It became clear that behind the smile Hyland usually displays, there is still an aguish that had not let go.
To play in front of more than 500 people who have such high hopes for Hyland is already an incredible amount of pressure before even considering the magnitude of the game itself, but when adding in the pain of losing his grandmother resurfacing, the emotions became to much to bear after the game had concluded.
But during the game? That was where Hyland was able to release everything. It is where he finds his safe haven.
---
Hyland was humming with energy from the second he stepped between the lines. He knew he had a chance to put his hometown of Wilmington on the map during a national TV game in Philadelphia with all of his fans, supporters and loved ones watching; most of which were in person cheering him on.
For Hyland, this game was more than a chance to prove his worth as a NBA player; this was his chance to show every kid in Wilmington that any one of them could be in his position.
"Like I always say, I am the kid that wants to show the next kid in the city that it could be you in my position," Hyland explained. "Growing up, I never had someone who could show me the ropes and give that guidance. So I want to be that guidance for the youth and keep leading and keep showing them it could be them on this stage too."
Everywhere Hyland goes, he reminds people of where he is from. He cannot help himself and feels that he has to bring up his roots and the impact his family has on his life. If Hyland manages to limit himself and does not bring up his family and hometown of Wilmington, Delaware, the tattoos on his body are a constant reminder for all to see.
"I always say that every tattoo on my body is something I play for or stand for," Hyland explained. "On my left shoulder I have my baby brother and grandmother. That is who I play for. Every time I check into the game I do the cross across my chest just to be thankful that I am still in this position just to play basketball because the doctors told me four years ago that I would never play basketball again. That is something I thank the Lord for; keeping me on this level and keeping me going. That is something I play for every day. Just go out there and play with joy and play with that swag and just be me at all times."
That is why Hyland is so beloved by his hometown. It takes mere seconds to understand how genuine Hyland's love of the city that built him is. His respect for his roots is pure. That type of loyalty and has earned Hyland the respect of his neighbors and peers.
That is why over 500 people showed up in Philadelphia just to get a peak at Hyland, the pride and joy of Wilmington, Delaware.
"It wasn't just Bones' family and friends. It was like a community effort," Malone explained when asked about all of the people who came out to Philadelphia to see Hyland play and cheer for his success. "You know one thing about Bones — he reminds me of Will Barton in this regard — he takes a tremendous amount of pride in where he is from and the people who have helped him get here."
"That is not something I take for granted," Hyland explained. "Not a lot of people have a big support system. Even in Summer League they came and travelled all the way to Vegas. You saw a lot of people there just cheering and supporting me. When you do good to people, you get good bad. I am a humble kid. I wear my city on my forearm. I am always going to put on for my city. I am playing for things bigger than me."
---
Hyland wants the world to know where he came from so badly that it has even manifested in his game.
The gutsiness and fearlessness that has become a staple of his style of play comes directly from his upbringing in Wilmington. Hyland knows that the only way forward is to be relentless and that mindset has fueled his progression. He attacks every opportunity as if it could be his last. It does not matter how big, small, strong, skinny, or powerful he or his opponent is; as long as Hyland has the skills he learned in Wilmington, he knows he will find the way forward.
"I am fearless. I grew up in a tough environment. That is what made me who I am today," Hyland stated confidently. "I just go out there; not the biggest or strongest, but I have the biggest heart and I want to show everyone that I have the biggest heart out there every time I step between those lines.
"Everybody bleeds like I bleed. Thats how I am."
That mindset fully prepared Hyland for Denver's battle with the 76ers which ended up being comparable to a playoff environment. Amidst the pressure and chaos of a tough road game like that, Hyland thrived.
There was no better example of this than when Hyland accumulated nine points in 71 seconds before hitting his fourth 3-pointer of the fourth quarter to essentially bury Philadelphia.
"Oh, man," Hyland said while laughing when asked about his four 3-pointers in the fourth quarter. "I just knew I was going to get hot and hit a couple bombs. I kept telling saying to myself, 'I know I am going to hit it; I know I am going to hit it'. I got two opportunities where I was wide open and I hit one and then there was one got in transition and I was like, 'I am letting this one fly' so I let it fly and it was bottoms."
There is that relentlessness and fearlessness. Denver was only up by one point when Hyland fired away for his first made 3-pointer of the night, but by the time he hit his fourth and final triple, it was not to keep the Nuggets afloat; it was to slam the door on the 76ers hopes of winning with under two minutes left in the game.
"I know a lot of the hoopla around the game was around Nikola Jokic versus Joel Embiid and I understand why; two dominant big men who are MVP candidates, but for us it was just important to get a win," Malone explained. "We did not want to lose three games in a row at this stage in the season."
Hyland knew that and he came through with 21 points on 7-14 shooting to go with four made 3-pointers as well as four rebounds, two assists and just one single turnover. Even in a game featuring the two leading MVP candidates in Nikola Jokic (+170 according to FanDuel) and Joel Embiid (-170 according to FanDuel), there was no possibility to overlook Hyland's contributions.
Ultimately, Hyland is the one who slammed the door closed on the 76ers after earning the right to close out a very tight game between two contenders in their respective conferences.
What a homecoming for the rookie.