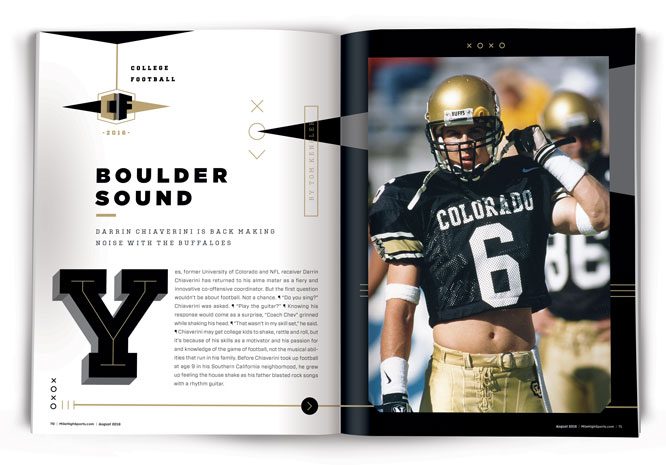 This story originally appeared in Mile High Sports Magazine. Read the full digital edition here.
EDITOR'S NOTE: Just days after submitting this story, longtime Colorado sports journalist Tom Kensler suffered a brain aneurysm that left him hospitalized in a coma. Multiple surgeries were not successful and Kensler passed away July 22, 2016. He retired from full-time reporting in 2015 after nearly 26 years with the Denver Post. We are both saddened and honored to publish his last story.
Yes, former University of Colorado and NFL receiver Darrin Chiaverini has returned to his alma mater as a fiery and innovative co-offensive coordinator. But the first question wouldn't be about football. Not a chance.
"Do you sing?" Chiaverini was asked.
"Play the guitar?"
Knowing his response would come as a surprise, "Coach Chev" grinned while shaking his head.
"That wasn't in my skill set," he said.
Chiaverini may get college kids to shake, rattle and roll, but it's because of his skills as a motivator and his passion for and knowledge of the game of football, not the musical abilities that run in his family. Before Chiaverini took up football at age 9 in his Southern California neighborhood, he grew up feeling the house shake as his father blasted rock songs with a rhythm guitar.
Ed Chiaverini was an original member of the surf rock band "The Lively Ones" in the early 1960s. Perhaps the group's most famous song, "Surf Rider," was chosen for the movie soundtrack of the 1994 cult classic "Pulp Fiction" – more than three decades after the tune had been released. A copy of the platinum album for the movie soundtrack adorns a wall at the Chiaverini homestead back in California.
How many college football coordinators are the son of a lounge singer? Ed Chiaverini, using the stage name "Eddie Day," still performs as a one-man show at age 70 for two nights a week at an Orange County cocktail lounge, The Fling.
Bill Murray, "Saturday Night Live's" indelible "lounge lizard," would be proud.
"Dad packs the place. He's the best," Darrin said. "It's interesting that my dad's kids didn't seriously pursue music and follow in his footsteps. But Dad was a great athlete, too."
Ed Chiaverini continues to play ice hockey in an adult league. In addition to football and baseball, Darrin grew up playing both ice hockey and roller hockey.
"I told Dad, 'You're crazy to still be playing hockey,'" Darrin said. "I told him I won't be doing that when I'm 70."
Darrin earned college scholarship offers from some schools to play both football and baseball, but his first love was football. He loved the competition. He loved the physicality. He loved the teamwork involved.
And he was good at it.
"Probably when I was 12 or 13, I could see that I was better than other kids," Chiaverini recalled. "I was scoring touchdowns and doing things that other kids weren't doing. I just really embraced that. I wanted to be the best I could be. I'd go to the park and run pass routes on my own."
As a senior at Corona High School in the Los Angeles area, Chiaverini led the state of California in receptions (88). That caught the eye of then CU coach Rick Neuheisel. Neuheisel arrived for the home recruiting visit with, you guessed it, a guitar slung over his back. Neuheisel was determined to land the sure-handed receiver.
"My dad had a studio upstairs and they went up there and jammed," Darrin said. "Dad actually recorded Coach Neuheisel singing 'Margaritaville.' It was pretty cool. He and Dad had a great time."
Fortunately, Darrin loved CU. He might have broken his father's heart had he picked another school.
One of Neuheisel's first commitments after the young coach replaced legendary Bill McCartney in late 1994, Chiaverini became a key contributor on Buffs teams that went 33-14 and won three bowl games in four seasons, from 1995-98. He finished his college career with 97 catches. At the time, his receptions total ranked seventh in school history and still rates in the top 15.
The only downer: CU lost to hated rival Nebraska all four seasons. Three of those losses were by a margin of five points or less.
"That was brutal," Chiaverini recalled. "Those games against Nebraska will always haunt me."
Although faster and more athletic than some may have guessed, Chiaverini was best known on the playing field for his grit and determination. He would go across the middle or make a downfield block. Whatever it took.
Chiaverini was voted a captain by his teammates and then was named the inaugural winner of the "Buffalo Heart Award" – an honor voted by fans that sit behind the team bench during Colorado home games. It recognizes the CU senior "who best demonstrates the heart and competitive spirit of a Buff."
"It's pretty cool knowing that I'll always be the first recipient of the Buffalo Heart Award. That means a lot," Chiaverini said. "But my favorite memory from playing at CU was being named captain. Having my teammates think that much of me just empowered me to want to lead."
Chiaverini will never forget the 1999 NFL Draft. He had been told that his draft grade slotted him somewhere between the third and fourth rounds. Those rounds came and went, however and Chiaverini recalls the waiting becoming stressful, if not excruciating.
Cleveland finally selected him with the 15th pick of the fifth round, No. 148 overall.
"You see players getting picked before you and you know you're a better player than they are," Chiaverini said. "But when you get that phone call, it's the happiest day of your life. Then, it doesn't matter what round or what team."
His pro career couldn't have started off much better. Chiaverini set Browns rookie receiving records with 44 catches for the season and 10 (for 108 yards and a touchdown) in a game against Jacksonville. Unfortunately, Chiaverini would catch only 18 more NFL passes in a pro career that lasted four seasons. His playing time diminished with the Browns in 2000 and he was traded to Dallas prior to the 2001 season. As a backup receiver, Chiaverini recorded 10 catches and two touchdowns with the Cowboys but was waived the following summer. He signed with the Falcons in 2002 but injuries limited him to seven games in what would become his final NFL season.
"That's why the NFL is called 'Not For Long,'" Chiaverini said. "A lot of things in the NFL are out of your control. But I was blessed to play in the NFL. There are so many guys that don't make it."
Unwilling to end his playing days just yet, Chiaverini logged three seasons in the Arena Football League, catching 213 passes for the Austin Wranglers. But no NFL teams came calling and he decided to embark on a coaching career.
"I always knew I was going to coach," he said. "I love being around the players. I love being around coaches. I love being part of a team."
To Chiaverini's credit, he respected the coaching profession enough to not feel entitled to a job because he had an NFL background. He was willing to work his way up. That meant stints at two junior colleges in California and an internship at UCLA under Neuheisel where Chiaverini earned all of $800 a month with a wife and two young children.
"I always thought I needed to go earn it," Chiaverini said of the coaching profession. "That's what I had to do as a player, and I didn't want it to be any different as a young coach. I thought I needed to learn. I wanted to work on my skill set and become a better teacher. I'm still learning. I think once you stop learning, then you stop growing."
In hoping to soak in all he could about offensive football, Chiaverini got lucky. He assisted on a Riverside (Calif.) City College team that set school single-season records with 6,399 yards and 49.6 points per game. Spending the past two seasons at Texas Tech enabled him to study the thick playbook of Red Raiders coach Kliff Kingsbury, a disciple of passing-game guru Mike Leach.
"Chev has a great background," CU coach Mike MacIntyre said. "And he does a good job with players and their fundamentals. I've been pleased with that."
The contributions that Chiaverini could make to the CU program became immediately evident in mid-December when Chiaverini, 37, left his job as Texas Tech's special teams coach and outside receivers coach and returned to Boulder after 17 years to share CU's offensive coordinator duties with Brian Lindgren.
CU assistant coach Darian Hagan, the former Buffs quarterback, said Chiaverini may be impacting the coaching staff as much as the players.
"Chev is a fun guy, but he's also a perfectionist," Hagan said. "I think his passion for perfection is what we've been missing. His passion has all the coaches in the same boat and rowing in the same direction."
Then just 32, Lindgren became one of MacIntyre's first hires in 2013. Lindgren had the title of offensive coordinator to himself until Chiaverini arrived, but Lindgren has displayed no animosity. The situation could have become divisive, even ugly, in the coaching offices. But by all accounts, their working relationship is going great.
It helps that both won't be upstairs on game days. Chiaverini has heard stories about CU's turbulent 2011 and 2012 seasons under Jon Embree when offensive coordinator Eric Bieniemy and quarterbacks coach Rip Scherer sat together in the coaches box. They argued so loudly it could be heard in adjoining booths.
During game days, Chiaverini will be alongside MacIntyre on the sideline.
"My responsibility as co-coordinator is to be heavily involved in everything we do," Chiaverini said. "But at the end of the day, you have to have only one play caller. Brian will call the plays, and I will support him. We're going to structure the game plan together. I'm going to give him information. But you can't have both upstairs."
Chiaverini isn't about to give away any game plans but acknowledged that CU's offense will feature about 50 percent "new stuff."
There's a lot of teaching to do. During spring ball it already was evident Chiaverini had gained the players' attention and respect.
Junior wide receiver Shay Fields laughs and says they have no choice. Chiaverini was a communications major at CU and speaks his mind – often with the volume amped up.
"Coach Chiaverini brings a lot of enthusiasm," Fields said. "He's out there waving his arms, jumping up and down. He's getting excited and the whole offense gets excited. We feed off his energy."
Chiaverini says his coaching philosophy and competitive spirit were shaped in large part from his college and professional playing days. But family experiences also made a huge impact.
Darrin and former CU defensive back Ryan Chiaverini are twins, facilitating the ultimate sibling rivalry.
"We're best friends," Darrin said. "But we are both competitive, so as kids there were a lot of fistfights between us in the Chiaverini household, usually over a video game or something we were playing in the backyard."
Coloradans may remember Ryan Chiaverini as a young sportscaster for KUSA Channel 9 in Denver from 2002-06. A few years earlier, Darrin and Ryan were football teammates at CU. Darrin had helped convince Ryan to transfer from Beloit College in Wisconsin and join him in Boulder by walking on at CU. It was a thrill for both when Ryan was placed on scholarship for his senior year.
Ryan Chiaverini departed KUSA for Chicago, one of the nation's top TV markets. After years of covering Chicago's pro teams for the city's ABC affiliate, Ryan left sports and now hosts the popular "Windy City Live" talk show. How's this for pressure: "Windy City Live" replaced the Oprah time slot for that station.
Darrin said he either phones or texts his twin brother every day. "I'm obviously proud of what he's doing in his profession and he's proud of what I'm doing," Darrin said. "I'll ask things about football and what to do. It's been good for both of us."
Sadly, the impact of Darrin's relationship with another brother provokes a different emotion. Zach Chiaverini committed suicide at age 20 in 2009. Darrin still finds it difficult to talk about.
"I have to open up to people to do that," Darrin said. "The first time I ever mentioned Zach to anyone outside our family was to my players at Texas Tech. Now, I'll do that with every group I coach.
"I talk about Zach and tell them, 'No matter how bad something gets, don't ever give up. No matter how dark it is outside, the sun will always come up. Never think that anything is too insurmountable to overcome. It's important for people to know there is help out there. You can always reach out to somebody.'"
Chiaverini is optimistic about the Buffs' chances to turn things around in 2016 and proclaims his excitement regularly via Twitter and other social media outlets.
Life is good. He's back in Boulder. His wife Shannon and their two children love it. Daughter Kaylie excels in creative writing at Boulder High School. Son Curtis will be a senior receiver at Valor Christian this fall and has received a scholarship offer from Division II power CSU-Pueblo.
Chiaverini's CU players appear to be taking to the new offense and recruiting looks more than promising.
"Football has given me everything I have, and I owe it to the game to give back," Chiaverini said. "I do that by teaching players.
"Everybody has their niche. There are people that are great computer engineers. There are guys that are great mechanics. There are guys that are great CPAs."
Ed Chiaverini was and is a musician. His son, Darrin, is not; and Darrin is just fine with that.
"I'm a football coach. I was a football player and now I am a football coach. This is what I'm good at."