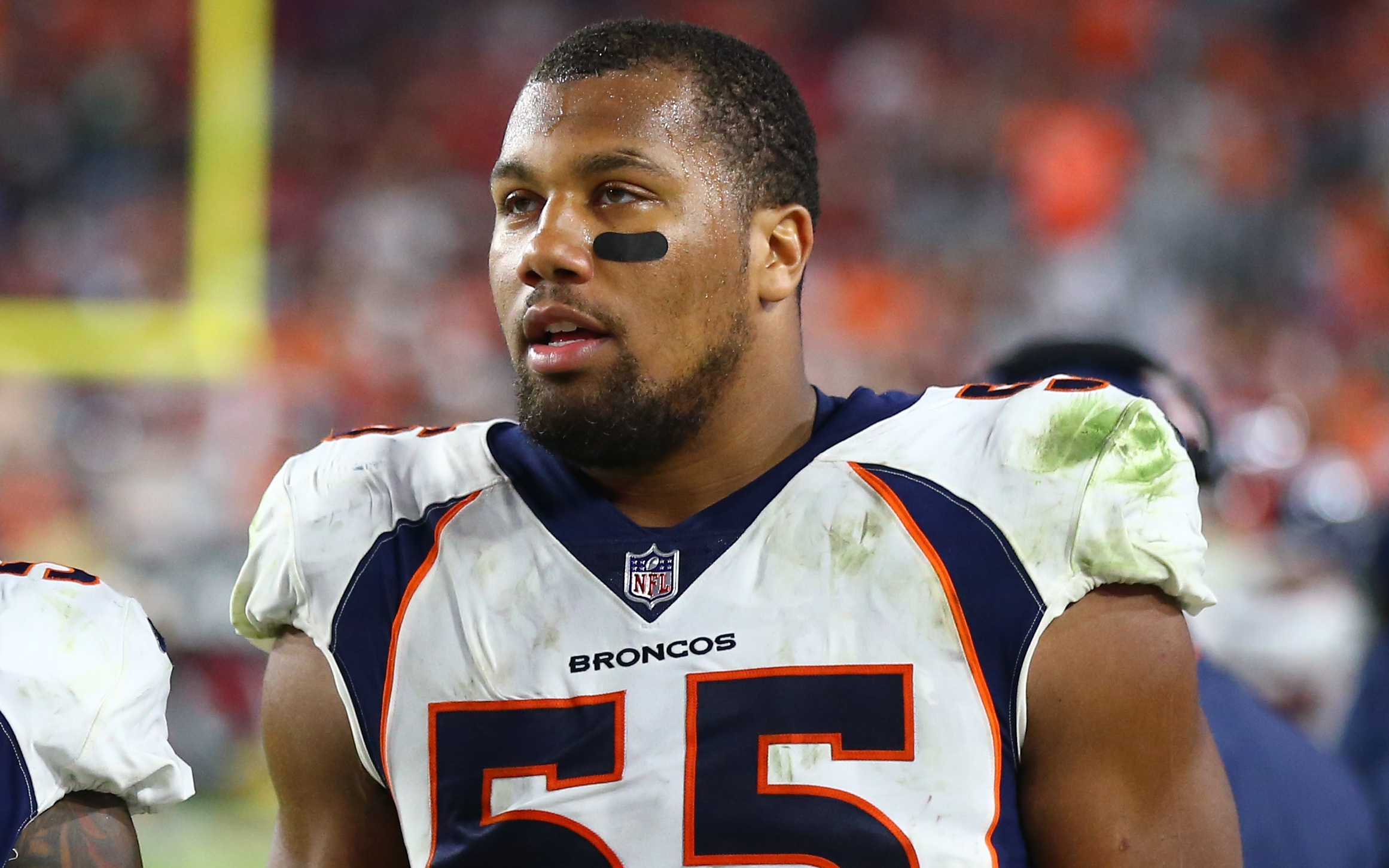 Chubb vs. Chubb. Mano y mano. Cousin y cousin.
This Saturday night, when the Broncos host the Cleveland Browns, the biggest storyline and matchup is the two rookies — running back Nick Chubb of the Browns and pass rusher Bradley Chubb of the Broncos — going head-to-head.
Nick Chubb has been one of the most brilliant running backs this season, racking up 760 yards and 8 touchdowns, enjoining a stellar 5.3 yards per carry average. Meanwhile, his cousin Bradley is playing spectacularly as well; the Broncos' Chubb now has 12 sacks, which is a team rookie record, and he's 2.5 sacks away from tying the NFL record for most sacks as a first-year player.
"I know he's not going to hold back and he knows I'm not going to hold back," Bradley Chubb told the media on Tuesday. "It's just going to be a regular football game. You can't put too much weight on it because then if you start thinking, 'My cousin's on the other side,' you end up getting trucked or something. You've just got to keep it pushing and just play."
It's still early in his career, but Chubb — the No. 5 overall pick in April's draft — looks shockingly similar to Von Miller in every aspect.
Not only is Chubb a sensational pass-rusher, his quickness and strength leads to tackles at and behind the line of scrimmage. In fact, he's racked up 28 "stops" according to Pro Football Focus, plays which constitute a loss for the offense. So, it's possible we see the cousins go head-to-head literally, and maybe even in the backfield.
But, Nick Chubb is no light load to bring down. At 5'11" and 227 pounds, he's a beastly back who runs with power and speed. And similarly to his cousin, the Browns' Chubb is no one-tick pony; he's put together 16 receptions for 150 yards and two scores through the air, too.
"I think the emergence of Chubb, that's been the key in my opinion watching," Broncos head coach Vance Joseph said on Tuesday. "Obviously the quarterback is playing at a high level. He's being aggressive with the football. He's making plays down the field, but Chubb's the key. This guy is a big-time young back. He's big, he can make you miss, he can go the distance and he's got great, great ball skills so he's also a receiving threat out of the backfield."
The Broncos defense has been burned by brilliant play by backs; Isaiah Crowell enjoyed a 231-yard, one score day in Week 5, and Todd Gurley took off for 208 yards and two touchdowns the next week. However, Denver's held six of their last seven opponents to less than 100 yards rushing.
Still, even with Baker Mayfield playing well, much of the focus for the Broncos defense must be on Chubb.
"First time playing him, yeah. It's going to be pretty fun," Bradley said of suiting up against Nick. "I used to hear about him in high school and all that, then we met and in college he was doing his thing and I was doing my thing. We used to talk junk and stuff, but now we're going to actually get the chance to see each other."
With their loss last week, the Broncos' playoff hopes have fallen to a mere 4 percent chance. But, if they want to keep those dreams alive, beating the Browns is a must this Saturday night. Denver (6-7) hosts Cleveland (5-7-1) with the Broncos set to wear their blue jerseys, kickoff scheduled for 6:20 p.m. MT.