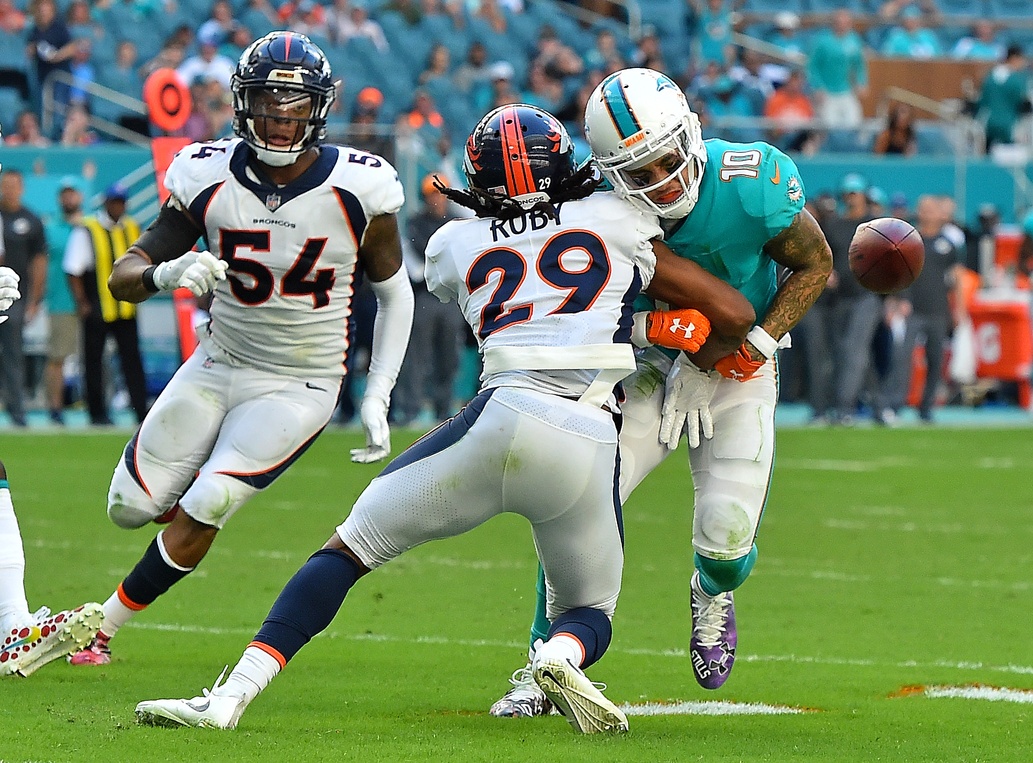 Bradley Roby's patience is likely to pay off in his free-agent season.
*A version of this story appears in the August issue of Mile High Sports Magazine. Subscribe here!
"Please, no more Talib questions."
That was Bradley Roby's request to the assembled media at the Denver Broncos' headquarters in May. Aqib Talib, one of the most accomplished – and let's say colorful – cornerbacks in team history, was traded to the Los Angeles Rams six weeks prior, leaving the starter's role in Roby's hands.
By reflex, television reporters, radio hosts and sportswriters all wanted to know if Roby thought he was ready to fill the void created by Talib's absence. It wasn't necessary, though – Roby knew he was all along.
"It's still a 'No Fly Zone.' We started that Super Bowl year and we had a year of that. I don't think it's been seen in a league by a defense in the last 30-plus years," Roby said. "That original 'No Fly Zone' is gone with T.J. [Ward] departing [in the 2017 offseason] and Talib departing, but we still have three out of five out there and Justin Simmons."
Roby was the Broncos' first-round pick in 2014, selected 31st overall instead of 32nd thanks to the Broncos' humiliating, 43-8 defeat in Super Bowl XLVIII to the Seattle Seahawks. The Broncos, who assembled what was, statistically, the greatest passing offense in history, were favored coming into the game, but left knowing that the old adage turned out to be true: defense wins championships.
General manager John Elway, all too familiar with losing Super Bowls in embarrassing fashion, went into the 2014 campaign with every intent on making the team's defense as potent as its offense already was. In that offseason, Elway added Talib, Ward and longtime Cowboys pass-rusher DeMarcus Ware to the defense, and reinforced the offense by adding receiver Emmanuel Sanders; a weeklong spending spree in March that added four Pro Bowl starters and totaled over $125 million dollars.
Roby was drafted fewer than two months later. The speedster out of Ohio State tumbled down the first-round ranks after a pair of minor off-field incidents and too many big plays surrendered spooked some other teams away. The Broncos, however, noted that Roby's phenomenal athleticism made him a better man-to-man defender, and Urban Meyer's Buckeyes ran the zone in most situations.
"Actually, [in 2014, Ohio State] is kind of doing nothing but press now," Roby said in his Broncos introduction following his selection. "I caught up with Coach Meyer last night and said, 'You would put in nothing but man [coverage] when I leave, because that's a strength of mine. It's something I enjoy [doing]; I think it's very effective. Actually, that's one of the strongest things about my game—my press man. If that's what we do here, I'll fit right in."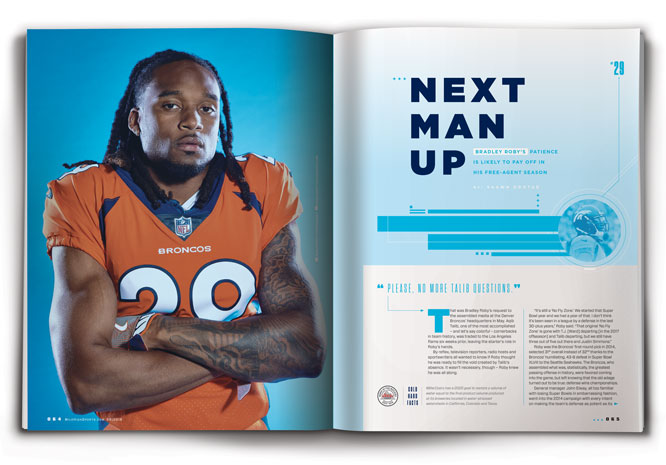 Fortunately, with budding star Chris Harris, Jr. and Talib on board, that's exactly what the Broncos had in mind. Roby, who profiled as an immediate starter and could have understandably been disappointed knowing that wasn't in the cards, took a team-first approach, saying, "I played mostly outside. I played nickel a little bit, but I know that in the league, a lot of teams that are set up defensively like that — need me to play a little bit in nickel as well. I can play it all. I think I'm very versatile and I think I can be very effective on the inside as well as outside, so wherever the coaches decide I need to be, that's where I'm going to be."
He hasn't missed a game since, and despite being the third cornerback, his playmaking abilities have been on full display. Roby led the league last year by allowing a catch on only 17.4 percent of contested passes, and his quick hands forced 28.9 percent of the passes thrown his way into incompletions; the third-best rate in the league, according to Pro Football Focus.
The Broncos' all-time leader in defensive touchdowns is defensive back Billy Thompson, who had seven in his 13 seasons with Denver. Roby has already collected three in his four seasons, to go along with six interceptions and four fumble recoveries. His 10 turnovers in four seasons compares favorably to Talib, who generated 11 over the same span of time… and Roby's taken 742 fewer snaps.
Despite that, the Broncos' defense created only 17 turnovers last season, one of the worst totals in the league, and bafflingly low for a unit that's widely considered to be among the NFL's best. Roby expects that to change this fall following the addition of first-round pick and promising pass rusher Bradley Chubb.
"Chubb is definitely going to be a great addition. He's going to get after the quarterback. Him, Von [Miller], Shane [Ray], Shaq [Barrett] — those guys are going to pressure the quarterback, and it's great to have so many pass rushers. It reminds me of the Super Bowl year when we had so many guys just in and out; somebody can go and then another guy can come right of the bench, fresh. We're all together in this. At the end of the day, it's going to work out great, and I think there's going to be a lot of pressure on the quarterback — that's going to lead to more interceptions."
Frankly, it's hard to nitpick the Broncos' defense because they were too often left on an island; the soul-crushing ineptitude of the team's offense too often put the overworked defense into no-win scenarios. With the addition of quarterback Case Keenum, Roby hopes that the immediately upgraded offense can now score enough to let who he calls the Broncos' "dogs" off their leashes.
"Playing with a lead helps, because it makes the offense more frantic; it makes them take more chances. When you're down and you turn the ball over a lot, teams play safe and just run the ball, and we have to play man every play. You don't really get to get exotic with it and confuse them and this and that. I think year we'll have a lot more turnovers than we did last year."
Assuming Roby claim's Talib's old job — and there's no reason to think that he won't — he'll play opposite of Harris, who cautions that making the leap from being the nickel-back to the starter isn't as easy as Roby might think, telling ESPN in May, "It's different when you have to play every snap. It's being consistent, knowing the game plan and being able to execute that on every snap. In the past, he's had those times when he kind of falls asleep, and now he has to be aware on all of those snaps — and it's a long season; you have to train your body, your mind, to go from 600 snaps to 1,000 snaps… It's a mentality. You have to prepare for it, you have to train for it, you have to understand that."
It certainly sounds like Roby has taken that lesson to heart.
"The mindset doesn't really change. I've started in plenty of games since I've been here," said Roby. "Just the mentality of being consistent every snap. That's really the only difference, just line up the same way, playing the right techniques consistently… Every year in the league you have to keep working hard. Not one year do you think, 'Oh I got it, I'm good now. Just do the same thing that you want to do.' If you do the same things every year, somebody's going to come up and pass you. That's just the nature of the league. Every year I'm trying to work harder and trying to find new ways I can get better, get my body better, get my technique better."
Walking through the Broncos' locker room over the past few seasons, there was one constant: Talib's sharp-edged voice bouncing off every wall; joking, trash-talking, or taking his teammates to task when necessary. Talib earned that respect as a team leader over the years, but Roby's quiet demeanor lends itself to a different leadership style.
"Leading by example. Doing little things right, showing up early, putting in a lot of work, staying out late. Helping the young guys, teaching them the coverages, this and that," Roby explained. "We'll have some guys that didn't play a lot in the past couple of years step up and get an opportunity. It's my job to get them ready and keep the standard high. It's all about standard… 'No Fly Zone' has been a standard, and that's what it's going to continue to be."
While Talib and Ward have moved on from that legendary, Super Bowl 50-winning defense, Roby, along with Harris and safety Darian Stewart, keep the flame of the 'No Fly Zone' alive; nurturing it as it evolves into something bigger than just the men who once played in it. "If you go out there and you have certain expectations as to how you should play — and how everyone with you should play — then you're going to play to that expectation. If you go out there [thinking,] 'I'm just going to do my job. Let me just not give up anything,' then you're going to play soft, you're going to play timid, you're not going to be as good. The most dominant players and teams are aggressive, and they have a high expectation of what they expect when they go out on that field," Roby said.
"It's the standard and that expectation."
To that end, Roby and Harris have already been working with their younger, less-experienced teammates; third-year safety Will Parks and second-year corner Brendan Langley got a lesson in Dallas, where Harris conducted training sessions during the offseason, regarding the tenets of the 'No Fly Zone' religion.
"I think it's very valuable. Any time you can get guys on the same team working in the offseason, that itself is good for the chemistry," Roby explained. "All the little things that you talk about when you're not working out — everything on that field is about that connection and being able to relate to guys off the field. I think that is going to translate. It's good to kind of get there and work on all the little things."
Roby's likely promotion to starter comes at a critical time in his career. Unless the Broncos get something done to extend his contract during training camp, he'll be an unrestricted free agent after the season. At only 26, Roby has plenty of prime years ahead of him at one of the league's most vital positions. With a good season, Roby — who was rated by Pro Football Focus as the 20th best cornerback in the entire NFL in 2017, and the fifth-best in coverage among corners that took fewer than 700 snaps — stands to cash in.
Elway and the Broncos are fully aware of this, of course; knowing that Roby would need a substantial raise in the near future was a significant factor in the decision to trade the highly paid Talib.
Though Talib was tremendous for the Broncos over the last four seasons, the team is betting on the younger, cheaper and less-experienced Roby. Thus, the questions.
Roby's looking forward to answering them… on the field.
"It is what it is… I'm getting tired of hearing about it, honestly. It is what it is, and I have to wait until the season to show that there's no drop-off," Roby said. "I don't feel any pressure. I just want to be better than I was last year. I see myself as a guy who goes out there, balls hard, [creates] a lot of turnovers. That's what I've always been my whole life. I'm not really competing with anyone.
"I want to be the best, but I also want to be the best me, and I want to take the ball away as much as possible and do my job. There's really no pressure. Every year in the league you have to get better and better and better. There are always guys coming up, trying to take your spot. It's not really pressure on that end; you just want to be the best you.
"You want to be the best reporter you can be, so I'm just being the best me I can be."
***
*For more from Mile High Sports Magazine, subscribe here!