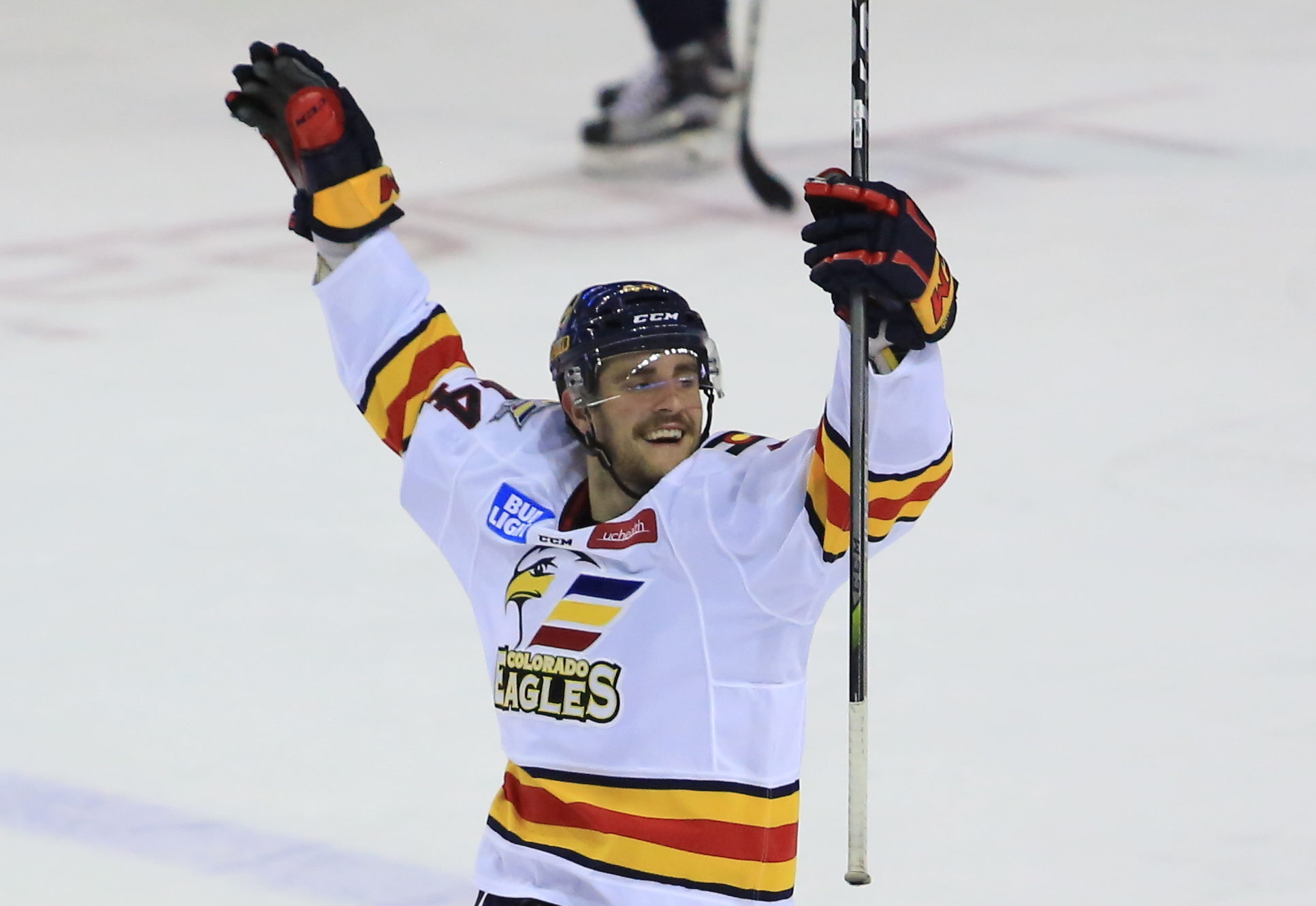 After playing his collegiate career for the University of Vermont, and a few stints with the AHL's San Antonio Rampage, Brady Shaw is finding plenty of early success with the 2017 Kelly Cup champion Colorado Eagles in his first full season in the ECHL.
In his first few games of the season, Shaw has contributed eight points, and has quickly become a fan-favorite for his highly skilled offensive style of play.
After signing a professional tryout with the Colorado Eagles earlier this year, Shaw has given the team several reasons to keep him in the lineup, providing the team with plenty offensive punch to get the Eagles off to another strong start to the season.
In the majority of cases, it is rare for a collegiate player to be called up to the AHL following their collegiate career. However, this was the case for Shaw, as he was able to gain some valuable experience when he was called up to play a few games for the San Antonio Rampage.
"It was exciting, being in my senior year there [University of Vermont] and you are constantly working the phones and figuring out who is interested, and what would be the best place, and San Antonio just felt like a good fit. Turned out to be a good fit, and I really enjoyed my time there."
Making the jump from the NCAA to the AHL is not an easy step, but the transition taught Shaw some valuable lessons, and has allowed him with plenty of experience heading into his first full season with the Colorado Eagles.
"The pace is a lot faster, and your decision-making has to be much quicker [in the AHL]. It was great for me to get that experience, and it lets me come into here with a little bit of confidence, and it will pay dividends."
Opportunities to gain valuable experience continued to pile up for Shaw as he took part in training camp for the Colorado Avalanche earlier this season. There, he would compete in the annual rookie tournament in San Jose, Avalanche preseason games, as well as the annual Burgundy and White game at Magness Arena.
"Being a part of training camp was really cool, it was a real experience for me. Something growing up that you always dream of [just to get a shot at the NHL], and to play with some of those guys that are in that locker room that you watch on TV every night, it was a great experience."
Gaining some experience between the Avalanche training camp and the San Antonio Rampage has allowed Shaw to learn and adapt to what it will take for him to reach his ultimate goal — gaining a full-time role in the NHL.
"The kind of shape that those guys are in, the way they act, everything is professional. At the rink, and away from the rink what they put into their body, how they train. It is the highest level of professional hockey, and it really showed how professional all of them acted."
With the Eagles having a target on their back after winning the Kelly Cup last season, Shaw has been able to provide the Eagles management plenty of reasons as to why they made the right decision giving him an opportunity. No doubt that Shaw will continue to be a large component for the Eagles as they attempt to defend their Kelly Cup crown.