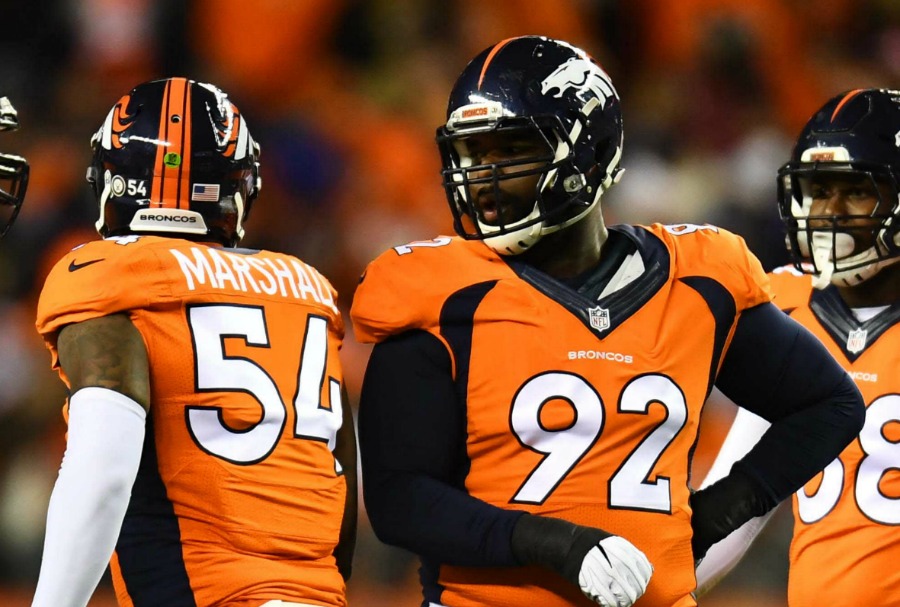 With the landscape constantly changing during the free agency season of the NFL, the question of player's loyalty seems to come up more often than not. The Tennessee Titans signed defensive tackle Sylvester Williams, which sparked some distaste amongst the Denver Broncos fans.
Yet, as teammates always do, Broncos' linebacker Brandon Marshall took to Twitter to defend his former defensive colleague.
Go where you're wanted and celebrated. Not tolerated

— Brandon Marshall (@BMarshh54) March 15, 2017
Alone, that might not mean anything, but if you look at the two actions that preceded the tweet, it paints a larger picture. First, he retweeted a Titans post about the signing. Then, he had the following response to a comment talking about loyalty.
What loyalty has the city shown to Sly? They clearly didn't want to keep him bad enough. You have to go where you're wanted https://t.co/dYPM3IcLZi

— Brandon Marshall (@BMarshh54) March 15, 2017
Williams was selected by the Broncos in the first round of the 2013 NFL draft, going on to play four seasons in the Mile High City. During that time, the defensive tackle out of North Carolina helped the Broncos reach two Super Bowl births, one of which they won.
The hard feelings by Broncos fans are understandable, but Marshall makes a valid point.
Fans talk about players having no loyalty to the team.But I don't see y'all telling the team to have loyalty to us when we get cut or traded

— Brandon Marshall (@BMarshh54) March 15, 2017
The NFL is a business, and as a business, cutting and trading players is just a part of the everyday grind. Fans, who are merely observers, can be upset if they choose to, but at the same time, they don't have people on the outside heckling them about the decisions they make in their respective careers.
In a situation like this, the concept of loyalty can have two different views: cup half full or cup half empty. The fanatics of Denver can appreciate the work that Williams has done, in which he had 48 starts of the 60 games he played in. In that span of games, he put up 94 total tackles, six sacks, two deflected passes and one recovered fumble. Or they can take a pessimistic approach, and be angry over the fact that Williams followed an opportunity that could better his overall career and well-being.
Think about that

— Brandon Marshall (@BMarshh54) March 15, 2017