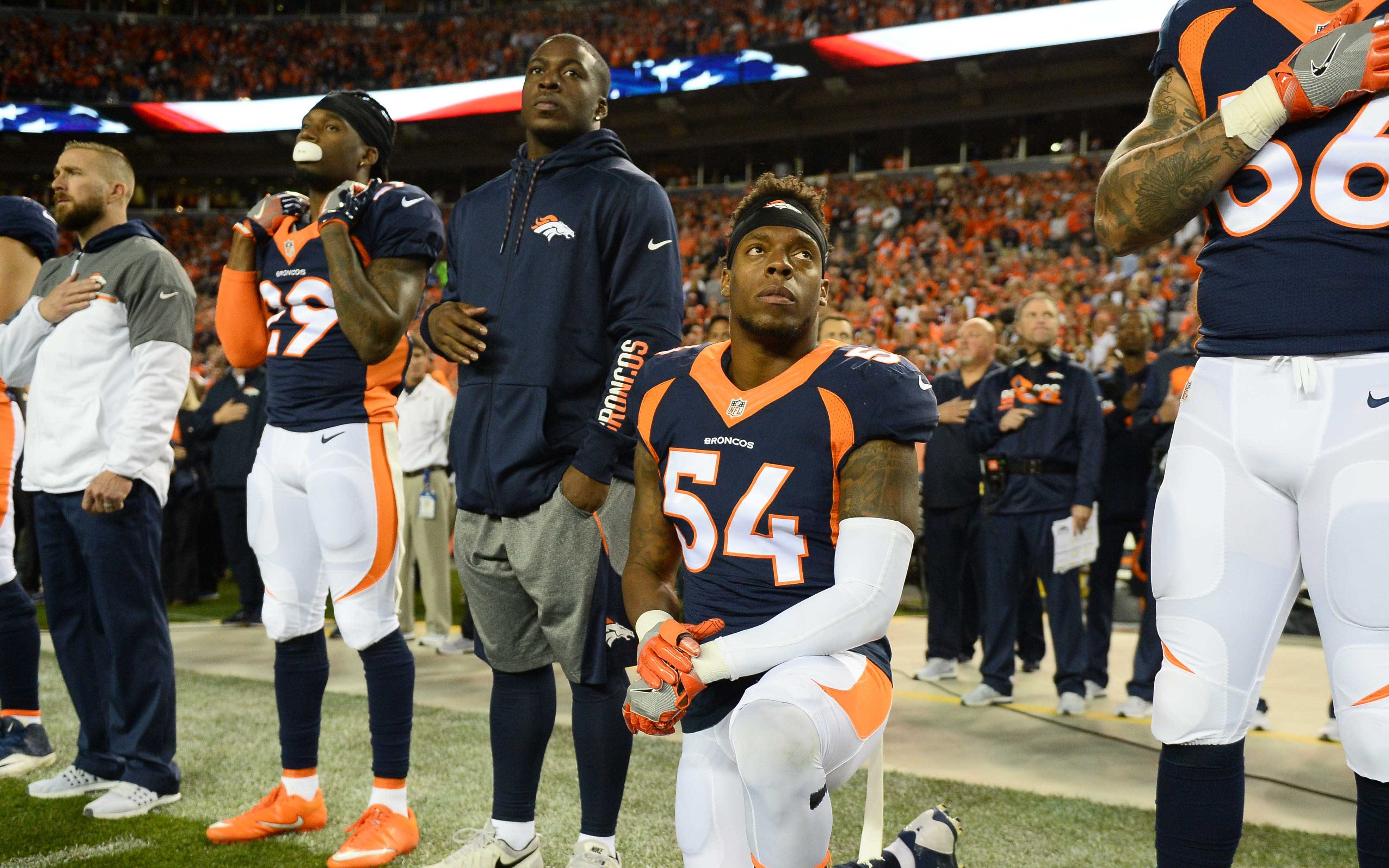 A Mile High Salute to Brandon Marshall. After six seasons, three playoff appearances and one Super Bowl victory, the 29-year old inside linebacker has likely played his last game as a member of the Denver Broncos.
The undrafted linebacker out of Nevada has struggled to stay on the field over the last two seasons, but when he was healthy, Marshall played a crucial role for the Broncos. During the 2014 and 2015 seasons, Marshall had 220 total tackles (171 solo) and started all four playoff games.
While Marshall's play on the field was certainly solid, his impact in the community was far greater. Marshall is the founder of the Williams Marshall Cares Leadership Program, which works with teens in Denver and Las Vegas. With the assistance of the Broncos, Marshall also launched FEEL (Feed & Educate to Empower Leaders).
In 2015, Marshall was honored with three different accolades for his involvement in the community, including the Ed Block Courage Award and Darrent Williams Good Guy Award.
"I just want to be able to give back," Marshall said. "I feel like that is my purpose outside of football, and I'm glad to have the Broncos' support."
This is only a fraction of what @BMarshh accomplished in his time as Denver Bronco. (stats inc. playoffs)

Doesn't include the tens of thousands of dollars he committed to local organizations and the countless hours he spent in the communities of Denver and Vegas. pic.twitter.com/D7zPE6aLQ9

— Nicki Jhabvala (@NickiJhabvala) February 15, 2019
Despite being a respected philanthropist and role model for young football fans around the country, many have criticized Marshall for his decision to kneel during the national anthem. Both a protest of systematic injustice and a sign of solidarity for his collegiate teammate Colin Kaepernick, Marshall's stance was a dividing subject for Broncos Country.
After being praised and applauded in 2015, Marshall was suddenly being booed by some of the home fans. But through all the hate, Marshall kept firm in his decision to kneel and even though he lost the support of a few misguided individuals, he proved that his principles are more important to him than general popularity.
It would have been easy for Marshall to stand silently as various players around the league felt the backlash of making a political statement. Instead, Marshall chose to face that criticism head on and help create a public dialogue.
In a time where national headlines constantly feature stories about athletes getting in trouble for poor decisions in their personal lives, Marshall is a shining example of a guy that has done it the right way for his entire career. He busted his ass to make it in the league after being overlooked in the evaluation process. He won a world championship, and most importantly, Marshall has used his platform to help make the lives of people in his communities better.