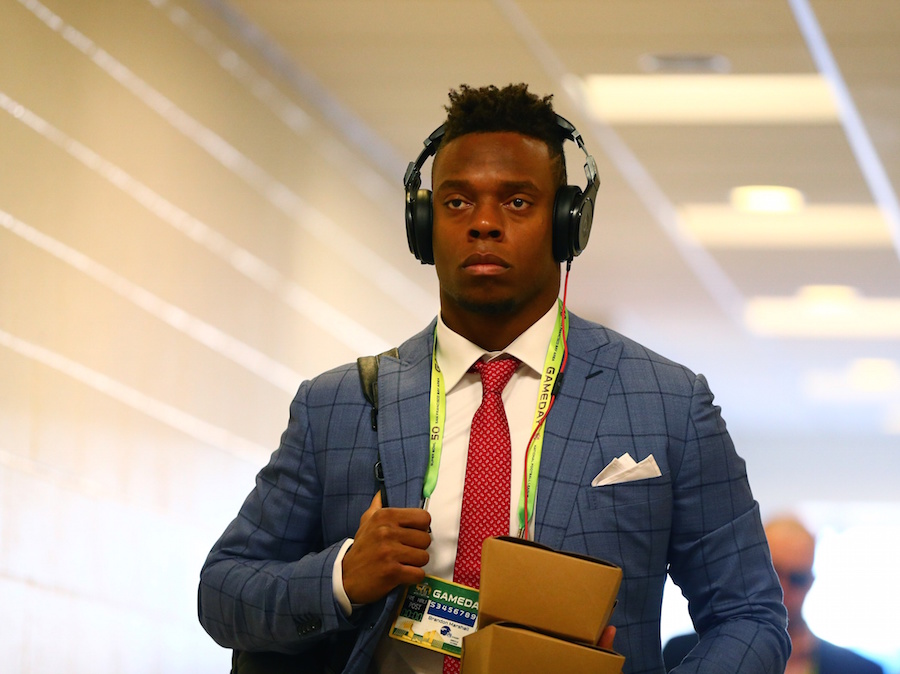 Brandon Marshall got $20 million guaranteed?!? Wow, good for him. Over the last two seasons Marshall has been an extremely productive linebacker, racking up 215 tackles. So take nothing away from the contract the Broncos felt he deserved. But that doesn't mean his contract isn't a head-scratcher.
On what planet does Marshall deserve $20 million guaranteed but Von Miller only deserves $39.5? It sure isn't Earth.
During John Elway's tenure as vice president of football operations there has been a running theme at the linebacker position. First, the Broncos have done a great job developing linebackers into tackling machines – linebackers that were generally unknown and looked over by the rest of the league. Wesley Woodyard, Danny Trevathan and Marshall all fall into that category. All lived in relative obscurity until breaking into Denver's starting lineup and tackling everything that moved.
Second, the Broncos haven't overpaid for tackles. Woodyard and Trevathan were both allowed to walk when they were due raises. Elway hasn't spent frivolously when big-name free-agent linebackers came on the market, despite the fact that every analyst from here to Bristol said it was a position of need.
Under Elway, the Broncos have treated the inside linebacker as a "plug-and-play" position. They believed that whoever started would be successful because of the defensive scheme. To their credit, they've been right.
So why allocate so much guaranteed money to an inside linebacker? It makes no sense and is an odd deviation from a philosophy that's worked so well.
And why now? Elway is in the middle of negotiating a long-term deal with his best player – one that's starting to turn ugly, mainly because the guaranteed money he's offering him is extremely below market value.
Elway has a history of getting star players into team friendly deals (See: Harris, Chris and Wolfe, Derek) so it's understandable he's taking the same stance with Miller. But why didn't he do the same with Marshall?
Marshall is getting only a $1.9 million less in guarantees than Bobby Wagner. His guaranteed money is higher than the entire contracts of Paul Posluszny, Rey Maualuga, Derrick Johnson and Malcolm Smith (yes, that Malcolm Smith).
Now, one can try and argue that Marshall is a better player than those four and it'd be a fun debate. Probably not one you can win, but it'd be fun. Even if (that's a big if) one were to concede that Marshall is a better player there's still no denying that his value on the field doesn't equal the value on his contract relative to Miller's latest offer.
How anyone would value Marshall as a $20 million linebacker but Miller as only a $39.5 million linebacker after watching Super Bowl 50 is beyond comprehension. Remember, guaranteed money in the NFL is all that counts. The Broncos can say they offered Miller $114.5 million but that's just not the case. In no way, shape or form did they ever plan on paying him that much money.
Marshall's contract puts him in the company of some of the most productive linebackers in the league. He has worked hard to get that money. No one should belittle his effort. If Elway and company feel Marshall is as equally talented as Posluszny and Maualuga, fine. He's being paid fairly based on what other players around the league are making with equal production. Why isn't Elway doing the same with No. 58, his best player? Because Miller's not technically a free agent? That seems to be the company line.
That excuse (that Miller isn't a free agent so he therefore can't expect free agent dollars) just flew out the window because Marshall wasn't a free agent either. If you hear that nonsense again, know that Elway is talking out of both sides of his month. The Broncos have control over Miller with the exclusive franchise tag and had control over Marshall in the form of a second-round restricted free agent tender. There weren't many teams around the league clamoring to give up a second-round pick for Marshall's services.
Elway has doled out a ton of guaranteed money on the defensive side of the football: Aqib Talib, $25.5 million; Harris, $24 million; DeMarcus Ware, $20 million; Wolfe, $17.5 million; T.J. Ward, $14 million and now Marshall, $20 million. None of those guys are even close to the player that Miller is, nor do they mean as much to the defense as Miller does.
With the announcement of the Marshall contract, one can only assume Miller's negotiations are going to become more contentious. No doubt Miller is happy for his teammate's lucrative new deal. But Denver keeps rewarding teammates around him fairly for their efforts on the field and they've done the exact opposite with him. Von Miller has every right to harbor ill will against Denver's front office.
Not many people are going to argue that Denver is wasting money on Marshall. He's been great the last two seasons, he's worked his tail off to get where he is and he's a great guy off the field and in the locker room. That said, given the current environment and recent philosophy at Dove Valley, his contract is extremely puzzling, to say the least.