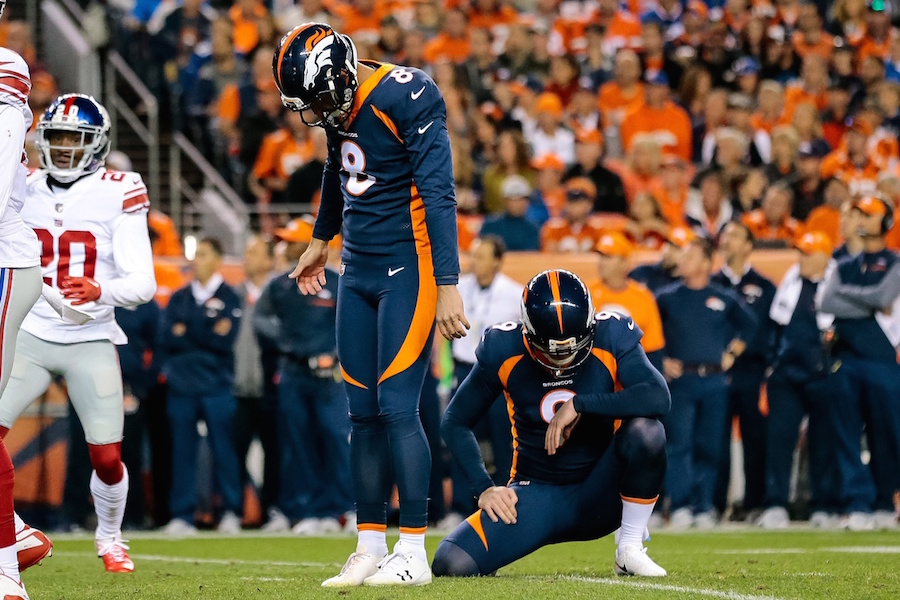 Since signing a 3-year, $11.254 million contract with the Denver Broncos, Brandon McManus has missed as many field goals through five games of the 2017 season as he missed in all of 2016.
McManus missed a pair of field goal tries in a 23-10 loss to the New York Giants on Sunday night, including a 35-yard attempt in his first attempt of the game. He later had a 53-yard attempt blocked.
Since becoming the Broncos full-time placekicker in 2015, McManus has never had a season below 85 percent accuracy. He was perfect inside of 40 yards in 2015 and '16 and had just 10 total misses over those two seasons. He already has five missed field goals in 2017.
What is most disconcerting is that McManus' misses seem to be getting worse as the games have progressed.
He missed a 50-yard try in the opener against the Chargers and a 49-yard try against Dallas in Week 2. A 29-yard miss against Oakland raised eyebrows, and the 35-yard miss against the Giants is a major red flag. His blocked kick appeared to be an over-correction after the miss in the first quarter.
When asked postgame if his rhythm is off, McManus was frank about his performance in games so far this year:
"No; kicking is a rhythm thing, but our rhythm isn't off. It's still very fluid in what we do. Like I said, I haven't missed a kick in practice or warmups this season. It's just the games, and right now in the games I stink."
McManus struggled early in his tenure with the Broncos, going 9-for-13 in 2014 before taking command of the job in 2015 en route to a Super Bowl victory. He was a perfect 10-for-10 during the Super Bowl 50 run. Since that time he is 37-for 47, and just 8-for-13 this season.
Despite the struggles, head coach Vance Joseph is standing by his special teams captain.
"He's our guy. He missed a short one. He got one blocked and he made one for us. Obviously that's been an issue," Joseph said of the early misses. "The first quarter [of the season], he missed three. He basically missed two tonight. We'll address it with him, but sitting here right now, he's our guy."
His contract included a $5 million signing bonus, $8.25 million in guaranteed money, and an average annual salary of $3,751,333. He has a dead cap hit of $6 million in 2017 and $3.75 million in 2018. The contract ranks seventh among NFL kickers in terms of total value and third in terms of guaranteed money.
As McManus' tough night at the office unfolded Sunday, the team at MHS and many of our favorite follows in the Denver media had plenty to say on social media. Here's some of what they had to say about the struggling kicker's performance…
Brandon MissManus strikes again. (actually he didn't strike, which is kind of the problem.)

— TJ Carpenter (@TJCarpenterShow) October 16, 2017
This is officially a slump for Brandon McManus. That's his fourth miss of the season, this one from 35 yards. Another empty red-zone trip.

— Nick Kosmider (@NickKosmider) October 16, 2017
I believe the body of @thekidmcmanus is being inhabited by an alien. What the hell? #broncos

— Les Shapiro (@LesShapiro) October 16, 2017
McManus now 7 of 11 The since signing extension. All four misses at home.

— Benjamin Allbright (@AllbrightNFL) October 16, 2017
McManus is now 7-of-11 this season. For reference, he converted 29-of-34 attempts in 2016.

— Nick Kosmider (@NickKosmider) October 16, 2017
Siemian sacked. McManus' 53-yarder blocked. This is going swimmingly.

— Nicki Jhabvala (@NickiJhabvala) October 16, 2017
Not get all kicking nerdy, but it's like a golf swing. He's over-correcting now. Hit that high fade followed by the smother hook.

— Vic Lombardi (@VicLombardi) October 16, 2017