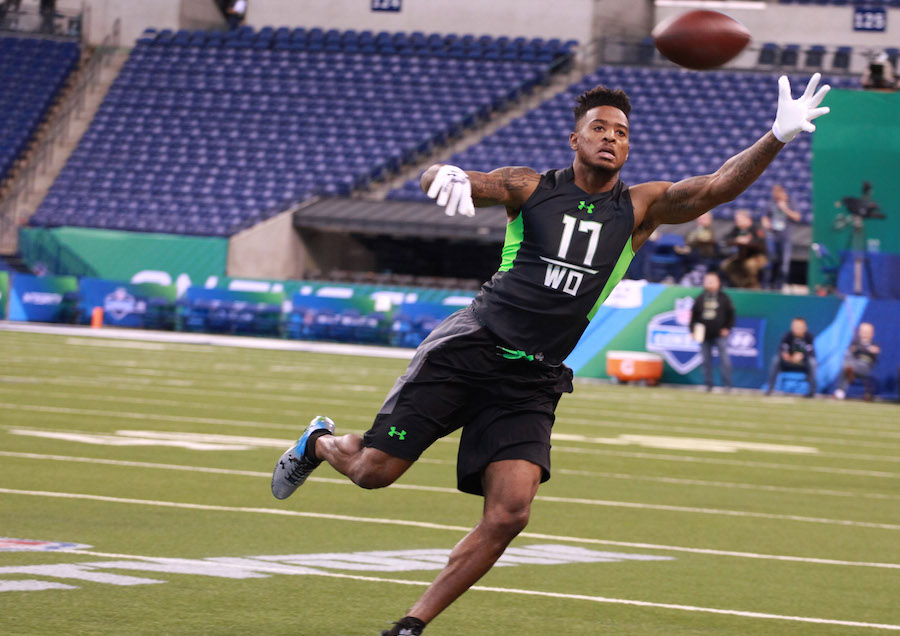 The NFL Draft is an event where dreams are fulfilled for hundreds of young athletes; unfortunately, there are others whose dreams are delayed, as they fall out of the seventh round towards free agency and into uncertainty.
For CU and CSU, that was the case for many of their players, as only two Colorado athletes, Rashard Higgins and Cory James, were selected in the NFL Draft. That, though, does not mean there won't be more Buffs and Rams (even ThunderWolves) playing in the NFL next season.
Here's a breakdown of where Colorado's top college football players will be playing this preseason:
DRAFTED PLAYERS
WR Rashard Higgins, Colorado State (Cleveland, fifth round): With Higgins, the Browns are getting one of the most-productive players in college football throughout the past two seasons. Colorado State University's history books have been rewritten with Higgins' name, as he is the school's all-time leader in receptions (239), receiving yards (3,649) and receiving touchdowns (31). Higgins was a First-Team All-Mountain West selection and is a great deep ball threat.
LB Cory James, Colorado State (Oakland, sixth round): The Raiders get somebody that is somewhat of a veteran in the sense of experience. He was a four-year starter that excelled at multiple things while with the Rams. He is relentless in pursuit and has the size, speed and explosion that NFL teams need.
FREE-AGENT SIGNEES
WR Nelson Spruce, Colorado (Los Angeles): The Rams got an absolute steal! Spruce is the definition of reliable; CU might as well just rename the receiving record books in his name. What the Rams et is the all-time Pac 12 reception leader and a dependable catcher. The stat that stands out the most is Spruce dropped just four of the 93 catchable passes thrown his way in 2015. No.1 pick, Jared Goff, you got lucky, bro!
S Jered Bell, Colorado (San Francisco): The 49ers got a player that has no quit in him. He sat out an entire season with an ACL injury and came back just as strong. Bell is a ball hawk and a great open-field tackler. Bell is good in coverage and has great lateral movement. He ran a 4.46 at CU's pro day and finished tied for 22nd all-time in interceptions at Colorado (with seven).
CB Ken Crawley, Colorado (New Orleans): The Saints got themselves a confident player that was quoted as saying he believed he could guard Antonio Brown. That might be a bit absurd, but you have to love the confidence. While at CU, Crawley recorded 34 pass breakups and three interceptions. He picked up attention after impressing at the NFL Combine (Crawley was one of three CU players invited to the combine). He is a 6 feet, 187 pounds and happened to run a 4.43 official 40-yard dash, sixth-best in his group of defensive backs and ninth-best among all defensive backs. That coverage, speed and confidence is something the Saints could use.
RB Christian Powell, Colorado (Pittsburgh): Pittsburgh is getting a workhorse. Powell led the Buffaloes in rushing in three of his four years. He also finished his career as CU's 17th all-time leading rusher, with 2,040 yards and 18 career touchdowns.
OT Stephane Nembot, Colorado (Baltimore): The Ravens are getting a very big man. At 6-foot-6, 322 pounds, it is very easy to see why they were interested. Nembot has experience on both the left and right tackle position and is aggressive. He is nimble for his size. He doesn't allow many sacks and is a quick learner. Nembot is a good project and has upside potential.
OT Sam Carlson, Colorado State (Tennessee): The Titans got a linemen that is 6-foot-4, 301-pounds. Not much more needs to be said about the two-year starter at CSU. He has played left tackle as well as right tackle and is agile and soft on his feet to be so big. Mariota should feel safe with a player like this.
TE Kivon Cartwright, Colorado State (Tampa Bay)– Cartwright has large hands and catches the ball well. While at CSU, he was an All-Mountain West selection in 2016. He finished his CSU career with 1,136 receiving yards and 11 touchdowns.
CB DeAndre Elliott, Colorado State (Seattle): Elliot is a playmaker, a willing participant that competes each and every play. He is a taller corner at 6-foot-1, 188 pounds, and has great length. He only allowed one touchdown this past season. What propelled him to get attention was his athletic ability displayed at the NFL Combine. Elliott had a vertical jump of 41 inches, which ranked second at the Combine. Seattle should be thrilled at his upside and potential.
WR Kieren Duncan, Colorado State-Pueblo (Chicago, minicamp invite): What Chicago got was speed, and a lot of it. Duncan had himself a Pro Day. He surprised many and drew national attention after he ran a 4.25-second 40 yard dash. Duncan would make for the perfect wide receiver-kick return specialist and should be blazing down fields on Sunday.
WR Deontrae Cooper, Colorado State-Pueblo (Seattle, minicamp invite): The Seahawks got themselves a receiver who works hard. He has overcome injuries and still produced. Has good hands and knows how to use his 6-foot-1 frame.
DE Morgan Fox, Colorado State-Pueblo (Los Angeles): Fox has all of the accolades needed to get to the next level. Some of his accomplishments while at CSU Pueblo include being named a finalist for the Cliff Harris Small College Defensive Player of the Year, Associated Press All-America Second Team, AFCA All-America Team, D2Football.com All-America Second Team, D2CCA All-Region First Team Defense, Don Hansen's All-Region First Team, Rocky Mountain Athletic Conference Defensive Player of the Year and All-RMAC First Team. In his senior year alone he led the nation in sacks per game. Although Fox went to a small school, he feels as if he is prepared for the next level and is excited to prove the Division II doubters wrong.
OTHER NAMES OF NOTE
OT Zeth Ramsay, Colorado Mesa (San Diego) – At 6-foot06, 306 pounds Ramsay has the potential to help give Philip Rivers the protection he so desperately needs. Many are surprised that a player from Colorado Mesa is getting some attention, but they shouldn't be. Ramsay has the strength, footwork, attitude and discipline to make it in this league. Expect him to be playing on Sundays.
DE Eddie Yarbrough, Wyoming/Grandview High School (Denver): What the Broncos got was familiarity, a 6-foot-3, 251-pound defensive end that played in their back yard at Wyoming and in their front yard at Grandview. Yarbrough had an impressive campaign with the Cowboys. He finished his career with 256 tackles, 21.5 sacks as well as setting the school record for tackles for loss (39). Yarbrough was a three-time All-Mountain West selection with the Cowboys. What the Broncos added was another weapon off of the edge that is willing to put it all on the line to get after the quarterback as well as containing the edge.
CB John Tidwell, Sioux Falls/Rangeview High School (Denver): What the Broncos got was insurance. The 5-foot-11, 200-pound corner looks to join the defending champs and their astounding defense. With players like Roby, Talib and Harris, not much insurance is needed, but it is better to be safe than sorry. Tidwell provides that security blanket needed. While at Sioux Falls, Tidwell became of the best lock down corners in the conference. Tidwell earned three all-league first team honors, two all-region honors and named as an honorable mention as an All-American. Besides guarding the best receivers, he also made his name as a great returner. In his career, he returned 33 punts for 579 yards and three TDs, as well as 19 kickoff returns for 473 yards. With Omar Bolden now in Chicago, this could open up an opportunity for Tidwell on special teams.
WR Max McCaffrey, Duke/Valor Christian High School (Oakland): I saved this for last because it's the one that hurts Broncos Country the most. As the son off a Broncos legend, it's hard for him to go elsewhere, yet alone to … the Raiders (insert scream). The 6-foot-2, 197-pound receiver out of Duke gives the Raiders legacy. He is the son of Ed McCaffrey, and, like his father, he also has a great pair of hands on him. He performed well at his pro day. He ran one of the fastest times recorded this year, with a 4.4-second 40. He caught 52 passes for 643 yards and five touchdowns last season for the Blue Devils. McCaffrey looks to make a name for himself and the Raiders should be glad to have him.