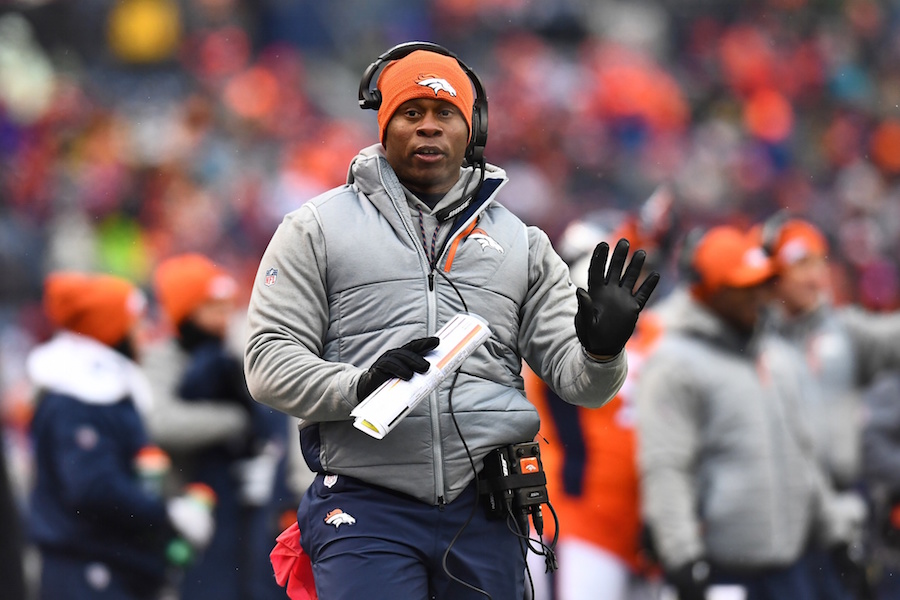 Contrary to our report ahead of Sunday's Denver Broncos season finale, Vance Joseph will not be fired following the 2017 season. Broncos general manager John Elway announced the news on Twitter Monday.
Vance and I had a great talk this morning about our plan to attack this offseason and get better as a team. We believe in Vance as our head coach. Together, we'll put in the work to improve in all areas and win in 2018.

— John Elway (@johnelway) January 1, 2018
Joseph, 45, led Denver to a 5-11 record in his first season as an NFL head coach. It was the Broncos' first losing season since 2010 and only the fourth time the team has lost double-digit games since Pat Bowlen took over ownership of the team in 1984.
Benjamin Allbright and former Bears scouting director Greg Gabriel on Sunday reported that Joseph would not be retained for a second year, reports we published and promoted.
However, Broncos general manager John Elway took a night to think about the decision and on Monday elected to retain Joseph.
Players in the locker room following Sunday's season-ending loss to Kansas City were vocal in defending their head coach. They were quick to assume the blame for a season that went south and speak up about wanting their coach back. That backing may have helped save Joseph's job.
Denver finished second in overall defense in 2017 and 17th in total defense, however their 34 giveaways and minus-17 turnover differential proved to be the team's greatest undoing.
From Week 6 through Week 13, the Broncos endured the second-longest single-season losing streak in franchise history. Denver's eight consecutive losses during that stretch were just one shy of the franchise record nine losses the 1967 team endured.
Joseph in January 2017 signed a four-year contract to coach the Broncos, replacing Gary Kubiak who retired for health reasons. Kubiak later returned to the organization as a senior personnel advisor.
Prior to his tenure in Denver, Joseph was the defensive coordinator for the Miami Dolphins (2016) and a defensive backs coach for Cincinnati (2014-15), Houston (2011-13) and San Francisco (2005-10). He served in the college ranks as a graduate assistant and coach from 1999-2004, including time at his alma mater, Colorado.