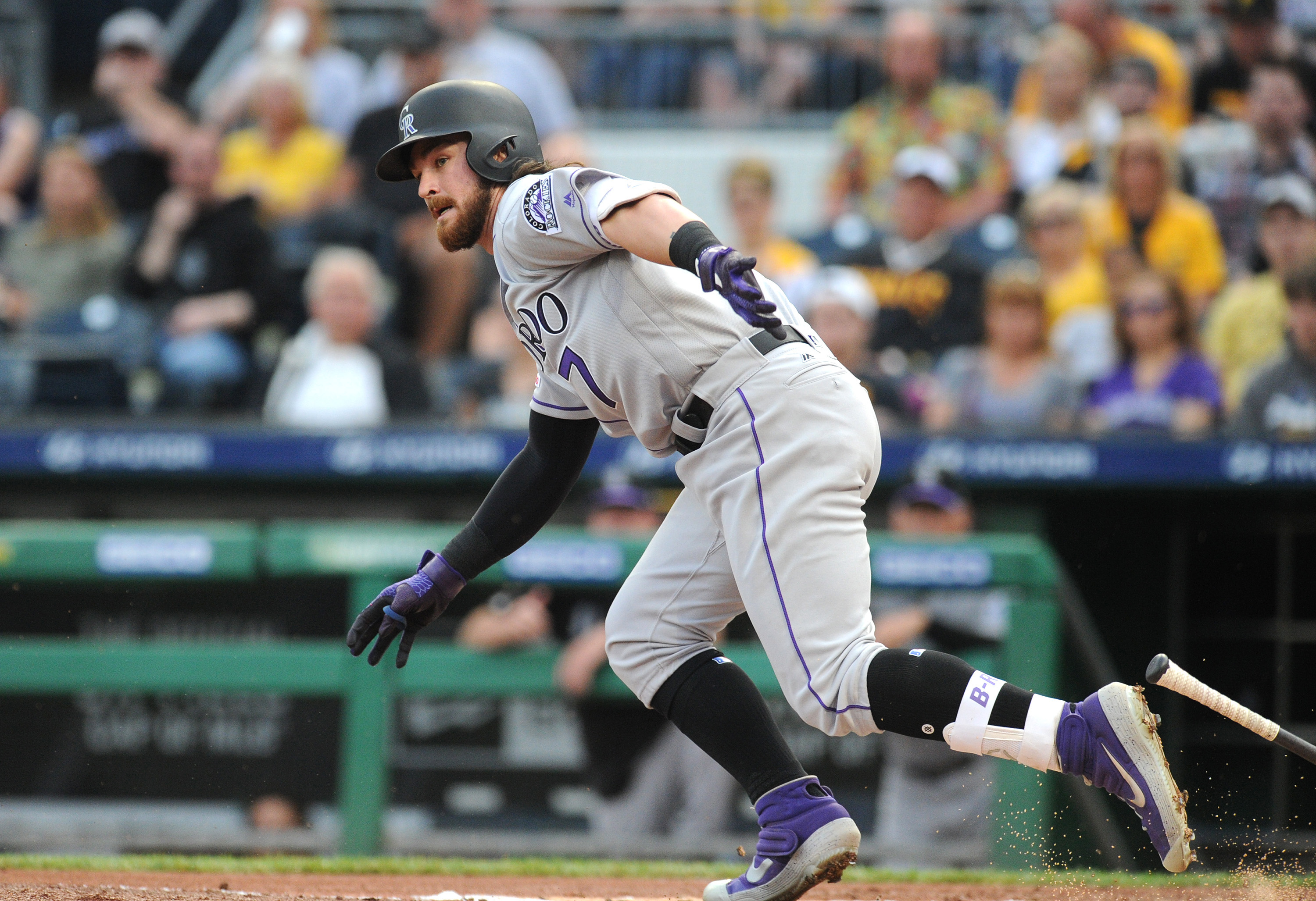 There's a screen before entering the Colorado Rockies' clubhouse. It illuminates the umpires for the game, the schedule for Jesus – the club's barber – and of course, the day's lineups. For Ryan McMahon, the latter carries the most weight.
On a day-to-day basis, McMahon has now become as intrigued by the screen as the media that peruses the team's newly-renovated pregame sanctuary.
"It's weird. I think it's just because in the minor leagues, I was playing every day. I never had to check the lineup. I knew I was hitting third, fourth or fifth," McMahon said. "I wouldn't say it's bad, I wouldn't say it's good, (it's) just different."
The difference for McMahon – this year's Most Valuable Player for the club in spring training – is the inclusion of the franchise's top prospect, Brendan Rodgers. After destroying Triple-A pitching all throughout the Pacific Coast League (.356 batting average), the shortstop-turned-second baseman was given his chance with the Rockies.
A large part of the shuffle was a lack of production from both McMahon and Garrett Hampson.
Prior to Rodgers' promotion, the Rockies had received a combined .219 average from their pair of second basemen, with only 10 extra-base hits in 42 games. With the sample size enlarging and the results still missing, Hampson was optioned.
Now, the club has welcomed in the former third-overall pick. Both McMahon and Rodgers have entered into a timeshare as a product of the move. In doing so, Manager Bud Black is trusting the two to propel the team to greater heights. 
For the duo, the experience is relatively foreign.
"I would say when I was 16, I was a rotation player, but I played pretty much every day and it was just (shortstop) and second (base)," Rodgers said. "But, pinch-hitting and stuff, this is pretty much the first time."
McMahon, a bench player for much of the 2018 season, has only been slightly exposed to it.
"Last year was just sparing," McMahon said. "They would tell me when I was playing as opposed to telling me when my day off was. Me playing was a little bit less frequent than my days off."
With the new plan of constant lineup modification, the results have brightened. Since Rodgers' promotion on May 17th, the pair of second basemen have hit .256. More importantly, the club has gone 12-7 in that span.
The statistics have yet to reach their ceiling, but from the dugout, Bud Black is seeing the results nonetheless.
"These are two young players doing everything they can to contribute to a win each and every day," Black said. "I think they're doing great. They're both performing (and) they're both contributing to wins. I'm very proud of both those guys and how they're handling it."
Animosity would be a simple route. The competitive nature of both players has been a catalyst to their success thus far. Turning it off is hardly an easy task.
Luckily for the two, their bond was built far before a crossroad was placed in their respective paths.
"Brendan and I are good friends. I think we just focus on playing well and understand that this is how it's gonna be," McMahon said. "He's a great player, he deserves to be up here, he deserves to be playing. I think I do too. We keep it light-hearted (and) we're good friends."
The relationship that's been forged through time between the two has enabled them to be a benefit to one another, rather than a hindrance. With McMahon's added experience against major league pitching, his wisdom is often shared.
Calling it a simple mentorship would be discounting its two-sided nature. The discussions are a back and forth between a pair of young players that are learning on the fly. Each at-bat yields a different obstacle that the two must forge a road map around.
Roadblocks include Robbie Ray's slider, the bevy of relievers the two face off the bench and even breaking down the notes given out by hitting coach, Dave Magadan.
The role is one that's hard to adapt to. Daniel Murphy, a prime example of a player moving to help his club, sees maturity beyond what you'd expect from youngsters.
"I think they've both been very professional," Murphy said. "It's very impressive. I think that what they've been able to do is show maturity beyond their years."
Work is hardly the final time they embrace each other. After various games, the two, along with their significant others, even go out to dinner and drinks. The affair continues at one of their respective homes with a movie and conversation.
For the interactions, baseball is rarely a topic of intrigue.
The off-the-field bonding is something that resonates throughout the team. With a virtually homegrown organization, each player has known one another for years. Support comes easily to a foray of players who just want to win.
Luckily for the two, a full day without playing hardly exists in the majors anyway.
"There's no such thing as a true off day," McMahon said. "You're getting in there no matter what. (We) Just focus on getting ready for whenever (we) get in there."