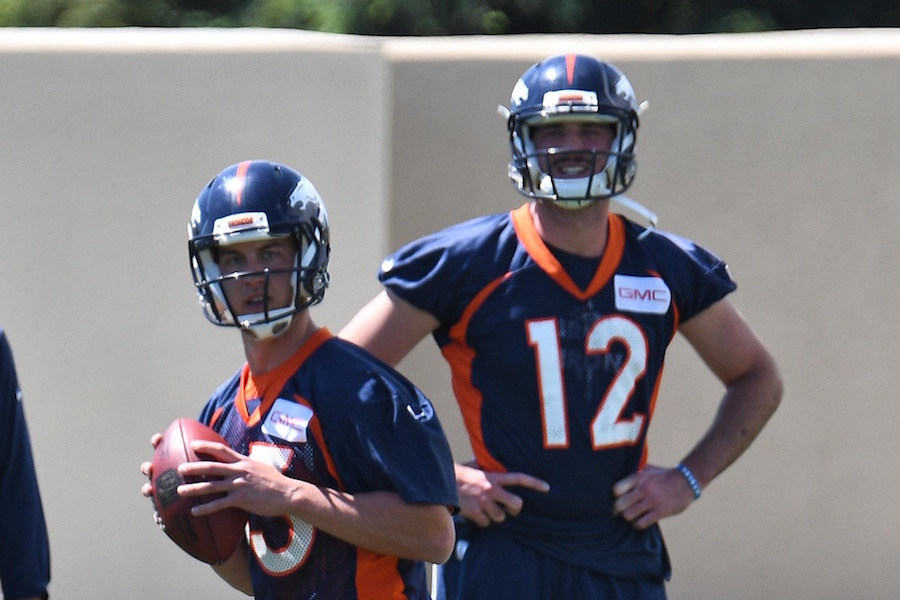 The Denver Broncos still have yet to pick a quarterback. It's testing my patience, and I am not alone.
I like my steak rare – so rare that a good veterinarian could possibly bring it back to life! Not only does rare, red meat taste great cooked in such fashion, but also it's the fastest way to get that succulent dead cow into my rotund body.
I like engines that have eight cylinders or more, because when I want to "giddy up and go," I am more than willing to pay for the fuel efficiency in order to burn the preverbal rubber.
I pay for overnight shipping, because if I buy a product I want it in my hand – not on some shipping container in the South China Sea, or on an iron horse crossing the continental divide. I worked for it. I bought it. Now I want it. End of story.
Kent Erickson, with whom I now work, is somewhere between the ages of 45 and 70. He is a baby boomer and is constantly telling me to slow down. "Slow down driving." "Slow down talking." "Slow down eating." And "Slow down when I state that the Broncos need to hasten the pace on choosing a QB."
Kent Erickson worked for the Broncos for 22-plus years, where he sauntered and strolled from coaches offices to field, leisurely ambling his way about, watching every bit of film he could get his hands on. He has seen his fair share of position battles with the Broncos and throughout the NFL. He tells of stories of the past, where patience was a virtue that ultimately paid off for a franchise. He says we must show restraint and calmly wait for the progression and evolution of players. They dont just become great. Rather, over time, like the Grand Canyon they are formed and carved into greatness. Rome was not built in a day, and neither was the careers of many great NFL players.
Kent Erickson, in his baby boomer generation wisdom, says, "Do not give up on the likes of Paxton Lynch. Paxton has the tools to be a great QB in the NFL, and when he was first drafted in 2016, he was listed as someone with tremendous talent, but was ultimately a project that a team would need to invest in. And Trevor Siemian, too, is still getting better as time slowly passes. Trevor and Paxton will improve, and time will tell for both young lads. You must have patience."
Well POO on that!
Broncos Country, at least those of us that are ages 29-50, are not used to this scenario, and it's driving us all stark raving mad. QBs are the leader of your team, the top guy. How does a business run if no one knows who the boss is? How does an airplane fly if there are two co-pilots arguing about who gets to take off from the runway? How does a team win the AFC West if they don't know who is throwing the ball?
Generation X is a small group. Post-baby boomers and pre-millennial adults who are defined as a group of work hard and play hard self-dependent individuals. Gen Xers are classified as somewhat selfish in spending habits, but are ultimately willing to sacrifice other aspects and work towards satisfying greed. Gen Xers were the first group of children to grow up in two income households, where microwaves instantly cooked nachos and remote controls, without any delay, got us what we asked for, our MTV.
As a Gen Xer, I don't want to wait for this decision to be made. Like my MTV, I want my QB now! I want to know what jersey to buy, who to draft in fantasy football, and whose poster to put up in the two-car garage. I don't need multiple choice, either or, this or that. I want a decision. I make choices, so why can't they?
Kent Erickson regularly calls me spoiled, and rightfully so. He says that growing up with John Elway as your QB, there was no decision to ever be made. John was the man, and knowing who the man is, year after year, made it easy to be a fan. Those years, with John and Peyton Manning at the helm, you knew that every year you had not only a team leader, but you had a chance. You had a chance every year of winning the AFC West, and possibly winning the it all. It's not always easy finding your franchise QB.
The Broncos play what will be their first preseason game in Chicago against the Bears (who have a far worse QB situation in their own right).
Trevor Siemian will be the starting QB for said game, and he will be going with the "Ones." This has been billed by some to be his opportunity to answer the question of "starter".
Trevor in this game must prove he can move the offense. He must show the he can lead his team down the field and, once in the red zone, that he can score seven and not settle for three. He must prove he can be "The Guy," so the decision can once and for all be settled.
However, Trevor is in an almost impossible spot. If he is "efficient" and takes what the defense gives him, in an attempt to be perfect, then he isn't the "gun slinger" we all say we need in the Mile High City. If Siemian does takes shots down the field, and happens to miss or make a mistake, then it will be viewed as just that, a mistake.
Trevor has earned the right to lead the Broncos out this first preseason game, but he has left the door open too many times to not let doubt or the urge to upgrade creep in. Chances are, the decision will still be unclear after tonight, and the Broncos have made it very clear, regardless of what happens, both quarterbacks will get their shot.
First-year head coach Vance Joseph doesn't care if the fans, or the media, or even the players want a decision made. He is on his own timetable, and rightfully so. As head coach, the decision is his to make and his to live with. But Broncos fans of all ages are anxious and hoping that no matter who the QB is, this question will be answered, for once and for all. (You don't want to go through this again next year do you?)
Enjoy the game!
Note: No Millennials were interviewed or harmed in any way in the writing of this article. In my research, many Millennials were found to believe that all great quarterbacks are actually constructed in a Madden simulator. And according to MHS GM Casey Light, "Millennials only read videos," so there was no need to bother them in the construction of this article.