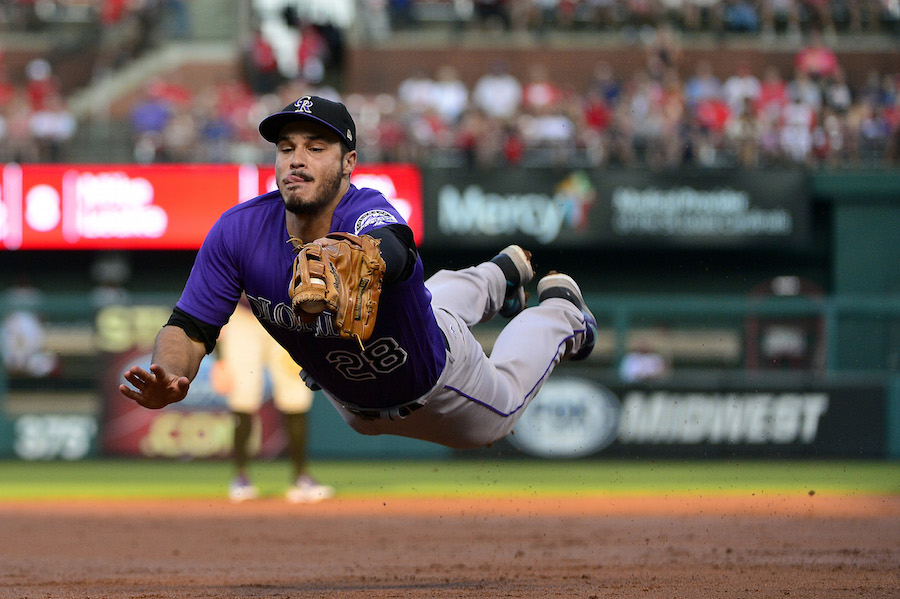 Building a winning baseball team is hard enough, but convincing star players to remain in town long enough to make it happen is something else entirely — especially if you don't have an unlimited budget or extraordinary history, like the Dodgers, Giants, Yankees and Red Sox. But Colorado Rockies general manager Jeff Bridich has continued to show star third baseman Nolan Arenado why he should remain a Rockie — for life.
Arenado is widely regarded as the best third baseman in baseball, and it's not far-fetched to say Arenado could finish his career as the greatest ever at his position — that's how good he is. So naturally, as Arenado's potential free agency creeps closer and closer with no long-term lock-up in sight, anxiety creeps into Rockies' fans hearts. Colorado must prove to Arenado that winning is the top priority. Many teams will say it; far fewer will prove it.
"There definitely are conversations that will happen with Nolan," Bridich said on Friday, when discussing the notion of contract negotiations with Arenado this year.
Arenado will be an unrestricted free agent in 2020 and according to OverTheCap.com, Arenado's market value currently sits at $26.5 million a year. That's a major chunk of change, and one that the Rockies have never handed out before, but for a player of Arenado's stature, it'll be necessary. That's just today's value;  Arenado could see that yearly salary balloon even higher the longer the team waits. But it's worth noting that players want long-term deals and the security that comes with them. Bridich and the Rockies has proved that they're no longer afraid to spend to win.
The signing of closer Wade Davis to a record-breaking deal and adding ace setup man Brian Shaw have a bonus even beyond the obvious; bringing All-Star talent to Colorado — it's showing Arenado that this is the place he should call home for the rest of his career.
Arenado can become the John Elway of the Rockies; a nearly mythical figure forever revered in Denver sports history, if he could help deliver what Rockies fans have dreamed of ground broke at 20th and Blake in 1992 — a World Series championship. The Rockies are tantalizingly close. If Arenado stays long term, it could become a reality.
Aggressive moves like outbidding teams for closer Greg Holland last year in free agency, and signing outfielder Ian Desmond are just some of the moves that bolstered the Rockies to their 87 wins last year and first playoff appearance since 2009. But not only that, trading for Pat Neshek and Jonathan Lucroy — even knowing both moves could only be a short-term rental — also can seen as evidence that the Rockies are trying to win, and win big.
Throw out the outdated 'money for party deck' takes; the Rockies' culture has changed. More money is being spent then ever before, and the front office has proven that they're not window shoppers anymore — they're buyers. This year, but in the season and out of it, should have taken a major step forward in convincing Arenado of this. The trigger man in Bridich is pulling all the right levers and it feels like something special may be on tap at Coors Field.
And I'm not talking about the microbrews.