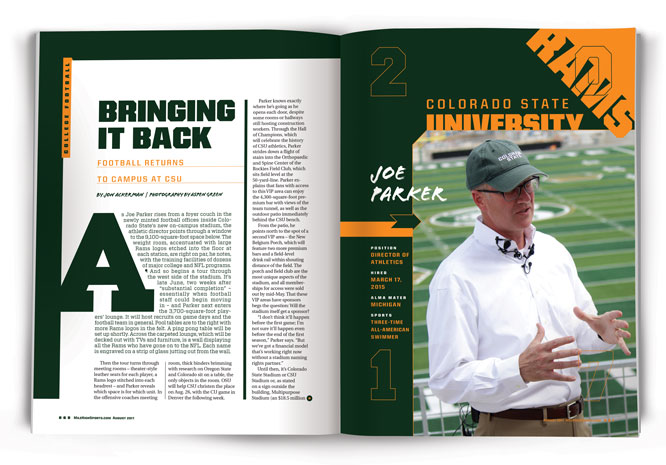 This story originally appeared in Mile High Sports Magazine. Read the full digital edition.
As Joe Parker rises from a foyer couch in the newly minted football offices inside Colorado State's new on-campus stadium, the athletic director points through a window to the 9,100-square-foot space below. The weight room, accentuated with large Rams logos etched into the floor at each station, are right on par, he notes, with the training facilities of dozens of major college and NFL programs.
And so begins a tour through the west side of the stadium. It's late June, two weeks after "substantial completion" – essentially when football staff could begin moving in – and Parker next enters the 3,700-square-foot players' lounge. It will host recruits on game days and the football team in general. Pool tables are to the right with more Rams logos in the felt. A ping pong table will be set up shortly. Across the carpeted lounge, which will be decked out with TVs and furniture, is a wall displaying all the Rams who have gone on to the NFL. Each name is engraved on a strip of glass jutting out from the wall.
Then the tour turns through meeting rooms – theater-style leather seats for each player, a Rams logo stitched into each headrest – and Parker reveals which space is for which unit. In the offensive coaches meeting room, thick binders brimming with research on Oregon State and Colorado sit on a table, the only objects in the room. OSU will help CSU christen the place on Aug. 26, with the CU game in Denver the following week.
Parker knows exactly where he's going as he opens each door, despite some rooms or hallways still hosting construction workers. Through the Hall of Champions, which will celebrate the history of CSU athletics, Parker strides down a flight of stairs into the Orthopaedic and Spine Center of the Rockies Field Club, which sits field level at the 50-yard-line. Parker explains that fans with access to this VIP area can enjoy the 4,300-square-foot premium bar with views of the team tunnel, as well as the outdoor patio immediately behind the CSU bench.
From the patio, he points north to the spot of a second VIP area – the New Belgium Porch, which will feature two more premium bars and a field-level drink rail within shouting distance of the field. The porch and field club are the most unique aspects of the stadium, and all memberships for access were sold out by mid-May. That these VIP areas have sponsors begs the question: Will the stadium itself get a sponsor?
"I don't think it'll happen before the first game; I'm not sure it'll happen even before the end of the first season," Parker says. "But we've got a financial model that's working right now without a stadium naming rights partner."
Until then, it's Colorado State Stadium or CSU Stadium or, as stated on a sign outside the building, Multipurpose Stadium (an $18.5 million academic, advising and alumni center is attached to the east side). Whatever the name may be, the playing surface will still be Sonny Lubick Field, as it was at Hughes Stadium. A $20 million gift from an anonymous donor ensured the Rams' finest head coach continues to be honored.
But Parker isn't concerned about naming rights. He's more eager to open this gem of a venue and wow every fan who steps inside. Back on the patio, he looks south and describes the video board – 84 feet wide and 50 feet tall, the size of a high school basketball court. Directly across from the field club is the student section – 10,000 seats on the lower deck.
From there, Parker navigates the corridors to return to the main football office entrance. He needs to get going to another appointment, but first wants to highlight one last detail outside. Built into a wall of the Iris & Michael Smith Alumni Center is a bell. Made in 1894 and acquired by CSU in 1910, the 500-pound bell hung in the tower of Old Main, the campus' first noteworthy building. Around 1915, a tradition of ringing the bell after every football victory was born.
By 1919, the bell had cracked and been stolen. But in the spring of 2016, the bell anonymously arrived at the house of Kristi Bohlender, executive director of the CSU Alumni Association. She subsequently worked it into the new stadium plans. Parker says the tradition of ringing the restored bell will resume this season.
With that last tidbit explained, Parker drives off. It's hard to fathom he has any other place to be. He knows this stadium so well – all the details, costs, facts and figures – it's a surprise he's not on-site every day with a hard hat and a hammer. He actually has other work to attend to, like running CSU's entire athletic department.
But when Parker was hired as AD in March 2015 after four years as deputy A.D. at Texas Tech, it was no secret that overseeing this stadium project would be front and center on his plate. A large reason he earned the job was because stadium projects had kind of become his thing.
***
An All-American swimmer while earning an economics degree at Michigan, Parker later collected an MBA from the University of Texas, where in 1994 he took his first athletic department gig as a development manager. Then it was on to Washington State and Oklahoma before an eight-year stint back at Michigan. His time at Texas included working on an east side stadium renovation, and his tenure at Oklahoma featured an east side and north end zone renovation. Both projects ran roughly $80 million budgets.
Then at Michigan as an associate AD and later a senior associate AD, Parker was heavily involved in the $226 million Michigan Stadium project – renovating throughout and adding two sideline buildings with elevated concourses, premium seating, and other amenities.
"This was the very first time I had a totally new build," Parker says of CSU.
He owns no previous background in construction, but his past projects have left him well-connected in the small world of building stadiums.
"There are only a handful of large sports architecture firms, so on the four projects I've done, I think I've worked with three of them," Parker says. "And then there are only a few construction partners around the country that have focused on big public assembly facilities for sports venues. So when I came on board, a little bit of it was like déjà vu."
One common theme among his stadium projects: They're on campus. The vast majority of college football venues across the nation are, and CSU will finally return to that group. The past 49 years were spent three miles west of campus at Hughes Stadium, but the 69 years before that were on university grounds at Durkee Field and Colorado Field. Getting back on campus is immensely important.
"Rightly or wrongly, intercollegiate athletics, and particularly football, are the primary engagement asset for this university and any other university playing Division I athletics," Parker says. "I worked at the University of Michigan and there were people on the development side of the institution that were fundraisers for academic units, and they said the greatest moment for fundraising for them was any football Saturday in Ann Arbor. And I think that's exactly what we'll find here."
CSU eagerly anticipates fans and alumni experiencing its revamped campus. Including the stadium, Parker estimates nearly $1.5 billion has been spent in the past decade on campus infrastructure and improvements. The stadium bill will run $220 million (all of which was funded through bond sales that sold out in 90 minutes), which also includes a $3 million practice facility just west of the stadium. That wasn't in the original blueprint, but it was the first thing added once some savings were found within the budget.
It's all a result of CSU committing to raise its stature academically and athletically. Being a university on the rise is why CSU was in discussions for possible Big 12 expansion last year. Does this stadium make CSU even more attractive now?
"We didn't do the project for that purpose, but certainly," Parker says. "Anything that we do to demonstrate we are interested in seeking excellence in every area of campus – whether it be academics, research or intercollegiate athletics – I think helps us with any future conversations that might take place."
Future talks are sure to happen as long as the Big 12 only has 10 schools.
Were CSU to find itself in a bigger, richer conference, the thinking follows that it would need more capacity than the 41,000 in the venue it's about to open (36,000 tickets for seats; 5,000 for standing room only). Parker allows that the stadium was "built with the idea that there could be some flexibility for future expansion." More financial investment would need to support that, but for where CSU is at currently, Parker believes the stadium is "right-sized."
"The days of people trying to build a stadium that's greater than 60,000 for a collegiate experience, I think, are well behind us. I'd rather be in a situation where there's lack of available seats and that kind of tightens people's interest in staying involved over a long term," Parker says.
Ram fans could experience that scarcity from the onset. A record 13,600 season tickets had been sold as of July 1, and officials believe they'll hit 15,000 before the first game. Single-game tickets for 2017 went on sale the last week of July.
Among the biggest concerns with the on-campus stadium has been parking, which was never an issue at Hughes because no other structures were in the vicinity. Yet, part of the recent campus transformation has included two parking garages. Add those to existing parking and Parker says, "We have more parking available on campus than we do out at Hughes."
With parking comes the football staple of tailgating. On campus, a majority of the surface lots will allow for tailgating, it'll just be more spread out.
"Everything that people were allowed to do at Hughes, we're planning to allow people to do here on campus," Parker says.
Because neither the size, nor the name, nor the cost of the stadium is what's most important. It's location, location, location. An on-campus football stadium makes games easier for students to attend, and allows alumni and fans time to soak up the campus.
"Bringing it back," Parker says of the football experience, "brings us back to really the roots of intercollegiate athletics on our campus."