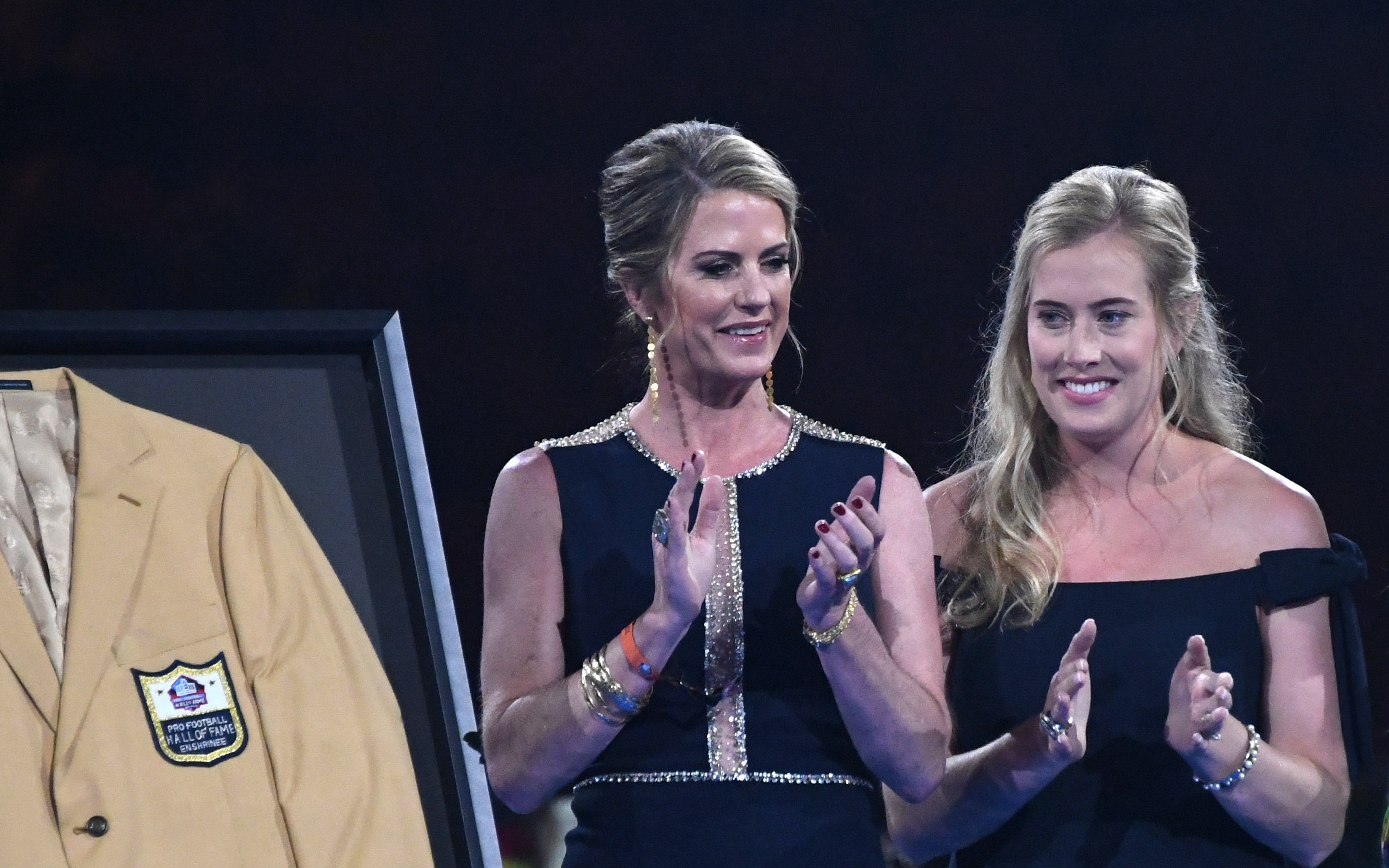 Nothing is official, but it surely looks like the Denver Broncos would like Brittany Bowlen to become the team's next owner.
That is yet to be decided by Joe Ellis and the rest of the trustees, but they have identified her as the one of Pat Bowlen's seven children they'd like to run the team. And the 30-year old has taken a larger roll with the team lately, including heading up Denver's COVID task force.
On Wednesday, the Broncos invited all of their full and part-time employees as well as players and their families to Dove Valley to get vaccinated against COVID-19. It was an extraordinary bit of leadership from Bowlen, who also spoke to the media and called owning the Broncos a "dream job."
"Today, we're really here to talk about the vaccines, but it's no secret to any of you this is my dream job,'' Bowlen said via a Zoom interview on Wednesday.
Offensive quality control coach Chris Cook explained, "It's just extremely important to do whatever it takes to keep everyone in the world safe."
"Football is family, and we're doing our part to keep the community safe, "Bowlen continued in the video shared by the Broncos (below).
"It's just extremely important to do whatever it takes to keep everyone in the world safe."#Broncos & @uchealth combine to offer vaccinations to organization members & their families » https://t.co/FEcXoro2TS pic.twitter.com/j03kRdUcIa

— Denver Broncos (@Broncos) April 21, 2021
As she also explained at the end of the video, it's important for players to know the vaccine is safe and effective, even if some have doubts about the shots or the pandemic in general. (Linebacker Alexander Johnson called it a "planned pandemic" last week.)
Outside of heading up this wonderful vaccination program for Broncos employees, Bowlen is also leading efforts for the team's Diversity, Equity and Inclusion initiatives. The Broncos DEI Career Huddle took place on April 15 and included three panels with diverse membership from the football operations side of things, women with the Broncos and the front office, which included Brittany Bowlen.
"Diversity, Education and Inclusion is a strategic focus for our organization," Bowlen said via the team's twitter account. "It's something we're going to continue to work on."
Denver's DEI Career Huddle is under the umbrella of the Broncos' Inspire Change initiative which was launched last September thanks to Bowlen and includes not only diversity and inclusion but also education, awareness and funding, as well as activism.
Obviously, backing players in community activism is a progressive step the Broncos are taking, which is certainly one positive to take away from a would-be owner who is much younger than most of the rest of professional sports owners today. It's also a radical shift compared to the league allegedly blackballing Colin Kaepernick and basically being against social injustice protests.
Our Dr. Nicholas Manning started a DEI initiative at his Support, Inc., a company providing supports for Adults with Intellectual and Developmental Disabilities throughout Colorado. And he shared why an organization looking to focus on DEI is important.
"First, you must really look inward into your organization and the direction you want/need it to go," Manning explained. "Ideally, you want the framework of your council to reflect the broader community (racial, gender, age, sexual identity, etc.)."
Which, when looking at the panelists Denver chose as part of their Career Huddle — women, POCs and an overall diverse group — it's clear they did just that. Simply, people who are traditionally underrepresented, like people of color and women — especially in the hyper-masculine world of the NFL — will more easily connect to the world of football when hearing from people that may have had similar experiences to them.
"Brittany's place in this initiative is huge, because it impacts all aspects of the organization," Manning continued. "Brittany having the chance to launch this initiative along with a team sponsored press time to address it and her candidacy for the ownership position is another sign of the growing support from the Trust that she is a real possibility to take over."
Certainly, by backing these initiatives like the vaccination program and Inspire Change, the Broncos aren't just talking the talk but walking the walk in terms of being inclusionary. That should matter to fans as well as players in a league which is made up of 70 percent African American players.
And, in sticking with the Bowlen tradition, it's fitting how well Brittany is taking care of the team's employees, just like her dad always did as the head man of the team.