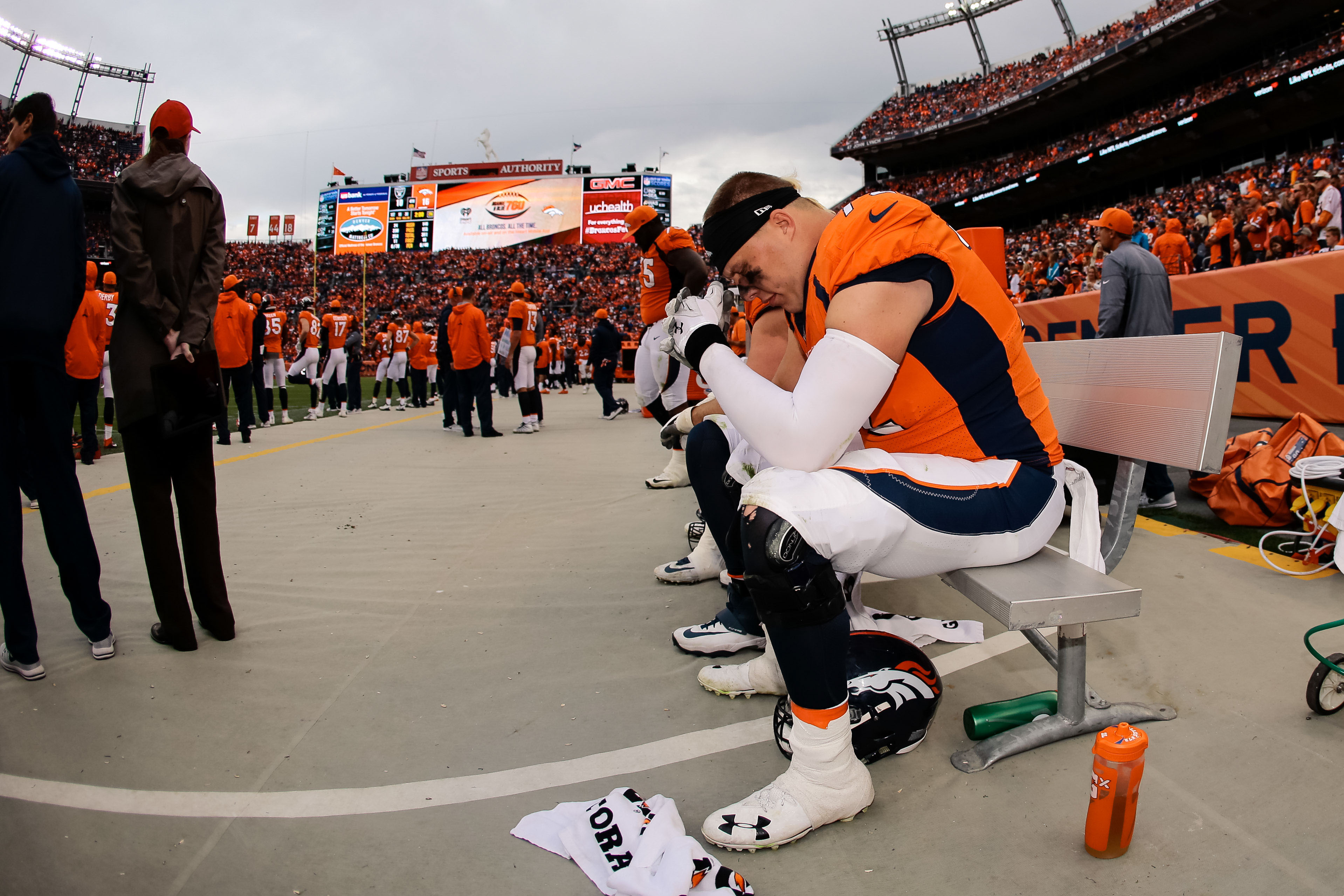 After skating on thin ice throughout the Vance Joseph era, John Elway has turned the heat on his own seat down a few notches with great drafts in both 2018 and 2019. Last year, Elway added key defensive pieces like Bradley Chubb and managed to find the future of the offense in Courtland Sutton, Phillip Lindsay and Royce Freeman. This year, Elway got his quarterback of the future, shored up the offensive and defensive lines and landed a hyper-athletic tight end.
When comparing these classes to Elway's 2017 class, the difference is stark. Of the eight selections, half are no longer on the team, one hasn't been able to dress for games, one just suffered his second torn ACL, one was unable to play cornerback and is attempting to switch to wide receiver this offseason, and the last one is Garrett Bolles.
Bolles has struggled mightily through his first two years in the pros. In his rookie year, he earned an overall grade of 72.9 from Pro Football Focus which regressed to 70.7 in Yeah Two. Although he improved in his pass protection, his regression in run blocking from a grade of 74.2 to 66.5 was a major problem.
Bolles' greatest problem though, is the amount he gets flagged. Through just 32 career games, Bolles has been called for 28 penalties, the second-most among all offensive lineman since he entered the league. Now with arguably the league's best offensive line coach in place in Mike Munchak, it's now or never for the former Utah Ute.
If Bolles doesn't show significant improvement under Munchak, he will likely have to move elsewhere on the line or be relegated to the bench. If 2019 second-round offensive lineman Dalton Risner pops this year, the Broncos could be more than tempted to distance themselves from Bolles, and remember, among the 2017 class, Bolles' future is the brightest.
The future of tight end Jake Butt is arguably second even after the first round selection of tight end Noah Fant. Butt suffered a torn ACL in the Orange Bowl during his senior season, which would sideline him for his rookie year. In 2018, Butt got off to a good start, catching eight passes through the first three games for 85 yards, before once again tearing his ACL.
Two ACL tears this early in Butt's career is a massive red flag, and now he will have to compete with Jeff Heuerman and Troy Fumagalli to make the final roster.
The final two remaining Broncos from the 2017 class will also have to compete with 2019 rookies just to make the roster.
After washing out at cornerback, 2017 third-rounder Brendan Langley is now attempting a move to wide receiver. While wide receiver is Langley's more natural position, he hasn't played it consistently since high school, and position changes this major rarely ever work in the NFL.
With Emmanuel Sanders, Courtland Sutton, DaeSean Hamilton and Tim Patrick near locks to make the final roster, Langley will have to battle 2019 sixth-rounder Juwann Winfree and River Cracraft for the fifth receiver job.
Even less productive than Langley or even Jake Butt has been Demarcus Walker. Through the first two seasons of his career, Walker has appeared in just 13 games, only three of which came in 2018, and has recorded a mere 11 tackles and two sacks. This all comes despite Walker not missing a single game due to injury during his time with the Broncos.
Walker was drafted to be a 3-4 defensive end the Broncos could use in passing situations, but now with Dre'Mont Jones on the roster, it looks like the former second-round pick out of Florida State has a way to go to make the team.
The Broncos are headed upwards, thanks in large part to their stellar draft classes of the last two years, but they'd be much further along if they could get any production out of their 2017 class.