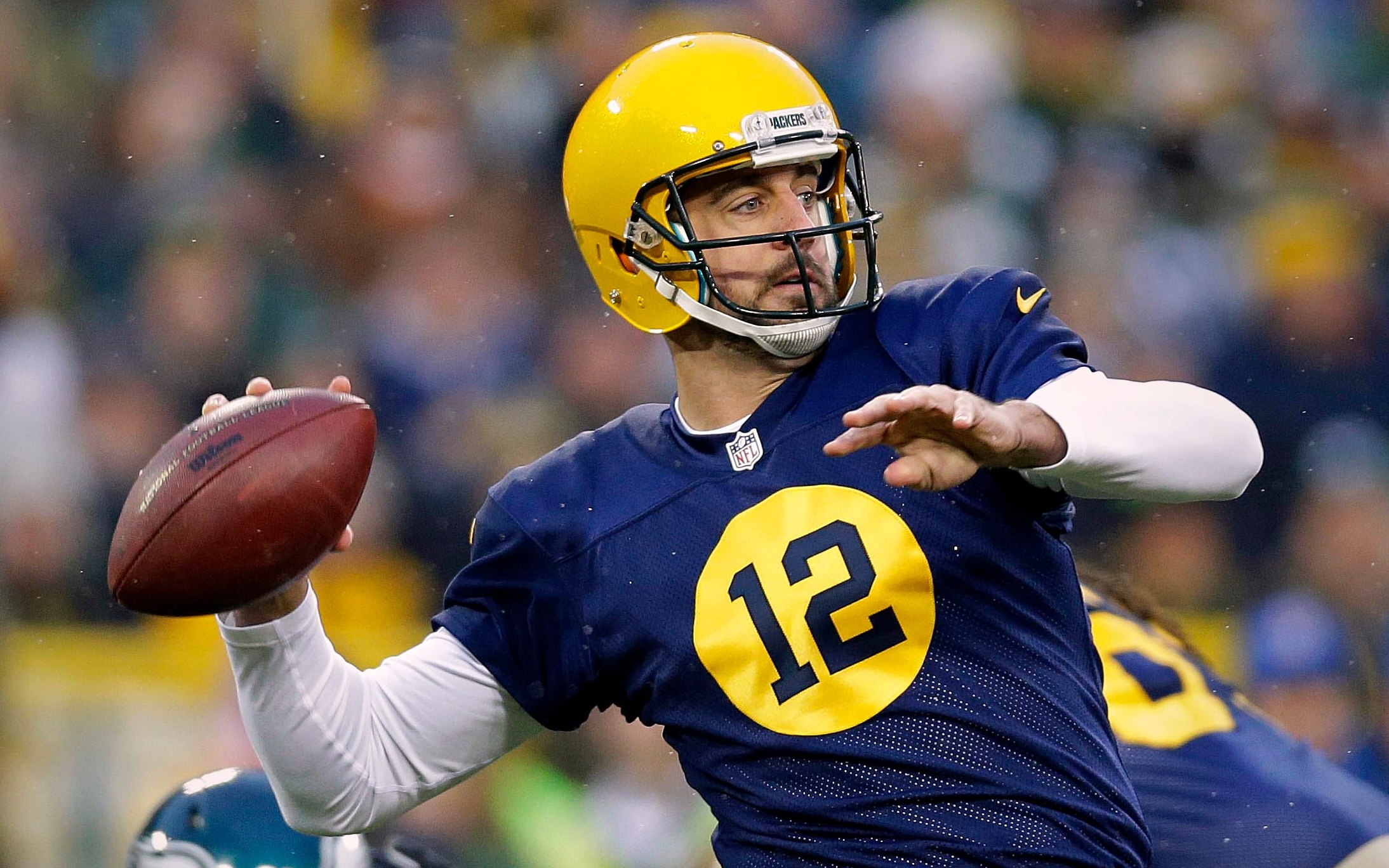 It's Draft day, football fans!
And while many Denver Broncos fans want their team to draft a quarterback in tonight's first round — even after brilliantly trading for Teddy Bridgewater yesterday — they also might be happy to hear Aaron Rodgers and the Green Bay Packers seem destined for divorce.
According to Trey Wingo, Green Bay told Rodgers they would trade him this offseason but backed off, leaving Rodgers to tell the team he's not coming back.
Of course, in quarterback-deprived Denver, any time a QB has gone on the market this offseason Broncos Country jumps on board. That's been the same case from the fans with Rodgers, a Super Bowl champion, and a three-time MVP including last year's award win.
But, what makes this case different is that Rodgers isn't just on Broncos Country's wish list, he has Denver as one of his top destinations, too.
According to Pro Football Talk, not only does Rodgers want to leave Green Bay, he was upset when the Packers didn't accept a trade offer from the San Francisco 49ers. But, the Broncos and Raiders are also on Rodgers' short list for possible landing spots.
From unimpeachable source: As of last night, Aaron Rodgers' wish list was 49ers, Broncos, Raiders (not necessarily in that order). He wanted Packers to take the 49ers' offer. Next move by Rodgers is TBD.

— ProFootballTalk (@ProFootballTalk) April 29, 2021
PFT doubled down and called Denver and Las Vegas "probable" destinations, and it should be noted Rodgers' girlfriend Shailene Woodley lives in Boulder.
The 49ers not only have Kyle Shanahan as head coach, but their defense is dominant when their players are healthy. However, the Broncos are in a similar position now that George Paton has put together a top-5 defensive unit in Denver.
Add onto that the Broncos' extremely young and talented receiving corps, and Denver may even be in the lead over San Francisco. (Not sure why Las Vegas is included in the list).
Courtland Sutton will return to action this fall after missing an entire year. When he's on the gridiron, he's a no-doubt superstar and No. 1 receiver. One only has to look at what Rodgers did with DeVonte Adams to imagine what could be with Sutton and Rodgers. Last year, Adams' 18 touchdowns led the NFL, as did his 98.1 yards per game and his 1,374 yards were tied for fifth-most in the league.
Sutton put up 1,112 yards and six touchdowns with Joe Flacco, Brandon Allen and Drew Lock as his QBs, so who knows how well he could do with Rodgers at the helm.
Then, there's Noah Fant, who's developed into a rising star in only two years and with a handful of different quarterbacks throwing him the ball. He's of that athletic mold that lends itself to a quarterback getting him the ball and letting him do the work, like the 75-yard touchdown he had in 2019.
Of course, there's also Jerry Jeudy, who struggled mightily as a rookie with Drew Lock as his quarterback. Lock's completion percentage (57.3) was 35th in the league, and Jeudy had the most incomplete targets that were the QB's fault with 26 last year, too.
Add onto those playmakers KJ Hamler — who's shown flashes of brilliance — and Albert Okwuegbunam as players Rodgers would almost certainly make better in the Mile High City.
Last year, Rodgers at age 37, threw a career-high 48 touchdowns compared to a mere five interceptions. He also led the league in eight passing categories including completion percentage (70.7), passer rating (121.5) and ESPN's QBR (84.4).
Could he — an aging, superstar quarterback on the outs with his team — be what to George Paton what Peyton Manning was to John Elway as GM? Remember, Elway signed Manning early into his tenure running the personnel side of things for Denver, and the Broncos went from one of the worst in football to a perennial powerhouse. Oh, and eventual Super Bowl champions.
That was the last time Denver went to the playoffs, way back in 2015.
Now, with Paton in charge, there's a newfound energy within the team and a new direction they're taking. But, Rodgers could be a way to hope history repeats itself.
Without a doubt, landing him would take Denver from mediocre to Super Bowl contenders overnight.
As for a trade: It would seem likely the Broncos would need to get it done today, before they pick at No. 9 overall. That should be around 8 p.m. MT, or in less than four hours at the time of this publishing.
Denver has $24.5 million in cap space currently, however, Rodgers carries a $37 million cap hit this year. So, something would have to change on the money end of things.
UPDATE: 
Per source, there are no negotiations currently happening between Broncos and Packers. Broncos are preparing for their selection at No. 9. Could things change? Yes. Is something imminent? No.

— ProFootballTalk (@ProFootballTalk) April 30, 2021