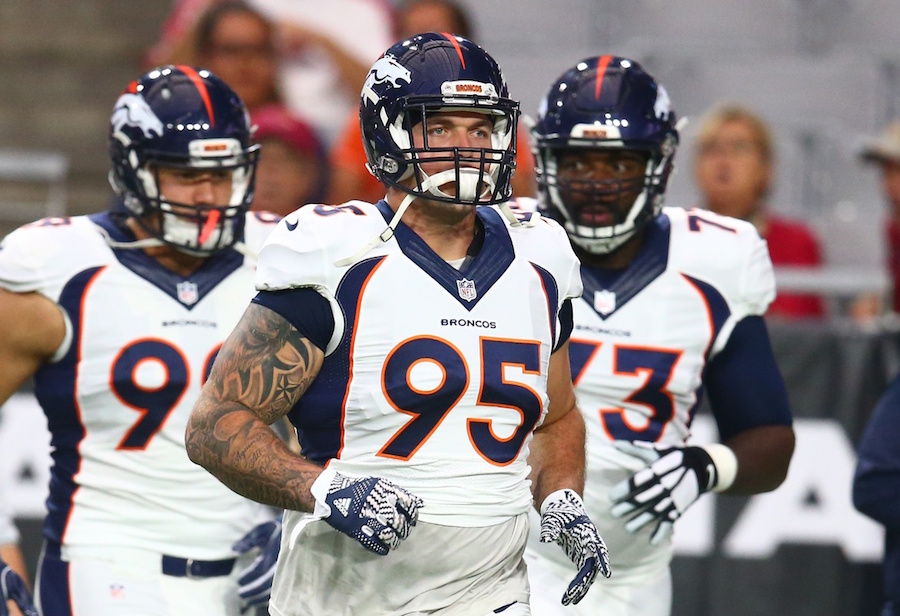 The Broncos defensive line was already thinning when second-string nose tackle Billy Winn went down with what turned out to be a season-ending ACL tear during Thursday's preseason opener against Chicago. The Broncos made one move to bulk up the line on Saturday, but another near loss has them still not out of the woods through at least the preseason.
With depth NT Kyle Peko still recovering from a broken foot, the interior of the line was already a man short. On the edges, Shaquil Barrett (hip) and Shane Ray (wrist) are both out through the preseason and possibly longer.
Denver signed rookie NT Nelson Adams on Saturday to add depth behind starter Domata Peko and undrafted rookie Tyrique Jarrett. Winn was placed on injured reserve.
Adams originally signed with Pittsburgh out of Mississippi State in April. In his career with the Bulldogs, Adams compiled 80 total tackles, 4 sacks, and an interception. Twenty-five of those tackles and 2.5 sacks came during his senior season.
The Steelers waived Adams to make room for JaCorey Shepherd on Saturday, Aug. 5.
The addition of Adams is a minor addition compared to the potential major subtraction they could be looking at after Saturday's practice.
Veteran defensive end Derek Wolfe went down with an ankle injury in the morning practice and had to be carted off the field.
After practice, head coach Vance Joseph told the gathered media, "It's an ankle injury. You know, we're not sure how bad. You know, we're kind of assuming it's not that bad,"
Wolfe tweeted later in the day that it was only a sprain and that he 'dodged a bullet.' Wolfe is expected back for the regular season opener against Los Angeles.
Wolfe is a crucial piece to the interior of Denver's line. He played 57.93 percent of all defensive snaps last season, a number that was expected to go up in 2017.
The sixth-year player out of Cincinnati has 191 tackles (134 solo) and 22.5 sacks in his NFL career, all with Denver.