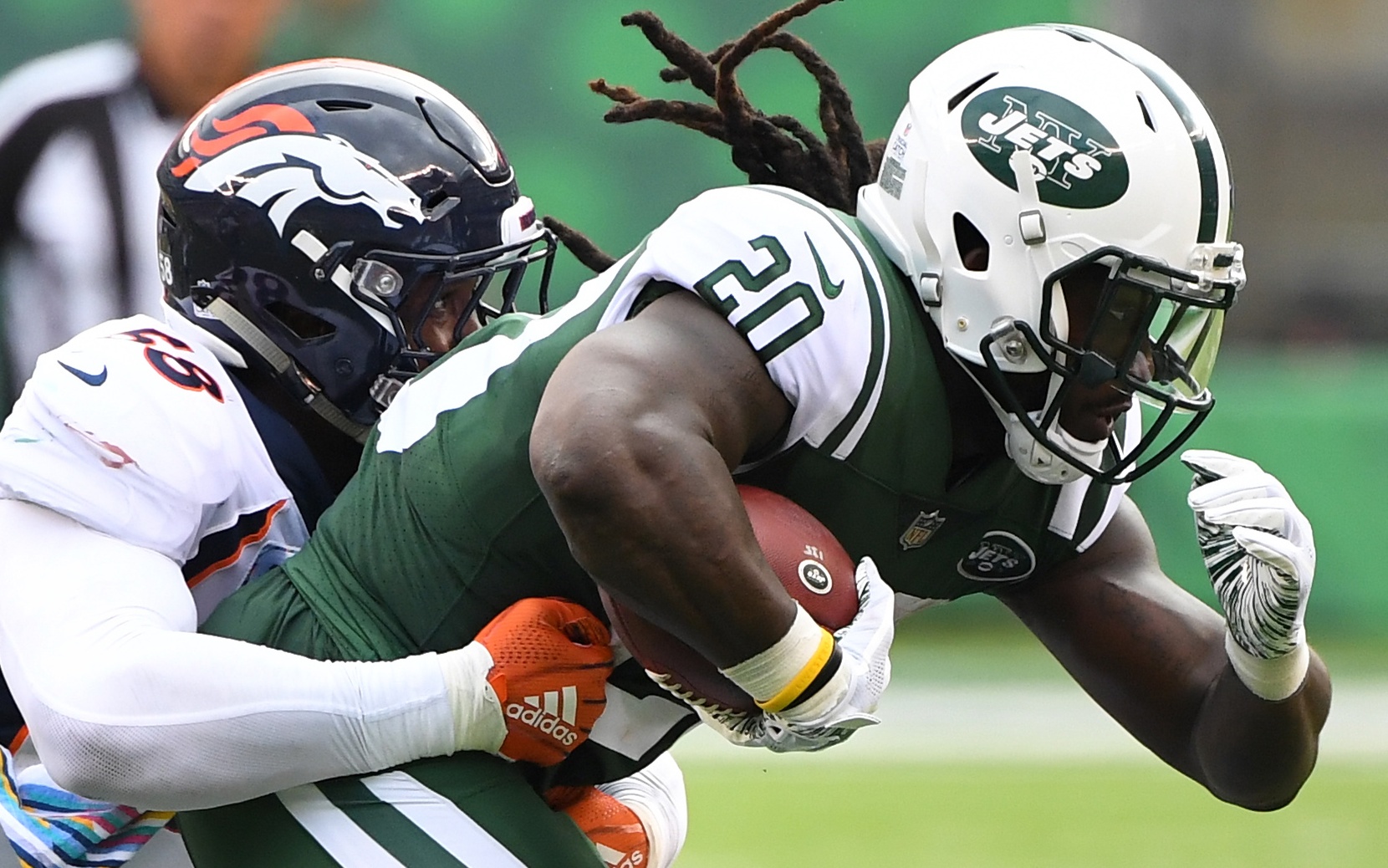 These Denver Broncos aren't just bad, they're historically terrible.
At least, they were on Sunday in their embarrassing, 34-16 loss to the New York Jets.
Isaiah Crowell ran through the Broncos defense like they were scarecrows in a pumpkin patch, standing still. Crowell busted off that 77-yard touchdown early, and it was only a sign of things to come as he set a Jets single-game record with 219 rushing yards against the Broncos.
But, it wasn't just a franchise record Crowell set on Sunday, he also set an NFL record with 14.6 yards per carry, the highest for a running back with 15-plus attempts in a game, per Elias:
Isaiah Crowell averaged 14.6 yards per rush today, the highest average in a game by a player with at least 15 rush attempts in NFL history.

h/t @EliasSports pic.twitter.com/yiiDrqEBEq

— ESPN Stats & Info (@ESPNStatsInfo) October 7, 2018
Not only did he break that 77-yard run, but Crowell gashed the Denver defense for trots of 54 yards and 36 yards, all explosive plays which helped break the Broncos spirit.
On top of that the Broncos almost allowed Bilal Powell to hit the century mark, too, as he came one yard short with 99 on the day.
We knew Denver was poorly coached on both sides of the ball, that the secondary was less deep than it has been in recent years and that Case Keenum has struggled as Broncos quarterback.
What we didn't expect was that the Denver run defense, which has been undoubtedly it's strength — landing in the top-five for five straight seasons — would so quickly and sharply plummet on Sunday against the Jets.
As Shane Ray said after the loss, "I felt like this is a team we should beat. No disrespect to them, I felt like this is a team we should beat."
So did much of Broncos Country, even if it was a road game, played in the early time slot, when the team has been historically bad.
And speaking of historically awful, the Broncos are now on the wrong end of history thanks to that repulsive performance against the Jets. Outside of Crowell's NFL record, he also became the fourth player in NFL history to run for 200-plus yards with 15 or fewer attempts.
Now, the Broncos have to face elite running back Todd Gurley as the Super Bowl contending Los Angeles Rams come to Denver next Sunday. Gurley currently only has 415 rushing yards on the season, but his seven running scores are No. 1 in the league.