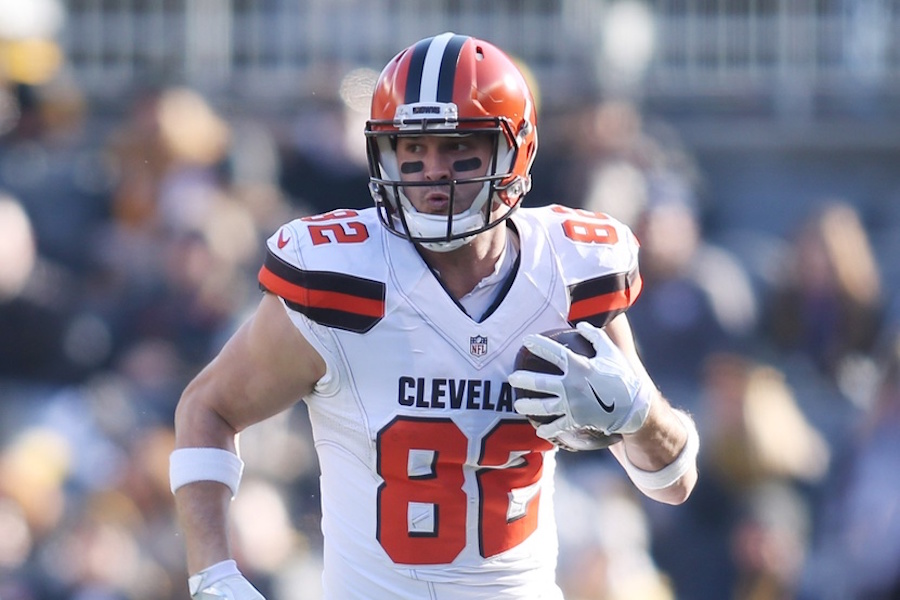 Gary Barnidge is a still free agent after being released by the Cleveland Browns back in May. After really solid campaigns in 2015 and '16, it's puzzling as to why nobody has signed him. Over the past two seasons with the Browns, Barnidge has 134 catches for 1,655 yards and 11 touchdowns.
As training camp approaches, the Broncos and Ravens remain logical choices as landing spots for the 2015 Pro Bowl tight end.
With the injury to Dennis Pitta, the Ravens suddenly have a major hole to fill at tight end. A proven player such as Barnidge could fit right in with a veteran quarterback like Joe Flacco. This move would also take pressure off some of the younger pass catchers in Baltimore (who currently have only one tight end with more than 4 years of NFL experience).
As recently as July 10, there was no indication that the Ravens had interest in Barnidge (or had even contacted his agent). The team's own website called the 31-year-old an "intriguing option," but cited his age as a possible reason teams are staying away for now.
While the Broncos' tight end situation isn't nearly as dire as that in Baltimore, signing Barnidge would still be a savvy move by general manager John Elway.
Denver probably has their number one tight end in Virgil Green and just drafted Jake Butt from the University of Michigan, but the rest of the tight ends on the roster are somewhat questionable commodities. Jeff Heuerman and A.J. Derby both showed flashes of ability in 2016, but neither performed nearly as well as Barnidge did in Cleveland.
Furthermore, with Butt coming off of an ACL injury, Barnidge could be the perfect insurance policy to give Butt all the time he needs to recover. The addition of Barnidge would also add a second veteran to a position group that sees seventh-year man Virgil Green as the grandpa of the group.
Both Barnidge and his agent have said they are willing to wait to sign with the right team, even if it happens after the start of training camp. Barnidge could be the boost that both the Broncos and Ravens need, so it may come down to who pulls the trigger first and gives Barnidge a call.