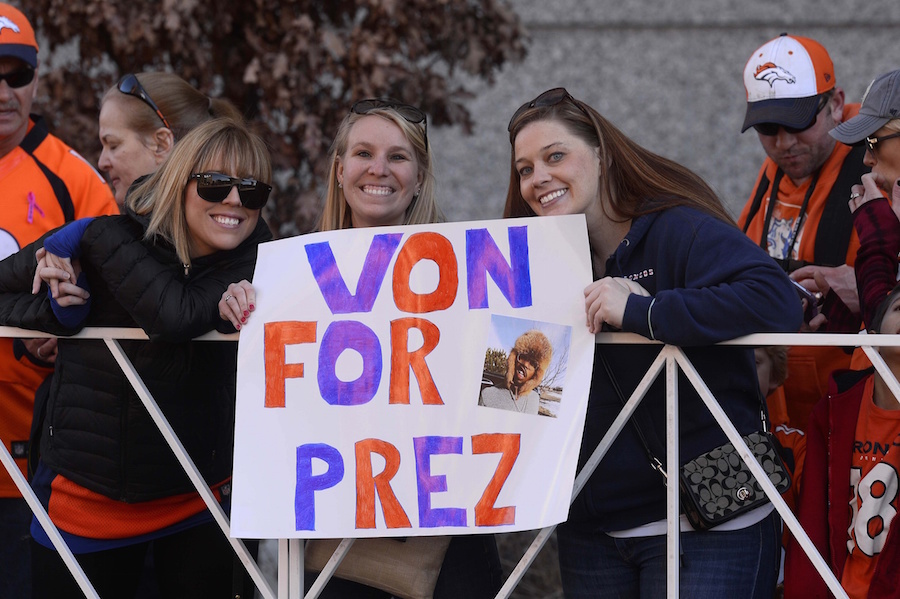 The Denver Broncos showed why they're considered one of the best-dressed teams in the NFL as they are headed to visit President Obama on Monday morning.
Members of the 2015 Denver Broncos will be in Washington, D.C. to celebrate their Super Bowl 50 victory as well as be recognized for their various charitable efforts throughout the season.
Von Miller, who was voted one of SI's "Fashionable 50" earlier this year, was all smiles alongside defensive captain DeMarcus Ware. (Ware will be taking control of the NFL's Instagram account for the day, so be sure to follow along there, as well.)
That "headed-to-meet-@POTUS" feeling pic.twitter.com/yyKoPtDdj7

— Denver Broncos (@Broncos) June 6, 2016
Miller and Ware posed also for a tarmac photo with Chris Harris, Kayvon Webster and a clean shaven Darian Stewart.
Kenny Anunike and Todd Davis were both sporting Broncos blue suits as they stepped on the plane.
Today is a good day. #SuperBroncos pic.twitter.com/QElURPCKCy

— Denver Broncos (@Broncos) June 6, 2016
Virgil Green was sporting a slightly more casual look inside Broncos HQ before the team departed. (We're guessing he'll ditch the hat and shades upon arrival at 1600 Pennsylvania Avenue.)
And he's off…. #broncos TE @VGreen85. #WhiteHouse #superbowlchamps #nfl #thehulk pic.twitter.com/9VgKwZH6ca

— Shawn Smith (@ShawnSmithMktg) June 6, 2016
Brandon McManus, meanwhile, looks like he took breakfast and his necktie to go as he boarded the team bus.
.@thekidmcmanus, ready to roll.#SuperBroncos pic.twitter.com/LYVSwl69XU

— Denver Broncos (@Broncos) June 6, 2016
Max Garcia popped this shot on the team bus en route to the airport.
Off to the White House ! See you soon @POTUS #SB50Champs pic.twitter.com/YGN3URVzio

— Max Garcia (@MGarcia_76) June 6, 2016
The wide receivers are going all out, as well. Here's Bennie Fowler.
Headed to the White House ? #BroncosUP #SuperBowl5️⃣0️⃣Champs pic.twitter.com/xO8sorBzVB

— Bennie Fowler (@b_fowler13) June 6, 2016
And Super Bowl record holder Jordan Norwood, rocking a blue and orange plaid tie (and those shoes!)
Cody Latimer didn't stick with Broncos colors, but his outfit is still right on time.