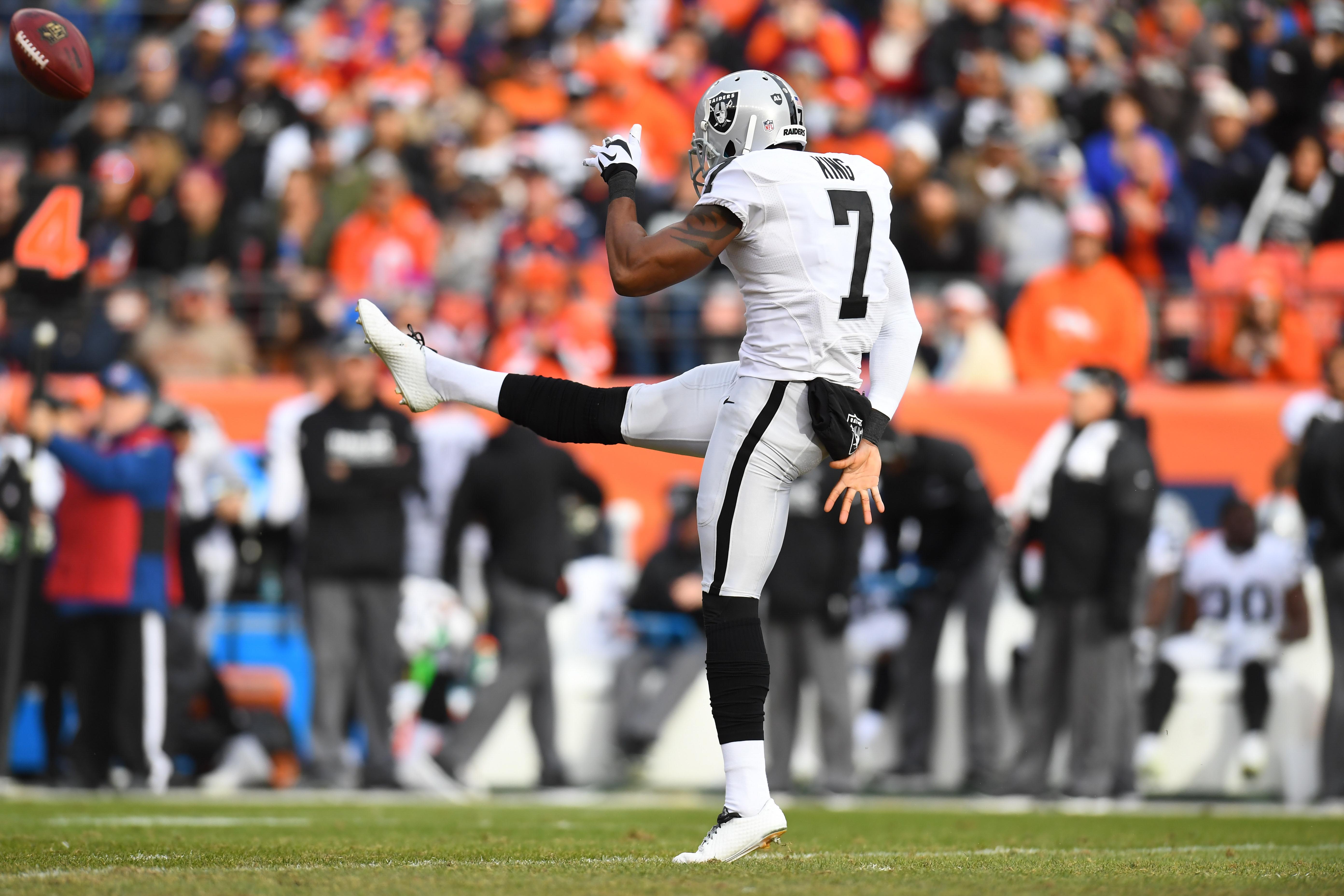 Thursday provided another reminder of how fast the NFL actually moves.
Just when it seemed like the Denver Broncos were settling into draft mode, they went out and made another free-agent acquisition.
The Broncos signed punter Marquette King to a three-year, $7 million deal on Thursday after he was surprisingly released by the Oakland Raiders on March 30. For someone who has made a career out of "trolling" Broncos Country for the last few years — as he admitted on his introductory conference call — Denver ranked surprisingly high on his list of teams to join once he was released.
"I just felt like Denver was the best team to go to," King said on Thursday. "The people that I was familiar with that are here with the organization — you get a homey feeling when you get here. I'm just looking forward to competing and winning games."
According to King, there were several factors that went into his decision. He might get that "homey" feeling in Denver, but he admitted that punting in the thin air eight times a season played into that choice as well.
"I think when it comes to punting out here, the ball definitely travels a lot further," King said. "There is a lot more you can do with the altitude. I've always enjoyed punting out here in the altitude just because the ball travels further. It's something I'm going to have to get used to, too. I definitely have to get a feel for my leg when it comes to putting the ball inside the corners and everything. Denver is a punter's paradise. While I'm competing, I'm going to see if I can take advantage of it."
The 2016 Second Team All-Pro could be a big addition to a Broncos special teams unit that struggled in 2017. According to Pro Football Reference, the Broncos ranked just 26th in kicking and punting in 2017. This is their second move in their special teams overhaul after signing former Indianapolis Colts special teams coordinator Tom McMahon.
The addition of King essentially stamps Riley Dixon's ticket out of town. The third-year punter slightly regressed in his sophomore season after making the 2016 All-Rookie team in 2016. After a disappointing 2017 season, no one is safe.
King's decision to join the Broncos also adds another element to the Broncos-Raiders rivalry. He wasn't shy about that nugget playing a factor in his decision to come to Denver as well.
"I just wanted to find the best place that I thought I would fit," King said. "I think there is somewhat of a revenge factor in there, too. It's a mixture of some of everything."
The Broncos should be thrilled to have a veteran punter back on their team. The only thing they should want him to change is his "ride the pony" dance he'd occasionally do after a big kick.
He's already on that.
"Now it's time to find a new celebration because that was one when I was trying to troll y'all (laughing)," King said. "Now I've got to find something else. It's definitely going to be a nice little dance. We'll figure something out."