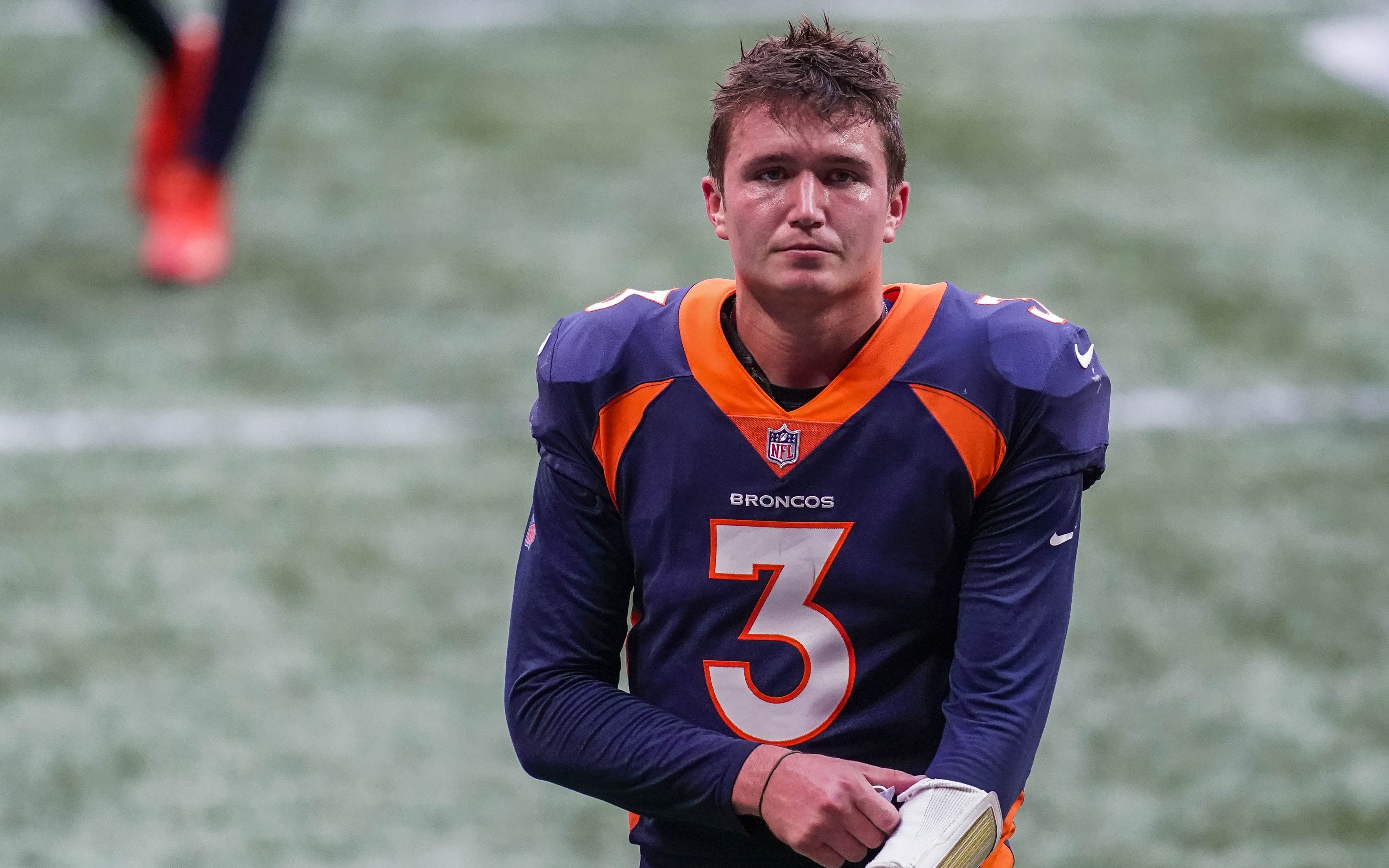 The Denver Broncos are, sadly, once again eligible to be on HBO's Hard Knocks.
Sadly because the team has to miss the playoffs the previous two seasons in order to be included in the show. However, this may be the perfect time to feature the Broncos on the incredibly well-done documentary show.
Why?
There are so many phenomenal personalities, a likely quarterback battle and the Broncos are still one of the premier franchises in all of the National Football League. Since Hard Knocks first kicked off, back in 2001, the Broncos have won the AFC West six times, earned two AFC Championships and notably won Super Bowl 50.
And really, it's a shame the last time much of the national audience saw the orange and blue on their screens was in February of 2016, five years ago.
Since then, the Broncos haven't sniffed the playoffs and are currently on their third head coach and fourth starting quarterback. Let's start there.
Drew Lock is the most divisive player with the franchise since Tim Tebow a decade ago. Back then, Tebow brought many religious folks to the football world who had never been into the great game before that. They backed Tebow to the ends of the earth because they loved he was unapologetically Christian, kneeling after scoring touchdowns. But, true football fans knew Tebow simply wasn't a polished quarterback.
Fast forward to 2020 and Lock is a young, compelling quarterback which has divided Broncos Country once again. Similarly with Tebow, fans are desperate for a great quarterback, so they'll use any bit of good play to point to his greatness. However, the stats don't lie, and they show him as one of the worst quarterbacks in the league.
That's why the Broncos are incredibly likely to bring in a veteran quarterback to compete with Lock. Talk about must see TV.
Hell, watching Lock be his fun-loving, dancing, rapping on the sideline self would be entertaining enough. And it would be fascinating to see what his teammates really think of him, if they actually like that dancing foolishness or if it annoys them. Add in another quarterback fighting for the job and that's some perfect content for Hard Knocks.
But it doesn't stop there, Jerry Jeudy is a character in his own right and he's an up-and-coming star wide receiver. Sure, he had his missteps as a rookie last year, dropping a second-most in the NFL 9 passes, but Jeudy's route running and separation abilities have translated to the NFL level as was expected.
Then, there's Noah Fant and KJ Hamler, two more young playmakers on the offense fans would surely like to know. Or, the superstar Courtland Sutton, battling his way back from a traumatic injury that cut his season way too short. Even on the offensive line, Dalton Risner would be an interesting guy to spotlight, the Colorado native of the small town of Wiggins who plays next to blossoming star Garett Bolles.
And that's just the offensive side of the ball! Bradley Chubb and Von Miller chilling after practice, or Justin Simmons out in the city raising awareness with his social activism; there's no shortage of storylines with the players.
Next, there's Vic Fangio. Fangio, a somewhat gruff, old-school guy is also one Broncos fans don't know that well. In 2019, Fangio was just getting his feet wet as a head coach for the first time. Then, last year was a COVID-19 season, so while he met with the media, it was all over Zoom. It can be difficult to get to know a head coach — or anyone for that matter — by simply seeing how they communicate over video chats.
Finally, the Broncos would be a perfect team to profile because George Paton takes over the personnel decisions while John Elway is still in the building as well. Paton, like Fangio in 2019, is getting his shot as "the man" for the first time after being in the NFL for 20-plus years.
Like with Elway back in 2011, Paton is in the position to bring the Broncos back from a rough spell. And what he does this offseason will be key in whether or not Denver can truly compete for the AFC West again soon or if they'll be on the outside looking in for a long time.
The qualifications for being on HBO's Hard Knocks are: A team can't be in the playoffs the last two years, they cannot have a new head coach and they can't have been on the show in the last decade. That leaves Denver as one of five teams including the Dallas Cowboys, New York Giants, Arizona Cardinals and Carolina Panthers.