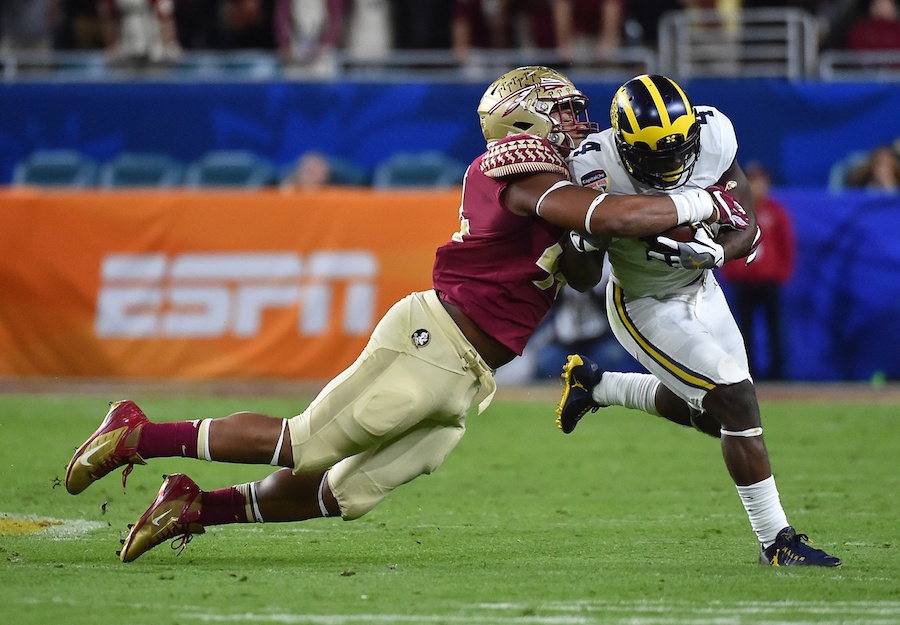 We are now through three rounds of the 2017 NFL Draft, and the Denver Broncos have added four new players to their roster. While at first glance, these four players may look to be extremely different, there does seem to be a few common threads among each of these new additions to the team.
Of course, in the first round the Broncos grabbed Utah offensive tackle Garett Bolles to help strengthen their offensive front. Bolles might be the most athletic offensive linemen in the draft, and once he gains some more strength and experience he could be an anchor on the line for years.
In the second round, Denver stayed in the trenches, but switched to the other side of the ball. Florida State defensive end DeMarcus Walker is 6-foot-4 and 280 pounds. In his final collegiate season, he logged 16 sacks. He has played in big games, and was a part of the FSU's National Championship team back in 2014. Walker needs to learn how to play hard on every play, but he is a talented pass rusher that should give the Broncos some depth on their defensive line.
With the first of their two third-round selections, the Broncos decided to go with a wide receiver. We know that the Broncos need more playmakers, and Carlos Henderson is capable of making big plays. In his senior season at Louisiana Tech, Henderson caught 82 passes for over 1,500 yards. He was also a dangerous return man on special teams, scoring two touchdowns on kick returns. At 5-foot-11 and 200 pounds, he is not your typical slightly-built speedster. Henderson is fearless going over the middle and excels at breaking tackles and racking up yards after the catch. He averaged 21.5 yards per catch as a senior. That kind of production could give the Broncos offense a much-needed boost.
The Broncos used their final pick of the third round on Lamar cornerback Brendan Langley. He is a former wide receiver that has very good speed, and will benefit from playing in the best defensive backfield in the NFL. His technique will need to be developed, but Langley has some very serious playmaking skills. He also has the ability to be a threat on special teams. In his final season, he returned two punts for touchdowns.
Each of these players may play a different position and have a varied skill set, but there is a common factor that John Elway has clearly looked to address with these draft picks. Seeing his team falter late in the season, Elway has gone on the hunt, for depth and athleticism.
Lat season the Broncos started strong, going 6-2 in the first half of the season. Yet, as the season wore on, they would win just three of their final eight games and miss the playoffs for the first time in six years. The offensive line broke down, the run game failed, and even the powerful defense wore out at times last year.
Elway liked the athleticism that he saw in Bolles, and he clearly fills a need at a critical position. The Broncos' offensive tackles ranked among the worst in the league last year. With his athletic ability and mean streak, he could solidify a unit that could change the Broncos fortunes drastically.
Walker gives Denver yet another pass rusher that can contribute to a defense that is still playing at an elite level. With the loss of DeMarcus Ware to retirement, the Broncos can definitely use Walker's talents to spell players like Derek Wolfe and Jared Crick. That depth, could mean that we see the Broncos defense coming up with those big plays at clutch times once again.
Henderson should be able to compete for playing time in the slot, and the Broncos desperately need production from a third receiver. Demaryius Thomas and Emmanuel Sanders combined for 169 catches last year, but the next leading wide receiver had just 21 receptions.
And while the Broncos are loaded at cornerback, Langley is a very talented player with an abundance of athleticism. He could help absorb the loss of special teams ace Kayvon Webster in free agency.
The Broncos still have six more picks in this year's draft, but we can already see the blueprint that they have in mind. They are trying to build a stronger, faster, and deeper roster.
So far, they seem to be doing just that.