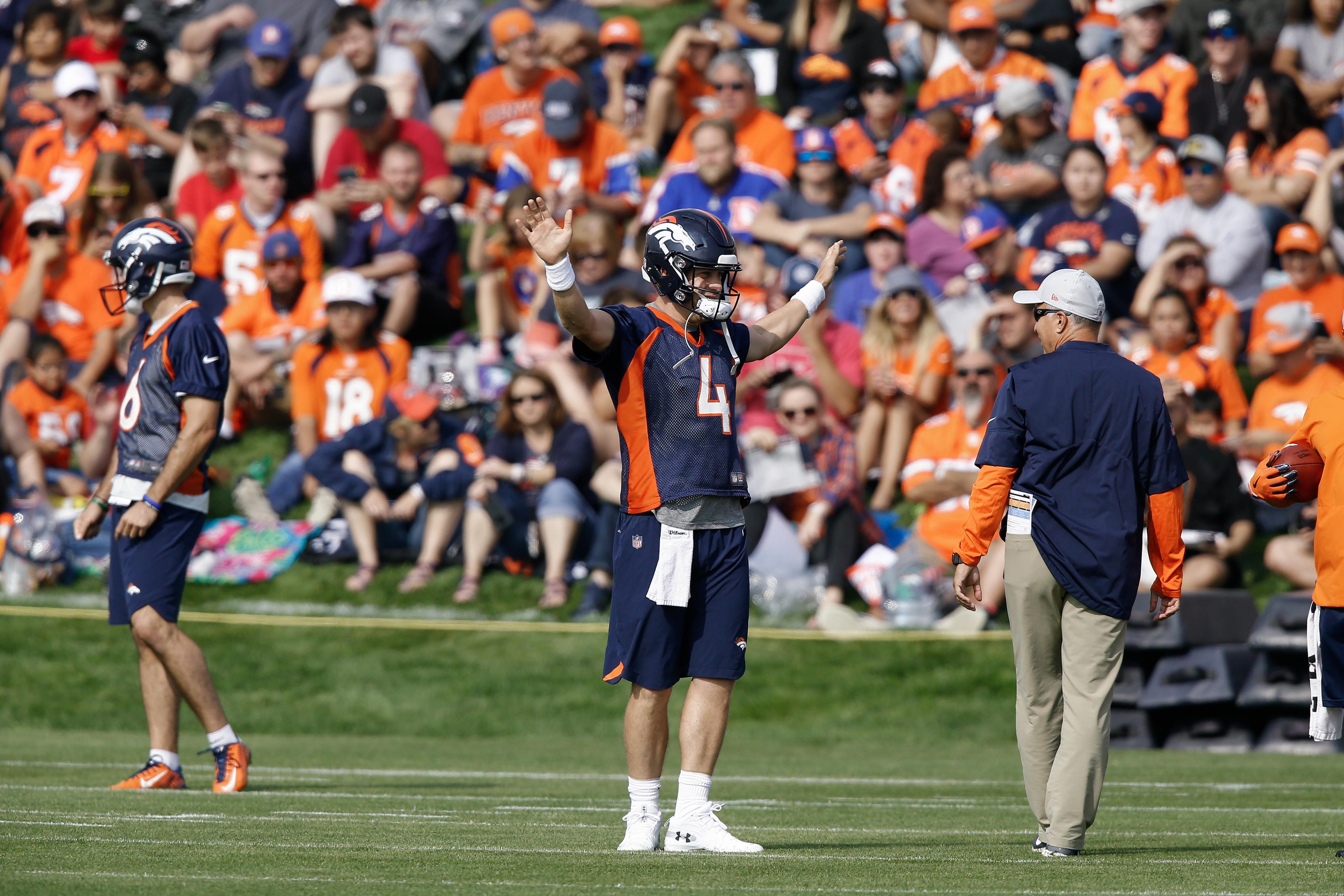 Vocal shouts of head coach Vance Joseph echoed through Dove Valley today as the Denver Broncos held their final practice before preseason game No. 1 Saturday against the Minnesota Vikings.
With much preparation, the Broncos did plenty of work in the 11-on-11 drills, working in game plans and getting general practice in. Strong play from several wide receivers caught the eyes of many today and may have a second-year player on the ropes.
Today's takeaways from day 13 at UC Health Training Center.
Out of practice prior to preseason
The Denver Broncos had multiple participates out today for a wide variety of reasons. Tramaine Brock did not practice on Thursday as the Broncos have been cautious with bringing him back into the mix. Su'a Cravens also observed practice from the sidelines while Domata Peko and Clinton McDonald did not practice as well.
In the situation of McDonald, there are reports that McDonald's shoulder may be related to his previous issue of an infection in his shoulder that held him out of the off season.
The emergence of River Cracraft, Tim Patrick and Phillip Lindsay is pushing Isaiah McKenzie's spot on the roster to the edge.
I said this when McKenzie was drafted. You better be Devin Hester or Dante Hall if you wanna make an #NFL roster as a specialist.

He is neither, nor producing on offense. He better have an incredible preseason. #Broncos

— Ronnie Kohrt ??? (@RonnieKRadio) August 9, 2018
A player needs to demonstrate special skills to be on an NFL roster as a return specialist. With McKenzie's inability to make an impact on offense. His time is limited and he needs a stellar preseason to prove his worth over offensive weapons like Cracraft, Lindsay and Patrick.
Marquette King once again put on a show, coffin corner punting and pinning the opposition on the right sideline inside the 5-yard line several times.
If the #Broncos offense can get a single first down on every drive. Even if it results in a punt. King will likely have the opposition starting inside the 10, if not 5, almost every time. He's that good.

— Ronnie Kohrt ??? (@RonnieKRadio) August 9, 2018
If the Broncos offense is grabbing a first down or two every single drive, even with the drive ending in a punt. He ability to flip the field and pin the opponent deep inside their own 10-yard line will be in play every single time. King is that good with his power and accuracy.
Case Keenum once again looked the part of a strong starting quarterback, lofting passes with touch, or firing between defenders as Keenum put on a show in 11-on-11. Keenum rifled a particular pass between safety Darian Stewart and cornerback Bradley Roby into the heart of the Broncos defensive zone to Cracraft, who broke up field for a long touchdown.
Keenum's uncanny ability to place the ball in places where only the receiver can get it is reflected in his turnover ratio. Last year, Keenum threw 22 touchdowns to only seven interceptions.
Keenum to Cracraft on third-and-5 for a TD. Slant was well run. Throw was perfect between Stewart and Roby. Keenum in rhythm is damn crisp. #Broncos #TrainingCamp

— Ronnie Kohrt ??? (@RonnieKRadio) August 9, 2018
If he once again provides that kind of ball security for Denver. The entire team should see an exponential growth not only from a scoring standpoint, but on defense, who won't be pinned into tight situations every time on the field.
Vocal Vance as preseason nears
Head coach Vance Joseph was quite vocal in the Broncos final practice before preseason game No. 1 against the Minnesota Vikings on Saturday at Mile High. Joseph repeatedly was viewed vocalizing errors made by offenses, defenses or special teams.
In his second year as coach, there has been more of a uniformed instruction from Joseph. His coaching will be graded based off his wins and losses in the regular season, but certainly his second go around in training camp feels more structured then last year.