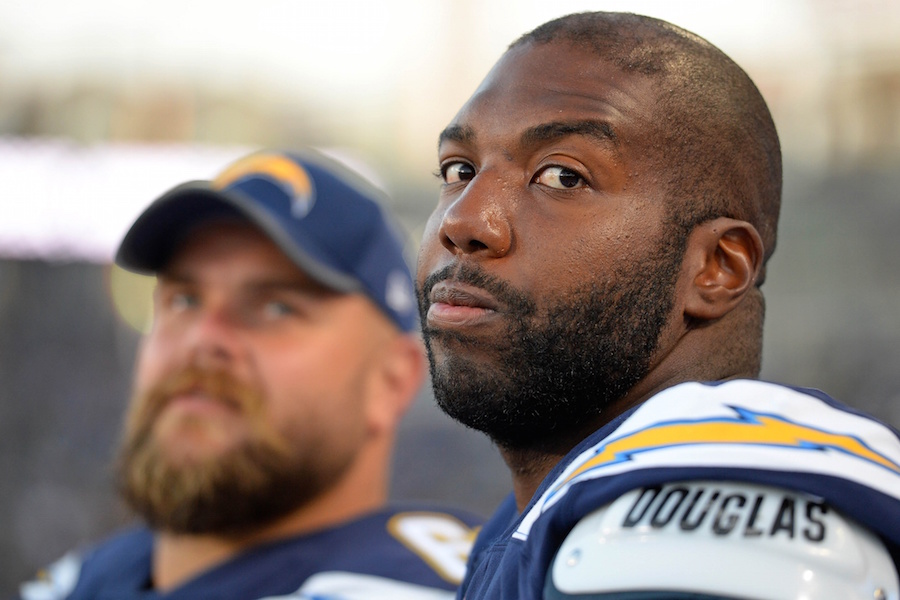 A pair of first-year head coaches will face off on Monday night to cap Week 1 of the 2017 schedule. A pair of running backs with one Pro Bowl nod to their credit will start on either side. A pair of outstanding pass rushers will try and exert their will – one in orange and blue and the other in blue and gold. However, it's a pair of castoff offensive linemen who could be the key to Monday's Broncos-Chargers game.
The Denver Broncos have rebuilt their offensive line for the second time in as many years. The Chargers' offensive line has been a work in progress for several years running. Following the 2016 season, Pro Football Focus ranked Denver the league's No. 24 offensive line. The Chargers ranked 31st. Both have turned to castoffs within their own division to alleviate their woes.
Russell Okung signed with the Denver Broncos in the 2016 offseason on a team-friendly contract the veteran left tackle negotiated himself. After Okung's successful run with the Seattle Seahawks, which included a Pro Bowl nomination in 2012, back-to-back NFC Championships (2013 and '14) and a Super Bowl in 2013, Denver appeared to have nabbed a steal. However, his play had been on the decline since an injury-shorted year in 2013.
The contract Okung negotiated for himself with Denver included no guaranteed money and was extremely incentive-laden. He went on to earn $8 million in 2016, giving the Broncos the option to retain him in 2017 at a $21 million guaranteed for 2017 and 2018. After a tough year in pass protection, Okung's team option was declined and the 38th-ranked tackle according to PFF was again on the open market.
A down year and a pattern of decline wasn't enough to dissuade the Chargers from throwing big money at Okung, who will turn 30 on Oct. 7. Los Angeles will pay Okung $25 million guaranteed and up to $53 million on a four-year contract. He's theirs to lock down Philip Rivers' blind side for at least the next two years.
That is, of course, unless Von Miller turns him into the liability he was at times when defending Trevor Siemian against pass rushers last season. Between Miller, the Raiders' Khalil Mack, Kansas City's Justin Houston and the Chargers' Joey Bosa, the AFC West might have the best group of leading edge rushers in football – and the depth behind each of those four is no less daunting.
That's how desperate things are in Los Angeles, and really the rest of the NFL at the tackle position. Okung, who struggled so mightily in pass protection last year, is the sixth-highest paid player on their roster.
Things aren't much rosier in Denver.
Joining Okung in the Broncos' 2016 free agent class was Donald Stephenson, who came to Denver via Kansas City. It took very little time to see why the Chiefs were so willing to let him walk. Stephenson battled injuries throughout the year, although he makes no excuses for his play. Between Stephenson and Ty Sambrailo, Denver had the worst duo in football at right tackle.
Sambrailo has since been shipped to Atlanta, with Denver receiving a fifth-round pick for their former second-round choice out of Colorado State. Stephenson remains on the roster as Denver's swing tackle, but only after twice restructuring his contract this offseason.
Starting opposite those voracious AFC West pass rushers (who will no doubt line up against whomever presents their best chance to gobble up quarterback sacks) for Denver in 2017 is Menelik Watson. The former Raider was the lone departure from an offensive line PFF ranked the No. 4 line in football last season. Watson was a departure because he lost his starting job. Watson lost his starting job because he couldn't stay healthy. Watson hasn't been able to stay healthy throughout his NFL career. Watson gave up a sack of Trevor Siemian in his very first play in a Broncos uniform.
Watson is who the Broncos are counting on – along with rookie Garett Bolles at left tackle – to stop Joey Bosa and Melvin Ingram from getting to Siemian on Monday.
The Chargers have another Melvin, Gordon, who can help alleviate some pressure for Rivers. The third-year back earned a Pro Bowl nomination in 2016. With Denver's struggles defending the run last season and their depleted depth heading into this season, expect a heavy dose of Gordon to mask Okung's deficiencies.
Denver will counter with a similar approach, using a pair of former Pro Bowlers in C.J. Anderson and Jamaal Charles to help keep Siemian upright. Both Anderson and Charles are excellent in pass protection in addition to their duties as ball carriers, so don't be shocked if part of their game plan is to provide emergency help for Watson's in passing situations.
Despite each side being led by a first-year head coach, both the Broncos and Chargers are well aware of one another's deficiencies. Those begin with a pair of offensive tackles recently cast off and re-signed within the AFC West. Whichever side is able to best take advantage of the mismatch between their superb edge rushers and the opposition's questionable tackle just may have the edge as Week 1 of the 2017 NFL season draws to a close Monday night.