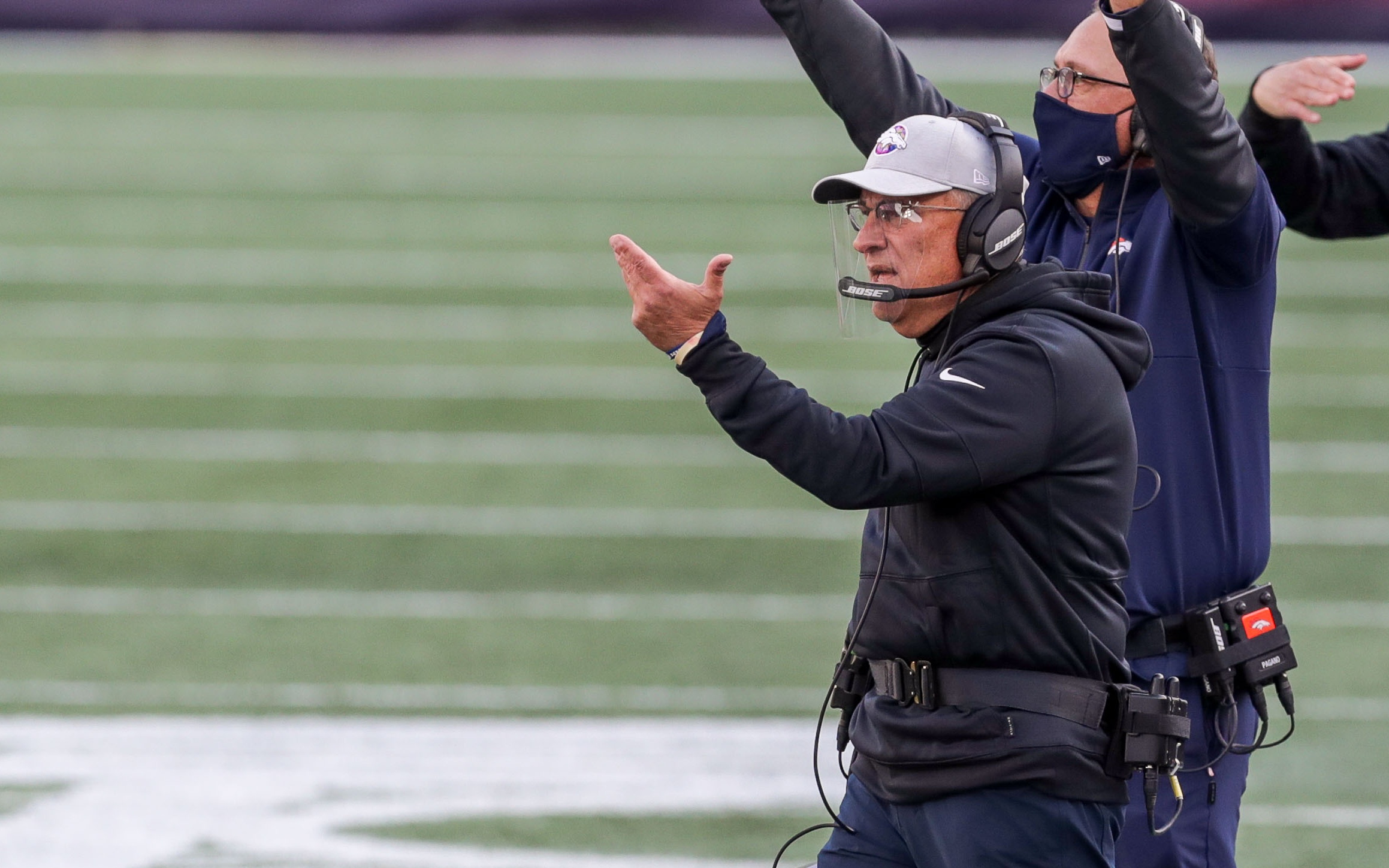 The Denver Broncos were beat soundly by the Baltimore Ravens Sunday afternoon and the frustration that comes with losing was felt for the first time this season. Players and fans alike were made to stew in the melancholy of defeat and some handled the stress more coolly than others.
The loss was especially bitter because this was Denver's opportunity to prove they were contenders against a worthy opponent and not the charlatans they had been accused of being prior to game time.
The Broncos are 3-0. Their opponents are a combined 0-9. Just sayin'.

— Dan Hanzus (@DanHanzus) September 26, 2021
The loss was frustrating for a number of reasons, but nobody was more notably annoyed than head coach Vic Fangio who threw some harsh verbal barbs towards the Baltimore franchise and their coach John Harbaugh.
With mere seconds to go in the game, Harbaugh made the decision to run the ball as opposed to kneeling it and allowing the clock to run out. The Ravens were attempting to keep their streak of games with 100-plus rushing yards alive and with a five-yard scramble on the last play of the game by quarterback Lamar Jackson, they were able to accomplish that feat.
This did not sit well with Fangio and he made sure to make that abundantly clear. When asked about the Raven's last play of the game he responded, saying "Yeah, I thought it was kind of [expletive], but I expected it from them. Thirty-seven years in pro ball, I've never seen anything like that, but it was to be expected and we expected it."
When asked why he expected them to make that call, he added "Because I just know how they operate. That's just their mode of operation there. Player safety is secondary."
Broncos HC Vic Fangio thought the Ravens' run at the end of the game was "kind of bull****" and notes he's never seen anything like that in his 37 years of coaching in the NFL. pic.twitter.com/TltszwLKmW

— Field Yates (@FieldYates) October 4, 2021
Not only that but the veteran head coach also shared that he had sent videos to the league office in preparation for Sunday's game. Coach Fangio was asked if he thought the plays in which Teddy Bridgewater and Dionte Spencer were hurt should have drawn penalties and he replied, "They should have been called, obviously, but they weren't. I sent a video in to the officiating office during the week showing similar hits that they've had and gotten away with, and it continued."
These comments were not out of line necessarily but did seem to be born of frustration. The Broncos did not put together a strong effort Sunday afternoon and it had to be a painful reminder that, for as good as this team is on paper, there is still a very long way to go.
Later, Raven's coach, Harbaugh was made aware of the comments by Fangio and responded thusly, stating "You're throwing the ball in the end zone with 10 seconds left. I don't know that there's a 16-point TD that's going to be possible right there. So, you know, that didn't have anything to do with winning the game." He also made it clear that it was decided that if Baltimore had an opportunity to get the ball back, he was going to call a play in attempt to capture that aforementioned record.
#Ravens HC John Harbaugh fires back at #Broncos HC Vic Fangio: "We didn't expect to get the ball back. … You're throwing the ball in the end zone with 10 seconds left. I don't know that there's a 16-point TD that's going to be possible right there." pic.twitter.com/CFDE32a0bk

— Ari Meirov (@MySportsUpdate) October 4, 2021
At the end of the day, Fangio and company need to take this shellacking as an opportunity to get better and come back stronger and sharper.
"It's a 17-round fight." Fangio said when asked what his message was following the Broncos' losing effort.  "We lost the fourth round. We've got to get off the stool and go answer the bell for the fifth round."