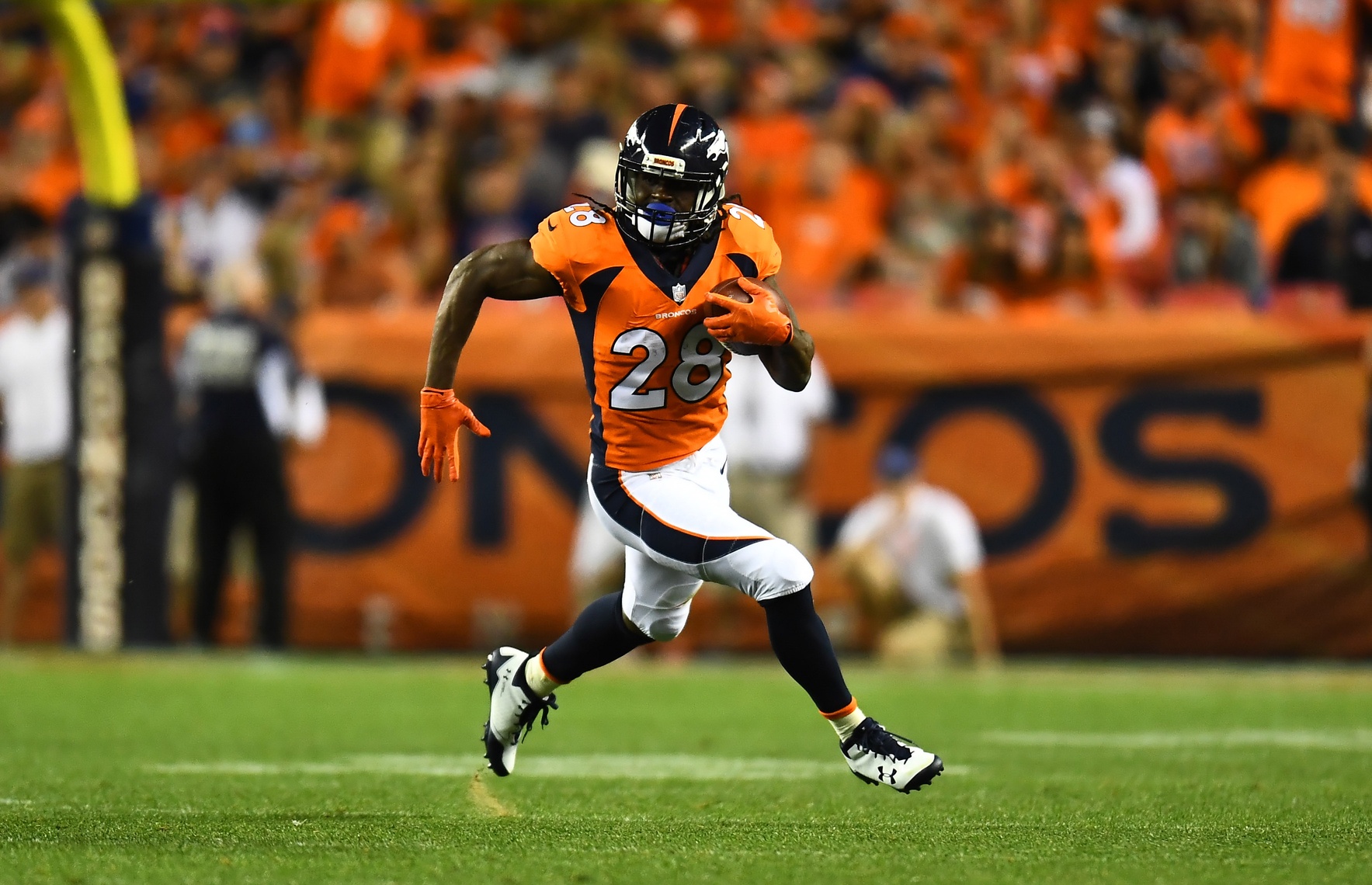 "I always wanted to play with Denver," Jamaal Charles noted on the day he was signed by the Broncos in May. "Growing up, John Elway was my favorite player. I just like the environment, the team and the organization. I wanted to be a part of it."
The Broncos are happy that he did. Charles, now a 10-year veteran with an injury list as long as his 5'11" frame is tall, has shown that there's still gas left in his tank.
While splitting time with C.J. Anderson, Charles has looked much like his old self; like the back that terrorized the Broncos for years as a member of the Kansas City Chiefs. Charles' 186 carries, 987 yards and 5.3 yards-per-carry average all stand as his best numbers against any AFC West opponent. While the Chiefs went 3-10 in Charles' outings against the Broncos, most of the losses certainly weren't his fault… until one was.
On September 16, 2015, in a taut, 24-24 game at Arrowhead Stadium, Charles had dominated all afternoon long. He had rushed for 125 yards and a touchdown, and the Chiefs were mounting what could have been the decisive drive of the game with only 36 seconds remaining. Charles fumbled on his next carry after being decked by Broncos linebacker Brandon Marshall and safety Darian Stewart, and the ball was scooped up by cornerback Bradley Roby, who scampered into the end zone to cement a last-second, 31-24 win for Denver. Chiefs fans slowly wandered back to their cars in shock, disappointment and frustration.
That was the last time that Charles played against the Denver Broncos. He never faced them in his final, injury-plagued 2016 season with Kansas City, and joined the Broncos in prior to this season.
"It's behind me now. I really don't even want to talk about that. I love the [Chiefs] organization and love the team. At the end of the day, it's a business — but it's also personal, as well," Charles said in May. "At the end of the day, they let me go, and I'm not there. I'm starting a new chapter — and I'm happy with my new chapter, really."
Charles gets his first crack at revenge on Monday, something that he hinted at months ago. "I'm just happy I get to play them twice a year. I'll just leave it like that," he said with a laugh. "I'll let those two games speak for themselves."
Curiously — and perhaps not coincidentally — Charles' involvement in the rushing offense steadily shrunk in the Broncos' back-to-back losses against the Giants and Chargers. While six out of Charles' eight catches on the season have come in losses, he's only gaining 3.8 yards per reception in those losses — a number that he easily eclipses on the ground (4.7 yards per carry) in wins. Simply put, when the Broncos utilize Charles in the running game more, they win more often. Three out of his four biggest performance in yardage and touches have come in the Broncos' three wins. His two lowest totals have come in the last two weeks — in the Broncos' worst losses of the season.
In early June, Charles, who hasn't commented on his departure from the Chiefs often, noted: "I'm just happy to be a Bronco. The past is the past. If I was still a Chief, I would be there now. I'm here now. I was fired." No one would blame Charles — Kansas City's all-time leading rusher — for sore feelings.
He's got an axe to grind, and the moribund Broncos' offense could certainly use anybody who can swing one. "I still feel like I can still play ball," Charles said in May. "I can keep up with the young people."
The Broncos owe Charles — and themselves — the opportunity to show it.