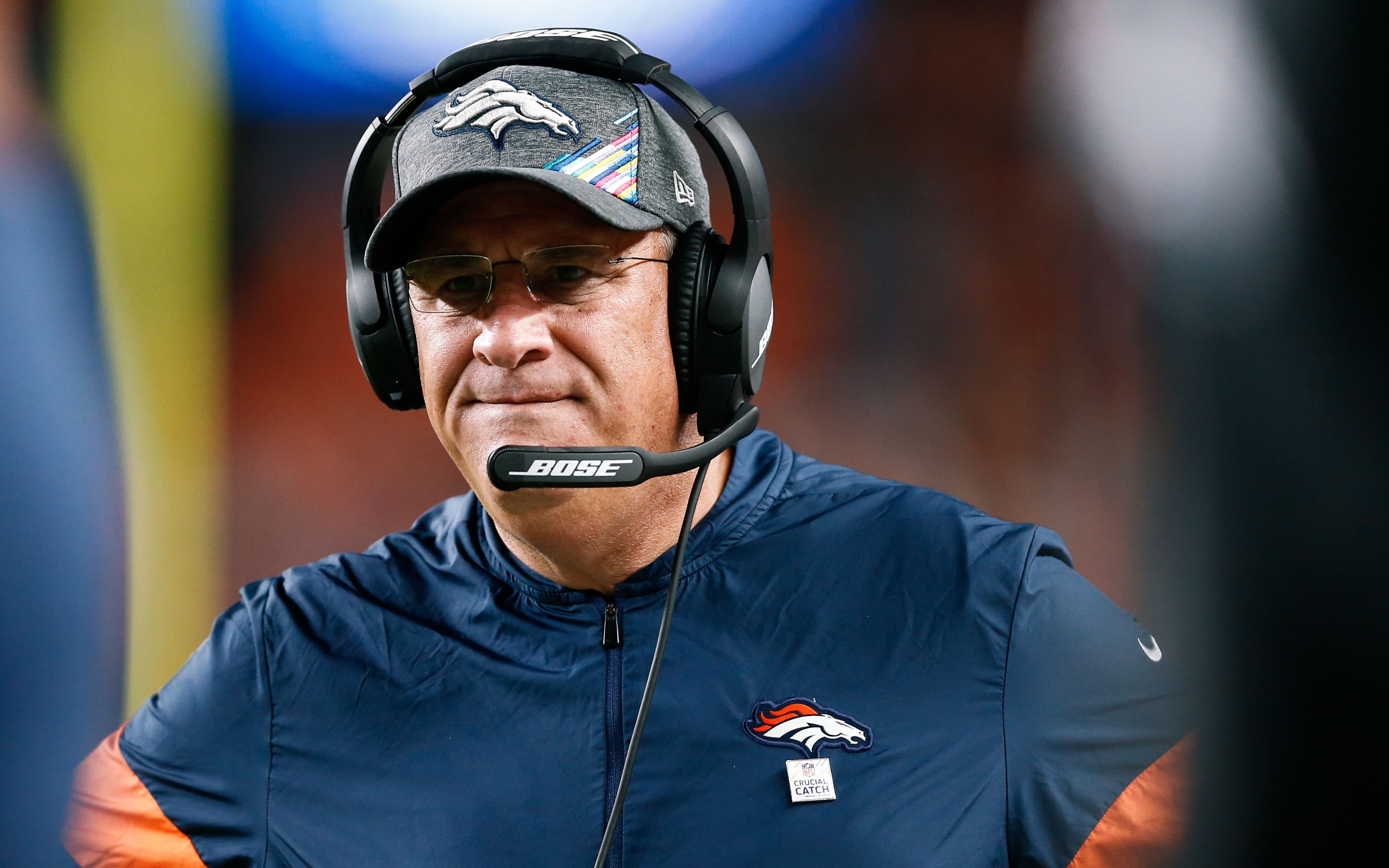 Vic Fangio's first season as Denver Broncos head coach hasn't gone as planned.
He was supposed to be the defensive mastermind, revolutionizing Denver's already decent defense and making them elite.
Instead, his Broncos started slowly in all aspects. The defense — even with Von Miller — couldn't record a single sack in their first three weeks, and over the first nine games of the season, the offense has been mostly inept.
There have been some glimmering bits of hope here and there, especially with young and emerging players like PFF Player of the Month Alexander Johnson, Mike Purcell, Noah Fant and even Brandon Allen. Still, at 3-6, Denver is nowhere near where Broncomaniacs want to see them.
Our writers at MileHighSports.com sat down and discussed the coaching staff, starting with Vic Fangio, and graded them all. First, our look at Fangio himself, and then the composite grades for the staff.
Ronnie Kohrt (@RonnieKRadio)
Grade: B-
Fangio has been excellent in his coaching this year. Not only did he make the one decision that nobody saw in promoting Mike Purcell over Adam Gotsis, but he plugged in Alexander Johnson who has thrived and is finding his footing on being a head coach quickly. Fangio's guidance is turning Justin Simmons into an all-pro and what many believe as a "Fangio move" in bringing in Kareem Jackson has been one of Denver's best offseason moves. This defense is slowly becoming top-ten in the league.

Denver's always going to be a split team between the head coach running the show on defense and the offensive coordinator having major control over the offense, but once talent is added to the offensive side of the football, expect this team that has competed in every game outside of one to make major leaps moving forward.
Rich Kurtzman (@RichKurtzman)
Grade: D
Vic Fangio had an uphill fight from the second his plane landed in Denver. The Broncos should've gone with a defensive player in the first round of the NFL Draft, but John Elway's front office instead decided to trade down and pick three straight offensive players in Noah Fant, Dalton Risner and Drew Lock. Imagine what Fangio could've done with Devin Bush.
But, maybe that's the positive on Fangio: He's been stuck with one of the worst rosters in terms of personnel — including injuries to Bradley Chubb and Bryce Callahan — and still making something work. Denver's defense, while it was slow to start, is currently ninth in terms of scoring (18.9 PPG) and fourth-best in yards allowed. His grade is so low because, early in the season, the team looked arguably worse than they had the last two years, but there's hope this group is turning around.
Aniello Piro (@MediaByAP)
Grade: C
Fangio has been solid through his first half-season as a head coach in NFL; however, he still has a long way to go if he wants to take the Broncos to the top. Fangio has done a great job with handling the personnel and instilling his blueprint within the Broncos' defense. Given his hands-on approach with the defense, Denver has been dependable on one side of the ball this season as they have managed to keep the Broncos within striking distance in virtually every game they have played this season.
Overall, the Broncos are a three-win team, which is a disappointment considering the franchise expected to be competitive this season. While the Broncos shortcomings are not solely Fangio's responsibility, he plays a role in steering the franchise. So far, Fangio has been as advertised, and average at that.
Zach Segars (@Zach_Segars)
Grade: B
It hasn't been reflected in their record, but Vic Fangio has done an impressive job coaching this team up. After getting off to a slow start, the defense has become the third-best in the league, trailing only the Patriots and 49ers, but the biggest change has been with the team's culture. Under Vance Joseph, the Broncos consistently looked flat and would roll over at the first sign of adversity. Under Fangio, the team has played much harder and there's clearly much more belief in the coaching staff among players.
While losing three games on the final possession, the amount of conservative thinking and their lack of analytics are all concerns, the team is headed in the right direction under Fangio. After winning three of the last five, it may finally be showing up in the wins column.
One thing the Broncos need to turn around
Rich
Scangarello and the offense need to be more aggressive, take more shots down the field. Also, get Drew Lock some starts to evaluate him, even if Brandon Allen dazzled in his debut. 
Zach
I'd like to see them do three things in the second half of the season. One, maintain the more aggressive style of offensive play-calling that we saw against the Browns. Two, make Phillip Lindsay the clear lead back over Royce Freeman. Three, get Drew Lock onto the field as soon as possible. The Broncos need to get a good look at him down the stretch this season to determine whether or not they need to draft another signal-caller in 2020.
Aniello
A change in the offensive culture starts with Fangio asserting himself into the blueprint. Fangio needs to help build chemistry on offense as he has done on defense this year and in years past. Fangio needs to be a leader of men to get this team up to speed, not just on defense, but the entire game as a whole.
Coaching Staff grades
Coach         Ronnie   Rich   Zach   Aniello
Fangio          B-         D       B        C
Scangarello   D+        F       C-       D
Donatell        B-         A       B+      B
McMahon      D-         D       D-       D
More on those other coaching grades in the coming days.