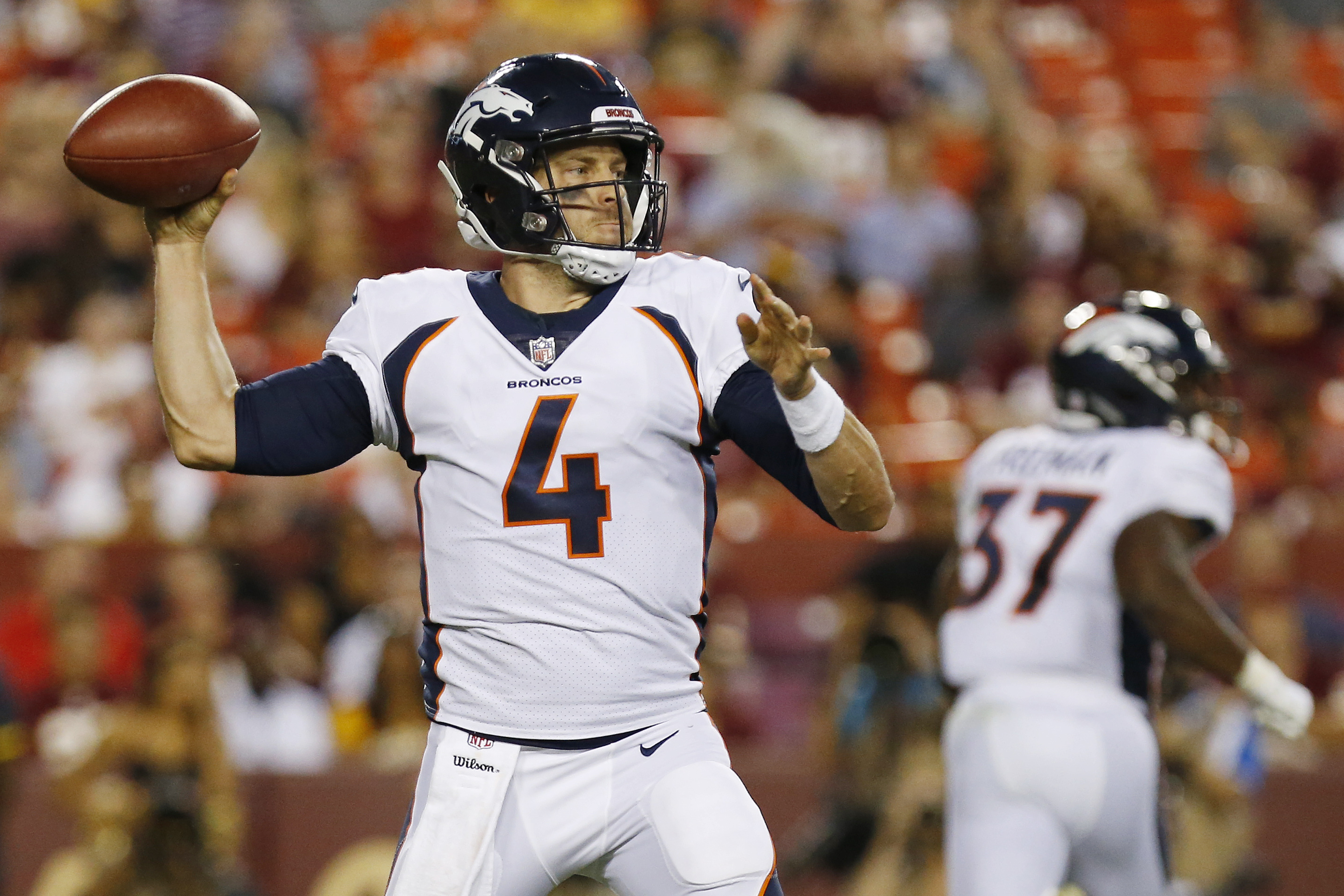 The Denver Broncos came out firing in the all important third preseason game in Washington, jumping out to a 10-0 lead after the first quarter against the Washington Redskins.
With 122 yards, good for a 7.6 yards per play average in the first quarter. The Broncos nabbed seven first downs with big plays coming from rookies Courtland Sutton and Royce Freeman.
Courtland Sutton is skying over Josh Norman. Sutton is just physically too big. He is going to be so good for #Denver. #Broncos

— Ronnie Kohrt (@RonnieKRadio) August 25, 2018
Sutton impressed early with connections from Keenum, who also looked comfortable and calm in the pocket early, finding Emmanuel Sanders early and often.
Keenum looking good thus far. #Broncos

— Renaud Notaro (@RenKnowItAll) August 25, 2018
.@ESanders_10 lays out for the @CaseKeenum pass! #DENvsWAS pic.twitter.com/5S0EZYutYI

— NFL (@NFL) August 25, 2018
I love the fact that I don't have to no longer hold my breath when the #Broncos quarterback throws the football.

— Ronnie Kohrt (@RonnieKRadio) August 25, 2018
Freeman busted open for big runs with much credit to a strong performance on the offensive line. A unit that has been much improved in 2018 so far, once again came out with a strong performance.
Nice run by Freeman (obviously), but give a lot of credit to the FB and the offensive line for opening the hole. There's hope for the OL yet! (Haven't been able to say that for a while, huh?) #broncos

— Les Shapiro (@LesShapiro) August 25, 2018
Royce Freeman has had a TD in every preseason game.

— Nicki Jhabvala (@NickiJhabvala) August 25, 2018
After rumbling for a 24 yard touchdown, Freeman may have won the lead back role for Week one.
#Broncos running back competition is over.

1. Royce Freeman
2. Phillip Lindsay
3. Henderson/Booker combo.

— Ronnie Kohrt (@RonnieKRadio) August 25, 2018
And that is why I have said he should be the starting RB.

Even though he's a Duck.

— Nate Lundy (@natelundy) August 25, 2018
ROLLS ROYCE. #Broncos offense is HUMMING.

24 yards to the end zone after a GREAT block by Janovich. 10-0 #Denver.

— Mile High Sports (@MileHighSports) August 25, 2018
Another week and another Royce Freeman rushing TD. Just end the silliness, Vance Joseph, and make him your bellcow. Nonsense it's taken this long.

— Brad Evans (@YahooNoise) August 25, 2018
On defense, Denver got a lift from second-year undrafted free agent Dymonte Thomas. Thomas made play after play, in pursuit on a fourth down stop, to special teams tackles. Thomas has been impressive in training camp and showed it in the third preseason game.
Have a day, Dymonte Thomas

— Nicki Jhabvala (@NickiJhabvala) August 25, 2018
Dymonte Thomas is ALL OVER the place. As is Chubb. Swarming. Love the pursuit early. #Broncos

— Ronnie Kohrt (@RonnieKRadio) August 25, 2018
#Broncos Dymonte Thomas showing out tonight. Breaks up pass. #Denver7

— Troy Renck (@TroyRenck) August 25, 2018
The Broncos caught offensive fire with a six play, 75 yard drive that ended in a touchdown when Emmanuel Sanders took the end-around to the house.
.@ESanders_10 on the end around…@Broncos TOUCHDOWN. #DENvsWAS pic.twitter.com/hhtu6oumoQ

— NFL (@NFL) August 25, 2018
Emmanuel Sanders with the Broncos TD, Andy Janovich with big-time block, but also worth noting three rookies in the formaton at the skill positions on the play — Sutton, Hamilton and Lindsay. Broncos, 17-3.

— Jeff Legwold (@Jeff_Legwold) August 25, 2018
Keenum and the oline looking great. I can't believe what I'm watching. Worried about injuries, get the starters out at halftime when they are on a high note. It's not worth the risk. #Broncos #DENvsWAS

— Sean Walsh (@seanwalshsports) August 25, 2018
Overall the Broncos offense was strong, leading to a 17-3 lead at halftime.
Denver out paced Washington in first downs (11 to 7,) yards (207 to 110,) and went 3-6 on third down, while Washington finished the first half 0-7.