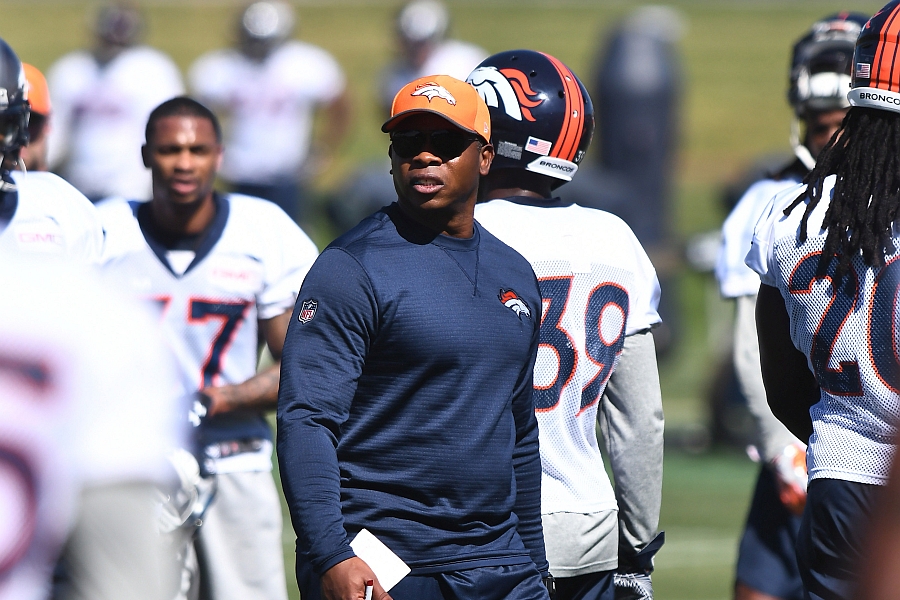 After dismissing five assistant coaches and special teams coordinator Brock Olivo following the 2017 season, Denver Broncos head coach Vance Joseph has nearly completed the hiring of their replacements with the announcement Wednesday of three new assistants and a new special teams coordinator.
Tom McMahon, an 11-year NFL coaching veteran, was named the team's new special teams coordinator. He previously held the same position for Indianapolis (2013-17), Kansas City (2012) and St. Louis (2009-11).
The Broncos named Chris Strausser offensive line-tackles coach, Greg Williams defensive backs coach and Zach Azzanni wide receivers coach.
The team previously announced Sean Kugler (offensive line-guards/centers), Curtis Modkins (running backs), and Mike Sullivan (quarterbacks) to fill other open positions.
The Colts featured one of the NFL's most consistent special teams units during McMahon's five seasons in Indianapolis, ranking in the league's top 5 in field goal percentage (89.6 / 3rd), net punting average (41.3 / 3rd), gross punting average (46.4 / 4th) and kickoff return average (24.5 / 5th) during that span.
A coaching veteran of 29 seasons, Strausser spent the 2017 season as the Broncos' assistant offensive line coach. In his new role, Strausser will work with Kugler coaching the team's offensive line. Before joining the Broncos, Strausser coached the offensive line for 19 seasons at the collegiate level, most recently serving as associate head coach/offensive line for the University of Washington from 2014-16. Prior to joining Washington's staff along with head coach Chris Petersen in 2014, Strausser coached at Boise State under Peterson for seven seasons (2007-13).
Williams has 15 seasons of coaching experience, including nine years at the NFL level. He most recently served as defensive backs coach for Indianapolis from 2016-17 after seven seasons with San Diego as assistant linebackers coach (2009-12) and assistant secondary coach (2013-15).
Azzanni (pronounced ah-ZON-ee) will begin his 20th season coaching wide receivers. He worked as the Chicago Bears' wide receivers coach in 2017 following 18 years at the collegiate level. Before joining the Bears last season, Azzanni spent four years at the University of Tennessee. He joined the Vols as wide receivers coach/recruiting coordinator in 2013 before being promoted to passing game coordinator/wide receivers coach in 2015.
Wednesday's hires, and the three announced previously, replace Jeff Davidson (offensive line), Johnnie Lynn (assistant defensive backs), Brock Olivo (special teams coordinator), Eric Studesville (assistant head coach/running backs) and Tyke Tolbert (wide receivers).
Bill Musgrave began the 2017 season as quarterbacks coach and was promoted to offensive coordinator mid-season after the release of Mike McCoy.
Fred Pagac, outside linebackers coach, remains the only departed coach yet to be replaced by Joseph.