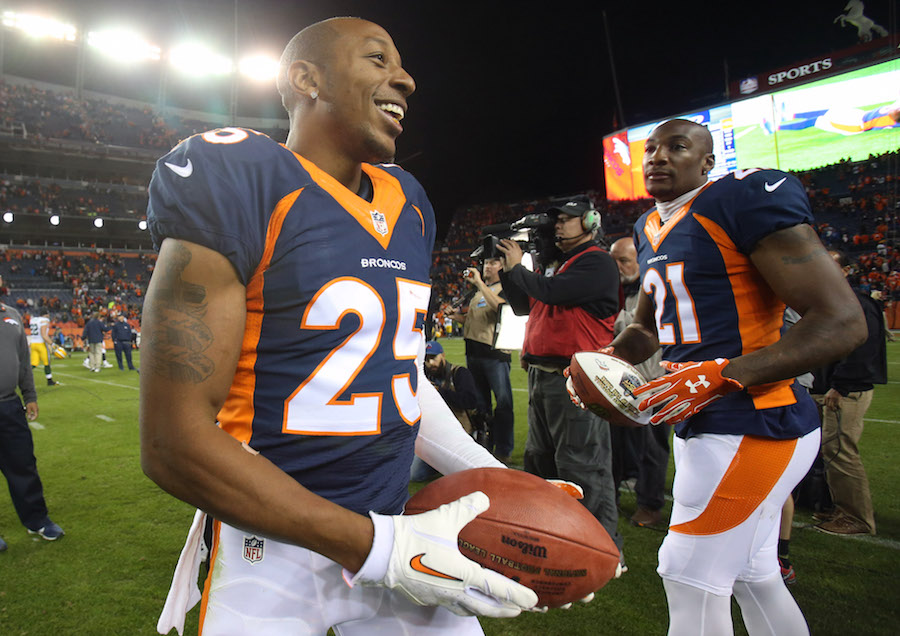 The Denver Broncos defense is spectacular. That is undeniable. They lead the league, or are in the top five of so many categories it would be chore to list them all. The main statistic that defenses are graded on is net yards allowed per game. The Broncos are first, allowing only 284.7 yards per game, and there is one big reason for that.
The team sport of football means there are many sources for the Broncos' domination in this category, but one that is on display each and every week, which goes mostly unnoticed, is the cornerbacks' ability to shut down opposing wide receivers each game. They are doing it against some dynamic groups of receivers and talented quarterbacks. Chris Harris Jr., Aqib Talib and Bradley Roby are playing some spectacular football and one look at the numbers makes it abundantly clear.
The fact that the Broncos defense has not allowed a 300-yard passer this season (the only team to do so) came to light weeks ago. That in itself is impressive, but they have also shut down the fastest players on the opposition. The Broncos cornerbacks have allowed only two 100-yard receivers this season and have only allowed four receivers to catch the ball more than six times in a contest. The most astonishing statistic may be the fact that only one, yes one, receiver has scored a touchdown versus the Broncos. All of those amazing accomplishments culminate to be what is the top-ranked pass defense in the NFL.
"They've been excellent. We've really played three starters most of the year because a lot of what we call single. When we play teams that play two tights and throw the ball, Bradley [Roby] is a starter and we go from there," head coach Gary Kubiak said Wednesday. "They have a way of shutting down people which really helps you get after the quarterback and those type of things. It's been very impressive."
Harris has played in the team's highest percentage of defensive snaps this season at 95.9 percent and Talib's 86.1 percent ranks fourth on the team only due to his one-game suspension in Week 10. Roby has also played a great deal in his second season at cornerback, participating in 56.8 percent of defensive snaps.
The trio is not only playing a vast amount, but they are getting great results. In addition to holding wide receivers to low receiving yards and touchdowns, they are making big plays as well. They have combined for six interceptions, three forced fumbles, one fumble recovery and have scored four of the team's five defensive touchdowns. They each have versatility, but also individual specialties that create favorable matchups weekly.
"Everybody has their strengths and weaknesses but I feel like as a secondary, we can match up well with any team. Talib is tall and physical, Chris [Harris] plays the slot better than anybody in the league so its like, 'What can you beat us with?' That has been what has been working," Roby said confidently Wednesday.
The Broncos pass rush also has a lot to do with how the Broncos defense corrals opposing offenses; the fact that they lead the league in sacks (41) shows that quarterbacks have very limited time to decided whether or not to throw to their wide receivers.
"I think the pass rush helps a lot because you don't have to cover as long. We are down pressing guys, so the quarterback has to make a decision fast. If no one is open, he is going to get sacked or he has to scramble. That causes chaos for the quarterback every play," Roby said.
Defensive coordinator Wade Phillips agreed with his cornerback Thursday and also believes it is a team effort that is resulting in opposing wide receiver's low numbers.
"It all works together. We have great cover people, but I think that we have a great rush, too. That combination makes it tough to throw to wide receivers because it takes time to throw to those guys. We have a really good combination there," Phillips said.
The Broncos will have their work cut out for them as they play a top-10 passing offense for the third straight week. Thus far they have handled it well, holding Phillip Rivers and Tom Brady in check. The Raiders, who currently rank eighth in the league in passing yards per game (266.3), hosted the Broncos in Week 5 and could not cultivate the same success versus the Broncos as they have against most of their opponents.
Derek Carr did pass for a respectable 249 yards in the contest, but only completed eight passes to his wide receivers on 16 targets for 101 yards. He also made the game-changing mistake when he was intercepted by Harris for a 74-yard touchdown, putting the Broncos up 16-7 late in the fourth quarter.
Before and after the Broncos' 16-10 victory in Oakland, Carr has made several explosive plays to his pass-catchers. He has 23 passes of over 25 yards to his receivers this season and both rookie Amari Cooper and Michael Crabtree are on pace for 1,000-yard receiving seasons. Due to opponents like the Raiders, and regardless of all the great statistics his defense is putting up, Talib sees the areas that need improvement every week.
"Every Monday, we come in no matter what the score was and no matter what we did we always look like, 'Man, we left so many plays on the field.' Like the Chargers game, we felt like we left a lot of plays out there. Until we're making every single play that we can make, we're not playing at our highest level. There's always room for improvement."
The Oakland Raiders present another tough matchup for the Broncos secondary and with several safeties on the team nursing injuries or already ruled out for Sunday, the cornerback trio will be as important as ever. Yet, at every obstacle, whether it was Aaron Rodgers, Calvin Johnson or Bill Belichick, the cornerbacks have been unfathomably great. One of the longest-tenured Broncos of the secondary, Harris maybe said it the best this week when asked how his group of cornerbacks have had so much success.
"We're good, man," Harris said with his signature smile brimming Thursday. "There is really no other explanation needed."
Sunday, they will have another great opportunity to prove it.
---
Email Sam at [email protected] and follow him on Twitter @SamCowhick.