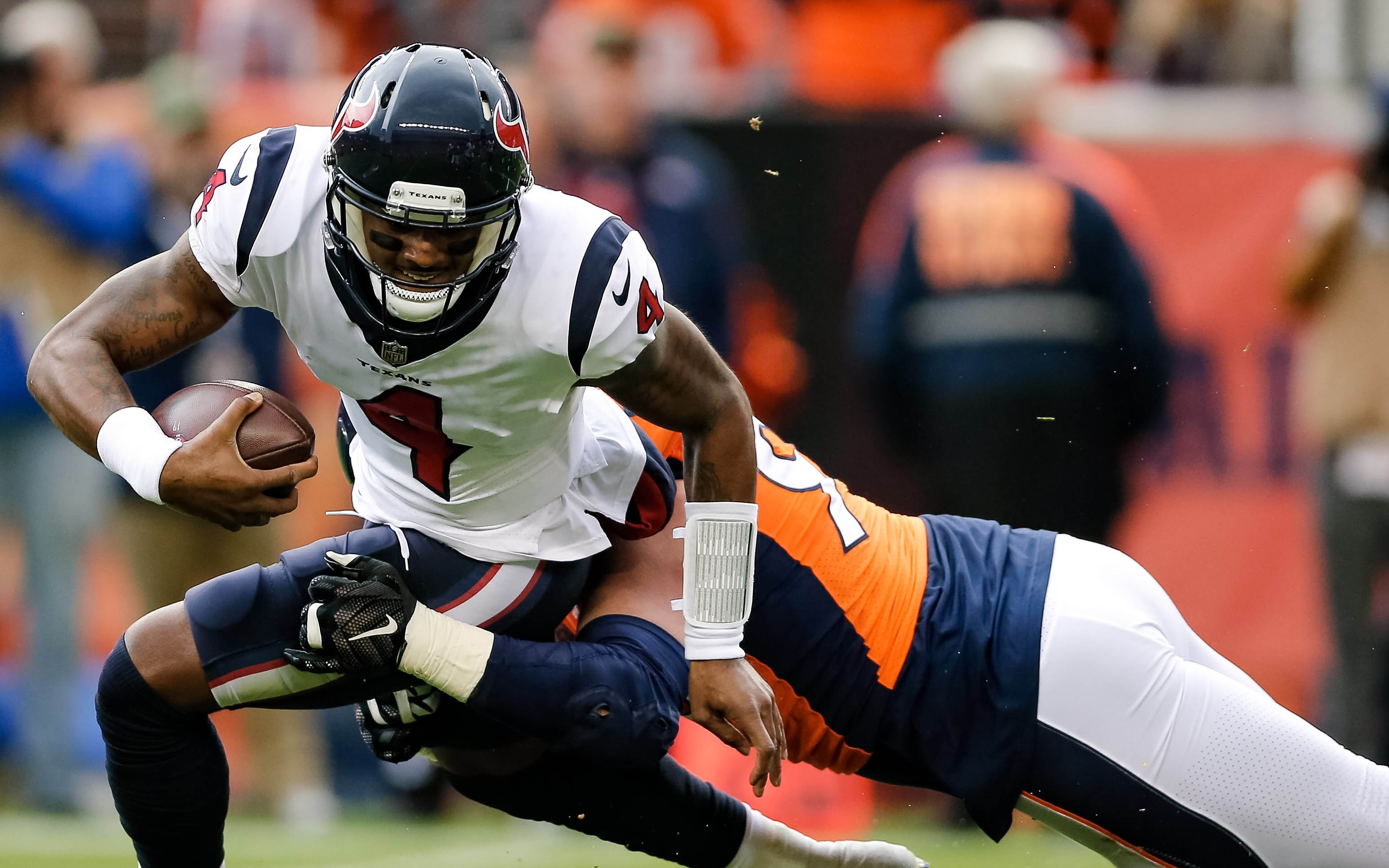 The Denver Broncos' season is officially on life support. The team has now fallen to 3-6 on the year after a heartbreaking loss at home to the Houston Texans, 19-17. The Broncos continue to search for answers on how to turn their season around.
Heading into the game, Denver's defense ranked fifth in the NFL in sacks per game. Once again, the Broncos front seven put on a remarkable performance against one of the most athletic quarterbacks in the NFL, Deshaun Watson.
Specifically, the Broncos defense was spectacular against a red-hot Texans offense led by Watson. Watson spent the entire afternoon running for his life, while the Broncos pass rush decimated an injury-riddled Texans offensive line. Led by stalwart Von Miller, the Broncos recorded four sacks on Watson. Miller and the rest of the Broncos front seven consistently harassed Watson into making errant throws, and scrambling outside of the pocket.
Miller recorded one sack, despite facing double teams all afternoon. He now needs only five sacks to tie Simon Fletcher as the Broncos all-time leader in that stat category. Bradley Chubb continues to impress as the fifth overall pick in the draft, recording a sack and leading the Broncos defense with three tackles for loss. Chubb also finished second on the team in total tackles with five.
Chubb could have registered another sack, but the credit went to Derek Wolfe, who ultimately wrapped up Watson for a sack of his own. Rounding out the Broncos four-sack performance was DeMarcus Walker, the Broncos 2017 second-round draft pick. After struggling at outside linebacker last season, Walker has made his transition back to the defensive line, the position he excelled at while at Florida State. Finishing the game with two tackles and a sack, perhaps Walker will see his playing time trending upwards in the weeks to come.
The Broncos' dominant pass rush was complemented by a stellar rush defense, holding the Texans to 98 yards on the ground. 38 of those rushing yards were credited to Watson, who was often scrambling from the Broncos aforementioned pass rush. The Texans running back duo of Lamar Miller and Alfred Blue averaged only 2.3 yards per carry. The Broncos front seven stunted the Texans rushing offense, finishing the game with ten tackles for loss.
Ultimately, the Broncos defense once again did its job to put the team in a position to win. Holding the Texans to 19 points, the Broncos defense did its job against one of the most electric quarterbacks in the NFL.
Simply put, the offense continued its season-long trend of being unable to put points on the scoreboard. The Broncos dismal record of 3-6 can be a culmination of may things, but the Broncos front seven, one of the best in the NFL, should not be one of them.