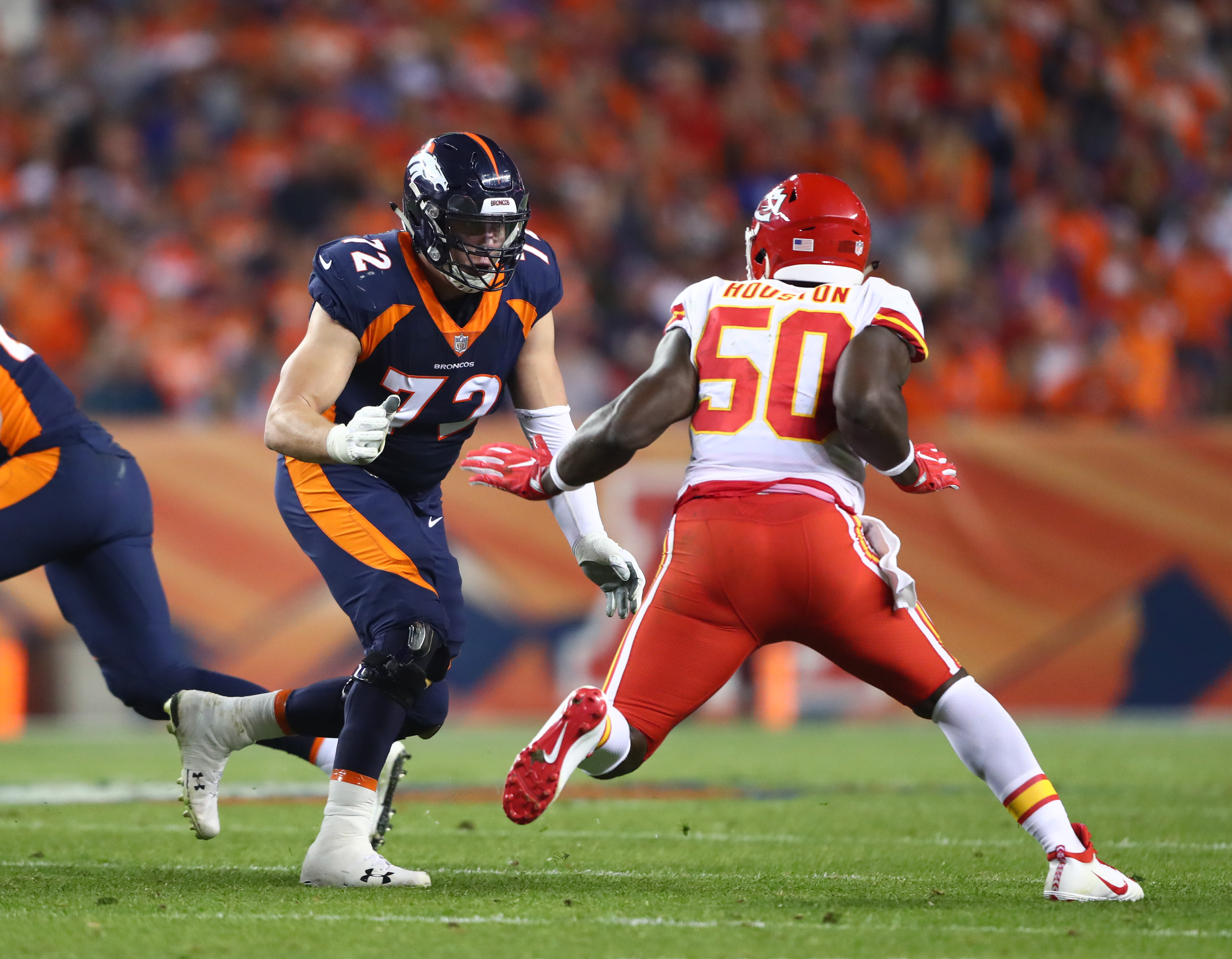 The Denver Broncos will have the majority of their starting offensive line returning from the previous season. This continuity should lend itself to improved play as a result.
Hiring Mike Munchak ahead of the 2019 season was a stroke of genius. As a result, Munchak's continued work with the youthful Broncos offensive line has paid dividends.
The Broncos have continued to improve in the front five while also adding good depth. The Broncos have used valued resources into this room, a change in philosophy from the Peyton Manning era. The team has worked hard to address the offensive line by using premium draft picks or providing big contracts to free agents.
Beginning with Bolles the former 1st round pick, the team has recognized that improved offensive line play takes investment.
Bolles the elite left tackle
Garett Bolles' ascension gives the team an elite player upfront they have not had since Ryan Clady.
Bolles has meshed with Munchak spectacularly. The pairing has seemed to unlock Bolles's immense physical talents. Resulting in Bolles being mentioned as one of the leagues' top left tackles.
Garett Bolles grades from every season

2017: 72.9 (28th among tackles)

2018: 72.8 (30th among tackles)

2019: 76.1 (16th among tackles)

2020: 90.3 (3rd among tackles) pic.twitter.com/QagYhk3qJq

— PFF DEN Broncos (@PFF_Broncos) January 20, 2021
Bolles will be counted on to handle himself with minimal help. His ability to hold up one-on-one allows the team to add more pass catchers to the route, or use a back to chip on the other side.
Solid interior 3
From left to right Dalton Risner, Lloyd Cushenberry III, Graham Glasgow, should form a strong interior line for this season. Beginning with left guard Risner, each of the players provides mobility and can pull to either side.
LG Dalton Risner with the sweet pull and adjustment on Power, WR Tim Patrick doing the dirty work and how about TE Noah Fant with the legit down block to get the play going. pic.twitter.com/qSejWVO8zJ

— Nate Tice (@Nate_Tice) May 20, 2021
Risner's athletism is on display often, leading the way for running backs outside the tackle, or pulling across the field. Risner is able to get to the second level often, providing additional lanes for the run game. Additionally, Risner's leadership and connection with Bolles cannot be understated. Their relationship can easily be connected to the continued development of Bolles.
LSU center Lloyd Cushenberry had a really good practice yesterday. His hands are always in tight. One of the few wins for anyone vs Javon Kinlaw. pic.twitter.com/uPnPEhex2Y

— Daniel Jeremiah (@MoveTheSticks) January 22, 2020
Center Lloyd Cushenberry came in last season with great experience at LSU. He displays a lot of what you want in a center. He is smart and has great physical traits. Cushenberry has strength and good athleticism for the position.
However, as a rookie, Cushenberry struggled at times. He did improve as the season progressed, but will be challenged during training camp. Finding his anchor as he did during practice at the Senior Bowl. Cushenberry faired well against all of his opponents that week, including 2020 1st-Round pick Javon Kinlaw. If he can find that anchor ability again, it will allow him to hold off the 2021 3rd-Round selection of Quinn Meinerz.
Look for Cusheberry to continue his late-season improvement and hold on to the job throughout the 2021 campaign.
Graham Glasgow is a solid, but unspectacular performer. He is consistent and shows sound fundamentals. Glasgow fits Munchak's mold as he has good size and displays good mobility. He can pull to either side, allowing the Broncos to remain in a 3-WR set by using a full back minimally.
However, he may be pushed by some young talent this season. Assuming he rebounds to his 2019 form, he could remain the team's starter at right guard beyond 2021. If not, look for young players to take reps and the team move on as his cap hit reducing significantly in 2022.
Addressing the last need on the Broncos offensive line
Former right tackle Ja'Wuan James suffered a season-ending Achilles injury during the 2021 offseason. To fill the role, the Broncos signed former Chicago Bear Bobby Massie. Massie, a seasoned and athletic player comes in to fill the last open starting offensive line.
5. What a game for Bobby Massie. He lined up against Von Miller 30 times in pass protection on Sunday and gave up one pressure on Trubisky. Just one.

His blocking on the critical 25-yard completion to set up the winning field goal was nothing short of outstanding. #Bears pic.twitter.com/3Spj9HJLB3

— Erik Lambert (@ErikLambert1) September 16, 2019
A few seasons ago, Massie performed well against Von Miller in a matchup between the Bears and the Broncos. Massie held up well against miller in pass protection as a result of good fundamentals and above-average athleticism.
Because of injuries, Massie has been inconsistent the last two seasons. However, if healthy, Massie offers a significant upgrade over the last several players to line up on the right side of the Broncos offensive line.
If Massie is not the answer, his contract makes it easy to move on from.
RT Bobby Massie's contract has been reported. Actually a one-year, $2.5 million deal.
$1m signing bonus;
$1.075m salary;
$425k in game-day roster bonuses.
Would also have $1.5m worth of incentives. #9sports

— Mike Klis (@MikeKlis) May 25, 2021
Offensive line depth
One could argue that the Broncos offensive line has "real" depth for the first time in years. The 2021 team has great depth because of continued investment in the draft with players like Risner, Cushenberry, Meinerz, and Nati Muti.
The interior line has 5 potential starters for 3 spots, not including Austin Schlottmann and Patrick Morris, who also started games in 2020.
Schlottmann and Morris provide quality interior depth and experience at the center position. Muti is a high-upside prospect who will continue to push for playing this season and also next year.
Muti played well when he filled in for Glasgow and could push for the starting job if the veteran is injured or falters.
Meinerz provides exceptional athleticism for the center or guard position. His presence should push Cushenberry to improve his play while also providing good depth across the Broncos' offensive line.
Meinerz's development will not be as fast as many would hope. He will need more seasoning after sitting out the 2020 (FCS decision) and playing against inferior competition. But once he gets caught up, he will be a force wherever he lines up.
On the tackle position, Calvin Anderson and new addition Cam Fleming will compete with Massie for playing time at the right tackle. Holdover Anderson played well in his spot start last season. Fleming has great experience and a nasty streak. Both players provide good depth and should give the team confidence if either has to play.
How it shakes out
There will be competition in camp, and the best will rise to the top. With matchups like Cushenberry vs. Meinerz, Massie vs. Fleming, and Anderson, the Broncos are primed to have players ready to start up and down the offensive line. As of today, the depth chart should break down like this.
Starters: Garett Bolles, Dalton Risner, Lloyd Cushenberry III, Graham Glasgow, Bobby Massie
Backups: Austin Schlottmann, Patrick Morris, Netane Muti, Quinn Minerz, Cam Fleming (resent signing), Calvin Anderson, Nolan Laufenberg.
In the end, the Broncos offensive line will be its deepest in years. That depth will be needed to withstand a 17-game season.
The improved play of the line will support whoever plays quarterback this season while the run game becomes a more prominent feature of this offense.