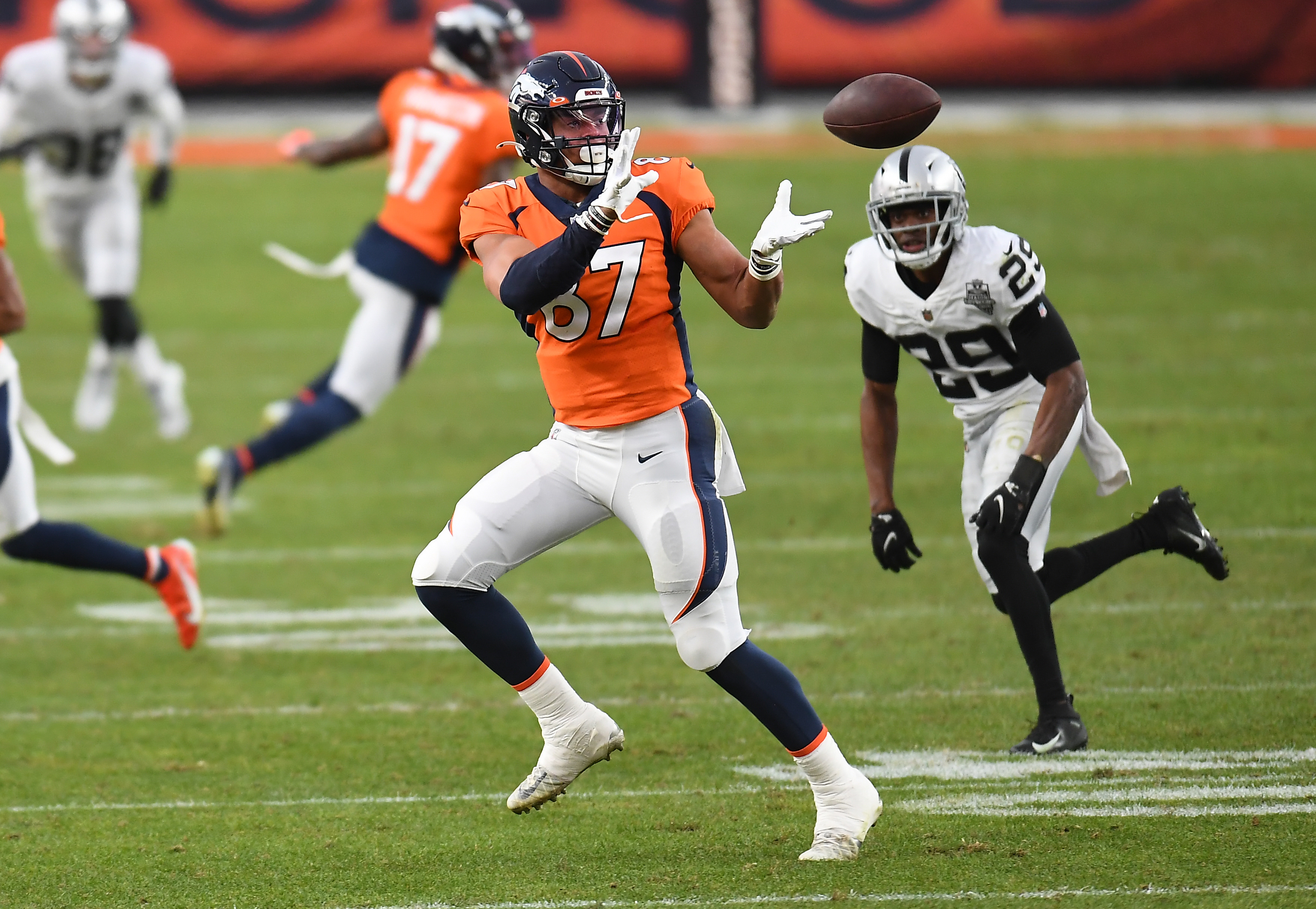 Often overlooked, the tight end position is not one media or fans are typically clamoring to discuss.
The elite players at this position are so few and far between that the position as a whole is portrayed as contributing minimal value to NFL rosters, but if your team is fortunate enough to acquire one of these truly elite-level tight ends, their significance can be of immeasurable worth.
For the Broncos, this is a level no one has yet to reach. The tight end room is promising but still very much a work in progress.
As far as personnel goes, the only significant change that this group has endured has been the loss of Nick Vannett, who the Broncos just signed last offseason for two years and $5.7 million.
The plan for Vannett was to serve primarily as a blocker in the "Y" or inline tight end position but unfortunately, he did not perform up to what his contract may indicate, making him expendable.
At the top of the depth chart
There is little doubt former first-round pick Noah Fant will lead the Broncos as the number one tight end on the depth chart.
Last season, Fant had a productive season finishing with 673 yards and 3 touchdowns through the air. This was an upgrade from his rookie season where he finished with 111 yards less.
With amazing speed for a player at this position, Fant has the potential to be a game-breaker for the Broncos. Running a 4.5-second 40-yard dash, linebackers will have more than a tough time keeping up with Fant down the seam. These rare traits will present as a mismatch for opposing defenses to gameplan for in 2021.
Noah Fant FLATTENED him on the way to a 75-yard HOUSE CALL!

(via @NFL) pic.twitter.com/m287H0likM

— SportsCenter (@SportsCenter) November 3, 2019
Fant's impact will be heavily dependant on how his quarterback performs in this upcoming season. If either quarterback in Drew Lock or Teddy Bridgewater play well, Fant will be positioned for a big season. If not, how good he actually is may not be shown on the stat sheet.
It is also important to point out that tight ends are typically late bloomers. Asked to both block and receive, young players at this position have a lot on their plate when adjusting to the NFL. For Fant, he is entering year three of his career. With plenty of seasoning under his belt, he is primed for a break-out season.
Second on the depth chart
As we move further down the depth chart, things become a bit dicier.
At this point, Albert Okwuegbunam should be the projected second tight end for the Broncos in 2021.
Okwuegbunam was drafted in the fourth round just last year and, much like Fant, ran a blazing fast 40-yard dash. Running a 4.49 at the NFL combine, Okwuegbunam was the fastest tight end in his draft class and definitely caught the eye of former general manager John Elway.
Mizzou TE Albert Okwuegbunam just ran a 4.49u at 258lbs 😳@nfldraftscout has him as his No. 5 TE

(via @NFL)pic.twitter.com/q2OgD9lXYn

— B/R Gridiron (@brgridiron) February 27, 2020
As a rookie, he played in only four games before suffering an ACL injury, ending his season. In this short amount of time, Okwuegbunam would flash but the sample size was too small to get a feel on whether he is someone that the Broncos should be planning on having a prominent role in the future.
Because of this, projecting his 2021 season is tough.
He could very well be a diamond in the rough but at this point, it is unclear. As the second tight end on the depth chart, Okwuegbunam is a gamble but with his natural abilities, it could pay off.
Further down the depth chart
Beyond the Broncos' second tight end, no player is safe.
As it stands now, the rest of the tight end room will be filled with five other players all competing for a roster spot through training camp. These players include Troy Fumagalli, Andrew Beck, Eric Saubert, Austin Fort, and Shaun Beyer.
Out of this group, Fumagalli and Beck probably have the leg up in terms of who will make the final 53 man roster. Fumagalli for his experience as he has been made active nineteen times during his two seasons on the Broncos and Beck for his versatility as both a tight end and a fullback.
While it is unclear what they will do this year, the Broncos carried a total of five tight ends onto their final roster last season.
Final thoughts
While Vannett did not play up to standard, making his release a smart financial move, who will replace him as an inline tight end is unknown. Okwuegbunam is more of a traditional receiving tight end or, as commonly labeled, a "move" tight end. Fant could step in here, as his blocking is better than most realize, but beyond him, nobody on the roster is anywhere near proven, making any replacement currently rostered somewhat risky.
At the top of the depth chart, the Broncos are well set off with a young and talented player in Fant but as you move down, depth at this position is concerning. While second or third-string tight ends typically do not have a huge impact offensively, any injury to Fant leaves this room with more questions than one may realize.