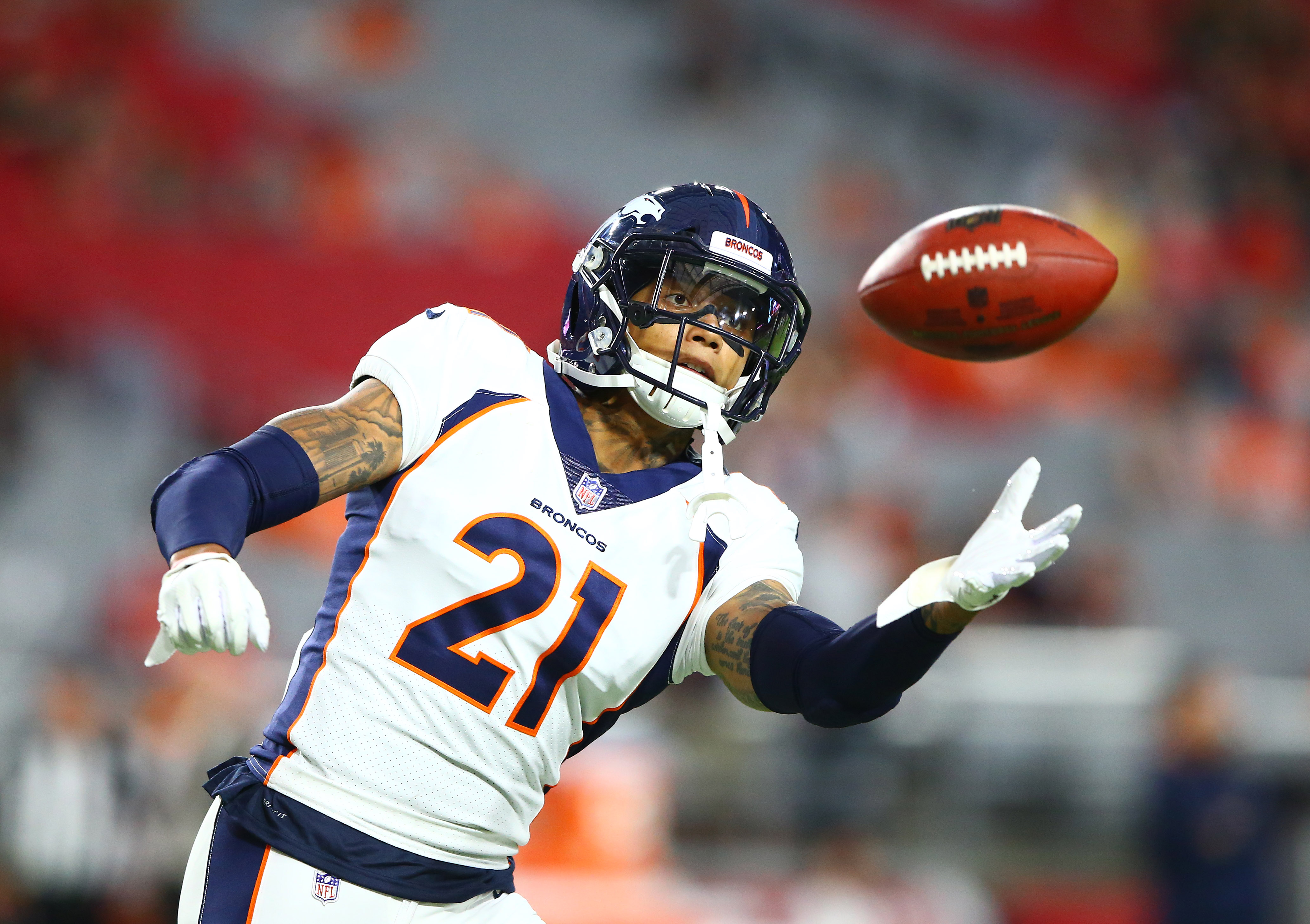 The Denver Broncos depth got their opportunity to showcase their skills, not only for Denver but for 31 other teams as the fourth preseason game unfolded in Arizona against the Cardinals Thursday night.
Starting off with a bang, the Broncos took the field and immediately drove the field off the back of bubble running back De'Angelo Henderson.
Griese made a good point if you were listening: Henderson starting means Lindsay made it … which we all knew, but still

— Nicki Jhabvala (@NickiJhabvala) August 31, 2018
Henderson looks great so far…showing great patience and bounce. #Broncos can use RBs that run like that. #JustSaying

— Ryan Edwards (@redwardsradio) August 31, 2018
Look at De'Angelo Henderson just weave his way through defenses with good vision. #Broncos

— Ronnie Kohrt (@RonnieKRadio) August 31, 2018
Henderson immediately made an impact on the drive, rushing for 21 yards with a 5.3 YPC average in the first quarter. Henderson would finish the half with seven carries for 28 yards.
The starting job for the fourth preseason game at quarterback went to Chad Kelly. The seventh-round selection has impressed in the first three preseason opportunities, but came out flat early in his final chance at solidifying the No. 2 spot on the depth chart.
Chad Kelly intercepted by Jacquies Smith on third-and-11.

— Nicki Jhabvala (@NickiJhabvala) August 31, 2018
What the hell was that? This is one of the reasons why a lot of us are not convinced Chad Kelly is ready to be the backup QB. Too many "huh?!" moments. #broncos

— Les Shapiro (@LesShapiro) August 31, 2018
That was a terrible drive from Chad Kelly.

– Ran when he shouldn't have. Panicked before pocket collapsed.
– Next play, missed the flat for a first. Causes holding.
– ?? throw across the body for INT. #Broncos

— Ronnie Kohrt (@RonnieKRadio) August 31, 2018
Kelly would finish the first quarter 3/5 for 22 yards.
Not just a good rollout and throw by Kelly, but also a great block in the backfield by D'Angelo Henderson to buy Kelly time. Henderson impressing tonight. #broncos

— Les Shapiro (@LesShapiro) August 31, 2018
But after shaking off the interception, Kelly drove the field with nice passes to Jordan Leslie and Mark Chapman, finishing the half with 12/19 for 126 yards, one interception and no touchdowns. The Broncos did notch 10 first downs in the first half, but went 1-6 on third down.
The Broncos defense certainly impressed early. Su'a Cravens, the safety acquired in a trade in the offseason finally was healthy enough to hit the field and hit he did. Cravens made a standout early play, which featured his helmet flying off.
Sup Su'a?#Broncos safety bringing the ??

— Mile High Sports (@MileHighSports) August 31, 2018
As the highlights show, Cravens played well in his first preseason action. He brings a physicality and athleticism that should help defense, especially in coverage vs. TEs. His night is over. Good first impression. #Denver7 #Broncos

— Troy Renck (@TroyRenck) August 31, 2018
The Broncos also saw strong play from another safety in Will Parks. Parks is playing with a heavy heart, just days after posting on his social media accounts the death of his Uncle in Philadelphia this week.
my uncle got killed last night in Philadelphia.. y'all gotta put the guns down man y'all don't know how much people can mean to others.. REST In PEACE Uncle Barry

— William (@PhillyWill11) August 28, 2018
With his Uncle smiling down on him, Parks brought strong play to the final preseason game, snagging a couple tackles and drawing a lot of praise on social media.
Will Parks has really had an excellent camp and preseason.

— Nicki Jhabvala (@NickiJhabvala) August 31, 2018
Will Parks has had a tremendous camp and preseason. Last I talked to him, he has that same energy and genuine happiness like Sanders does. Feels like a potential big year incoming. #Broncos

— Ronnie Kohrt (@RonnieKRadio) August 31, 2018
The Broncos special teams under the microscope saw a strong return from Isaiah McKenzie, who returned a punt 30+ yards but unfortunately was called back because of a penalty.
Isaiah McKenzie just showed with that speedy return why he should have a roster spot. Gave 'em something to think about. #9sports

— Mike Klis (@MikeKlis) August 31, 2018
McKenzie just outran everyone across the field to get to the edge. 30+ yard return.

I'm telling you. Need to get this guy on the roster. #Broncos

— Ronnie Kohrt (@RonnieKRadio) August 31, 2018
Nice work by Isaiah McKenzie to keep the return alive and circle back to the right and upfield for 33 yards … penalty nullified it, but will that help his cause to stick on the 53?

— Andrew Mason (@MaseDenver) August 31, 2018
Kelly and the offense got one more shot for a two-minute drill to score, but never crossed midfield. The Broncos go into halftime trailing 7-3.