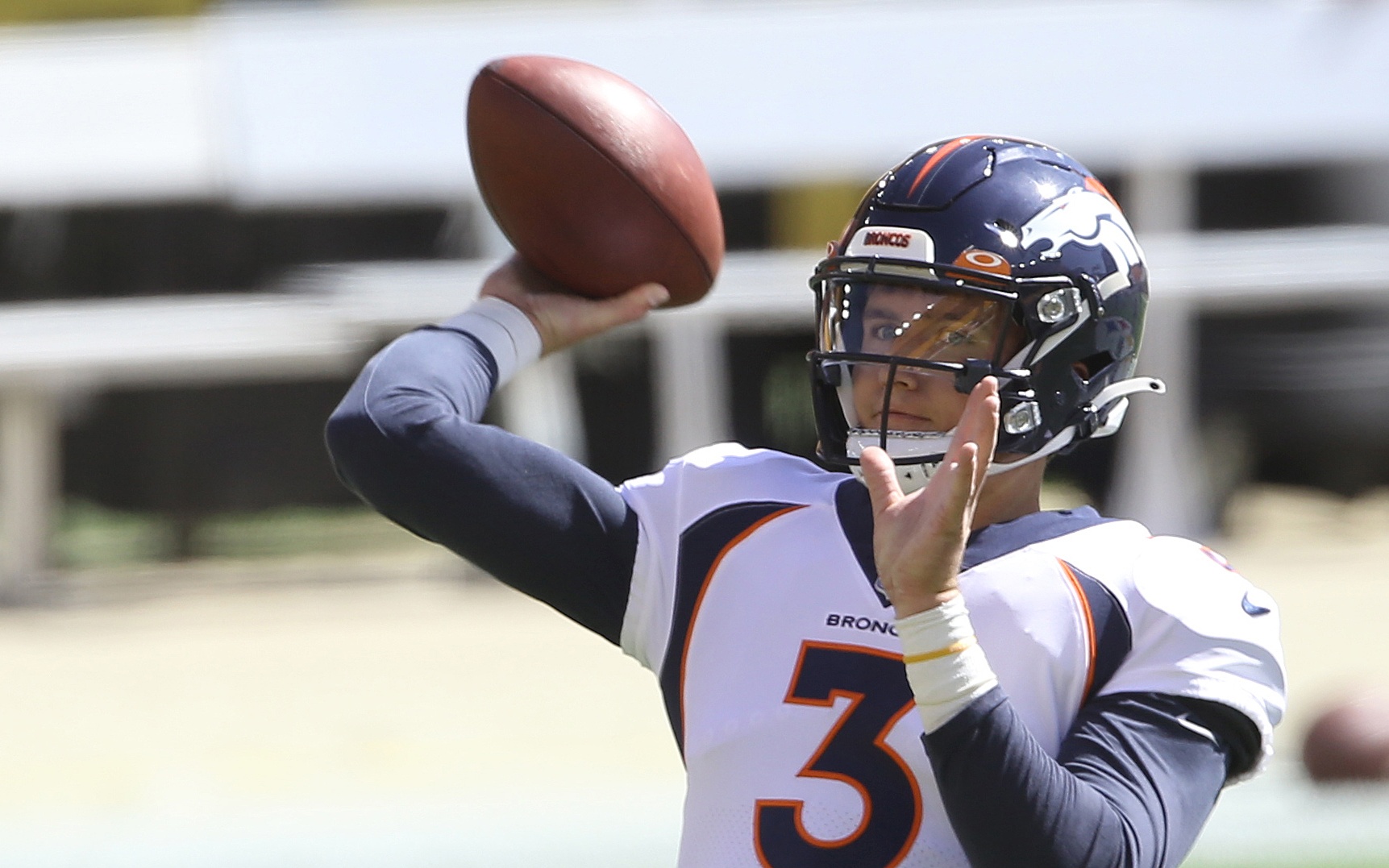 Broncos fans, and players, are bummed they won't be able to play this week.
That's right, because of another positive COVID-19 test at the New England Patriots' facility, the Broncos – Patriots game has been postponed a second time to Week 6.
First it was scheduled for today, then pushed back to tomorrow, and now it has been rescheduled to Week 6. That means the Broncos – Dolphins game, originally scheduled for Week 6, will likely be pushed back to Week 8, Denver's original bye week. But, that second part hasn't been worked out as of yet.
What we do know is, according to head coach Vic Fangio, the likelihood of the Broncos playing starting quarterback Drew Lock this week was minimal, even with the extra day.
"I think he's progressing well. I don't think he would have played if we played tomorrow," Fangio explained to the media this morning. "Although, I think in some ways, he could have. The extra week will factor into that decision moving forward, but we'll see."
Fangio, like Bill Belichick with his three possible starting quarterbacks in New England, was playing it close to the chest whether or not Lock would take the gridiron this week. But, because he was just brought back this week after injuring his shoulder, he probably wouldn't have played.
"We didn't give him many reps with the first-team offense this past week," Fangio continued. "We'll see how he progresses in the next 72 hours and see how much better he gets and go from there. We'll see. All the sports leagues have gone through these trials and tribulations during their seasons and all have crowned their champions or are about to. What makes it harder for us compared to baseball is we can't go play doubleheaders and we can't make a nine-inning game a seven-inning game, but we'll get through it."
So, while the Broncos players are upset they practiced all week and don't get to play, meaning they won't have a restful bye week, this does mean Lock will be able to get a full week of practice with the first team.
Then, he'll be more prepared to take on a difficult defense in Foxborough, led by Belichick. The Patriots currently allow 23 points per game, which is ninth-best in the league. Also of note, their eight forced turnovers are second-best while their one rushing touchdown allowed is the top mark in the NFL.
One stat the Patriots aren't great in is sacks, at only 1.5 per game, which is 25th in the league. Meanwhile, Denver is fifth-worst, allowing 3.2 sacks per contest.
The makeshift offensive line will have to protect Lock better than they have all three of Denver's quarterbacks this year in order to not only keep the QB healthy, but allow him time to process and find receivers.
When Lock has been given a clean pocket, he was the only rookie QB in 2019 to have a plus-100 quarterback rating.
Simply, getting Lock back will certainly help the offense compared to Jeff Driskel and even Brett Rypien. Lock has better command of the offense, he's more athletically gifted and he inspires confidence in his teammates.
Notes: This extra week of preparation likely means Cam Newton, who tested positive for COVID last Saturday, will be able to play, too. Newton will completely transform New England's offense, while Lock's addition will be a slight improvement.
Other Broncos players who could also return next week are tight end Noah Fant — a crucial offensive playmaker for Lock — and starting cornerback AJ Bouye.