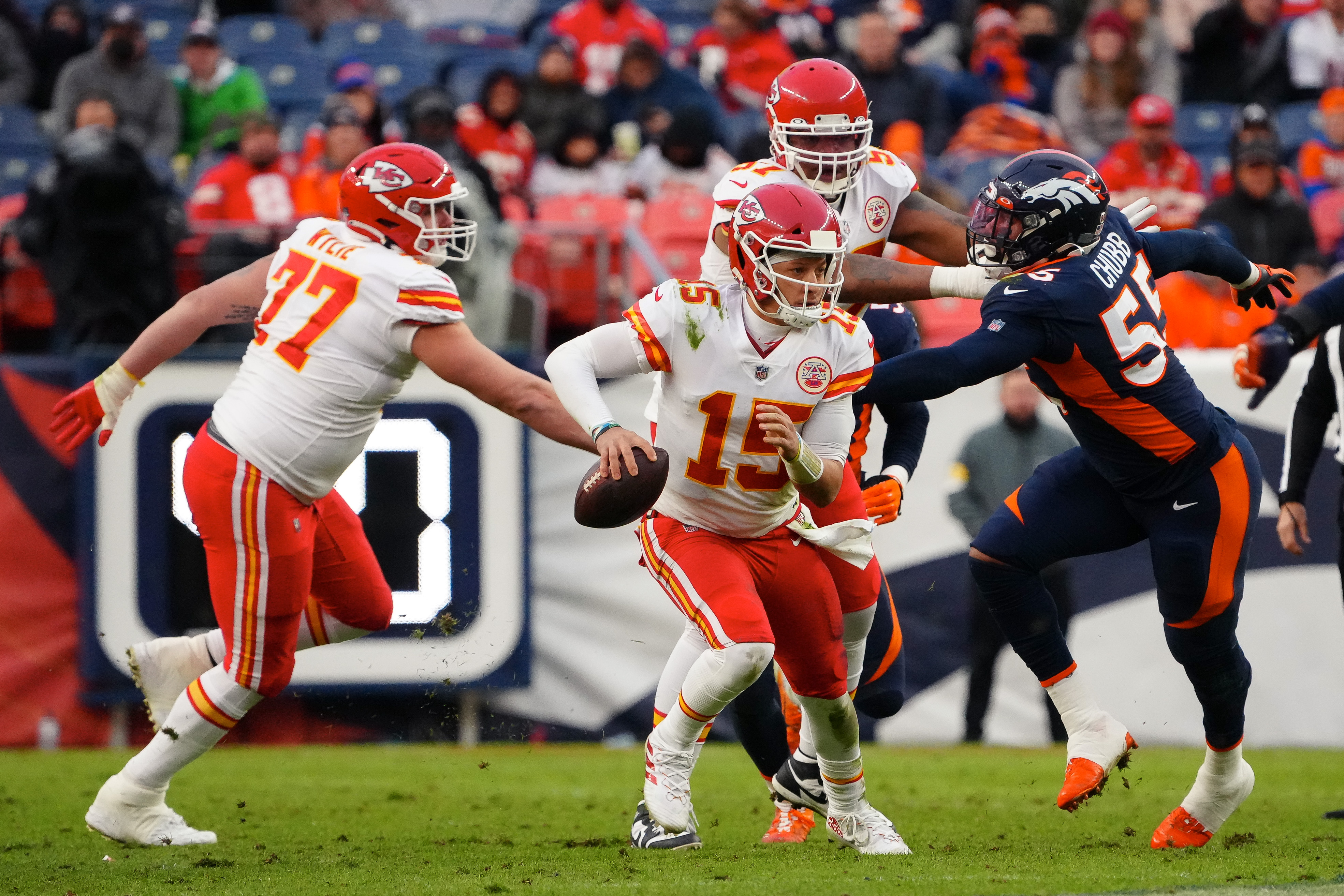 The edge defenders for the Denver Broncos were expected to dominate in 2021. Von Miller and Bradley Chubb were set to play their first full season together in Vic Fangio's defense. The two dynamic pass rushers were set atop the depth chart, while an emerging Malik Reed was primed to add support to the group.
Much was expected as the last time Miller and Chubb played together, the two combined for 26.5 sacks. However, the group would disappoint.
Miller was traded midseason to the eventual champion Los Angeles Rams in a rare win-win trade before the deadline.
Chubb finished with zero sacks while Reed regressed on his promising 2020 season.
The Broncos less than stellar play from the edge group makes it a top priority for George Paton in the 2022 offseason.
#broncos have some holes that need to be filled. Outside of QB, this is the biggest spot. My report on @nflnetwork on NFL NOW pic.twitter.com/XWCZtJwCGf

— James Palmer (@JamesPalmerTV) February 18, 2022
Before free agency, the Mile High Sports Broncos team reviewed each position group. Within that series reviewed the performances of every position group on the roster is graded.
Here is how the edge group performed in the 2021 season.
Von Miller starts hot, hits a dry spell before being dealt at the trade deadline
Miller started off the season strong getting 4.5 sacks in the team's first four games. However, the future Hall of Famer would not record another sack as Bronco. In a move that shook the NFL, Miller was sent to the Rams for a second and third-round selection in the 2022 draft.
Even though Miller only played in seven contests for the Broncos in 2021 he remained near the top of several team statistical categories.
Miller was second on the team in tackles for loss (9), fourth in sacks, and pressures (16).
For all of the talk about Miller being washed, the 32-year-old still had a lot in the tank. He showed it by adding five sacks during the regular season and five more in the playoffs on his way to a second Super Bowl ring.
Miller enters the 2022 offseason as a free agent, and there has been some chatter about a return to Denver.
It is doubtful considering Miller's age, a large contract he could command, and the fact without a legitimate quarterback Denver is not a championship-caliber team.
If Paton can bring back the iconic No.58, the Broncos' new defensive coordinator Ejiro Evero has experience with Miller from their time together last season in Los Angeles.
Bradley Chubb struggles to regain form
Many believed Chubb would take the mantel from Miller as the team's next elite pass rusher. However, 2021 was not the season Chubb and the Broncos had hoped for.
Chubb's return to the lineup was slowed by ankle injuries. The 2020 Pro Bowl selection returned sparingly to start the season and missed 10 games total. In his limited action, Chubb failed the impact Denver needed, especially with the exodus of Miller midseason.
Similar to Miller, Chubb played in seven contests for the Broncos. However, unlike Miller, Chubb failed to consistently get pressure and made no impactful plays of note. On top of being shut out in the sack department, Chubb only registered 10 pressures.
Entering next season on his fifth-year option, Chubb is no longer a lock to be in the team's plans moving forward. Injuries, not talent, are what clouds the former first-round pick's future with the team.
Chubb has only played 41 games since 2018, an average of only 10 games a season.
The change in the Broncos 2022 defensive scheme should bring more aggressiveness, helping Chubb earn one-on-one opportunities. However, Chubb must produce at a high clip to be rewarded by the team and remain in orange and blue beyond next season.
Malik Reed's production dips and misses an opportunity to solidify a bigger role in 2022
Reed had eight sacks and 33 pressures in 2020 according to Pro Football Reference. In 2021, Reed had less impact game in and game out than the Broncos hoped.
The former undrafted free agent out of Nevada started 13 of the 14 contests he played in last season. Reed was credited with only 5.0 sacks in 2021. What was more concerning was the lack of impactful rushes. Reed only provided 14 hurries, 3 quarterback knockdowns, 22 pressures, and 2 forced fumbles.
Could Reed be the next Shaqil Barrett? The former Bronco had a good but not stellar career in Denver before hitting free agency.
Reed will likely be retained this season as a restricted free agent in 2022. How he performs in 2022 will likely parlay him into a nice payday with another organization the team adds long-term pieces this offseason.
Jonathon Cooper provides a shot in the arm early, fades late
Rookie Jonathon Cooper was a revelation for the Broncos. The seventh-round draft pick out of Ohio State came out of nowhere to help make up for some of the voids Miller left behind.
Though he only finished with 2.5 sacks in his first season, his energy provided the team with a nice depth piece moving forward.
Cooper ranked fifth on the team with 16 pressure and did so with only five starts.
Most likely the team will add a pass rusher via free agency or the draft to line up opposite Chubb. This would push Cooper to be the fourth edge defender if Reed returns. However, Cooper could continue to push for playing time as he did last season. Look for Cooper to be groomed as the team's third rusher and a fixture for the team in seasons to come.
Denver finds nice depth with Weatherly, Mintze, and Patrick
Paton brought Stephen Weatherly in a trade including a swap of late-round draft picks. Weatherly brought solid run defense and set a strong edge for the Broncos' defense. Appearing in nine games with one start, Weatherly was a solid contributor. He provided 2.5 sacks and a respectable 15 pressures. Paton could do worse than bringing back Weatherly as a nice depth piece in 2022.
Aaron Patrick and Andre Mintze played sparingly and added little production. Patrick was signed off of the Jacksonville Jaguars practice squad in mid-September. Mintze entered the 2021 season as an undrafted free agent out of Vanderbilt. Both played some on special teams. Neither was credited with a sack as they both earned very little playing time on defense. Patrick and Mintze will likely return and have an opportunity to make a name for themselves during training camp.
Synopsis 
The edge group has to generate much more pressure in 2022 than it did in 2021. With a new coaching staff, the current group plus any additions must generate a pass rush if this defense is going to keep up with Patrick Mahomes, Derek Carr, and Justin Herbert twice a year.
The Broncos finished dead last in pass rush win rate and 27th in run stop win rate in 2021 per ESPN.
Chubb and Reed will likely be expected to contribute unless one is included in a deal for a quarterback. How they play will greatly impact whether or not either is on the team moving forward.
Cooper looks like a nice rotational piece, as does Weatherly. Patrick and Mintze are developing and could make a bigger impact next season after a full year in the NFL under their belt.
Hopefully, a much more effective offense gives the Broncos' defense more time with a lead. Additionally, Evero may be a much more aggressive play-caller with influence from Wade Phillips and Raheem Morris as two primary influencers.
Overall Position Group Grade: C-