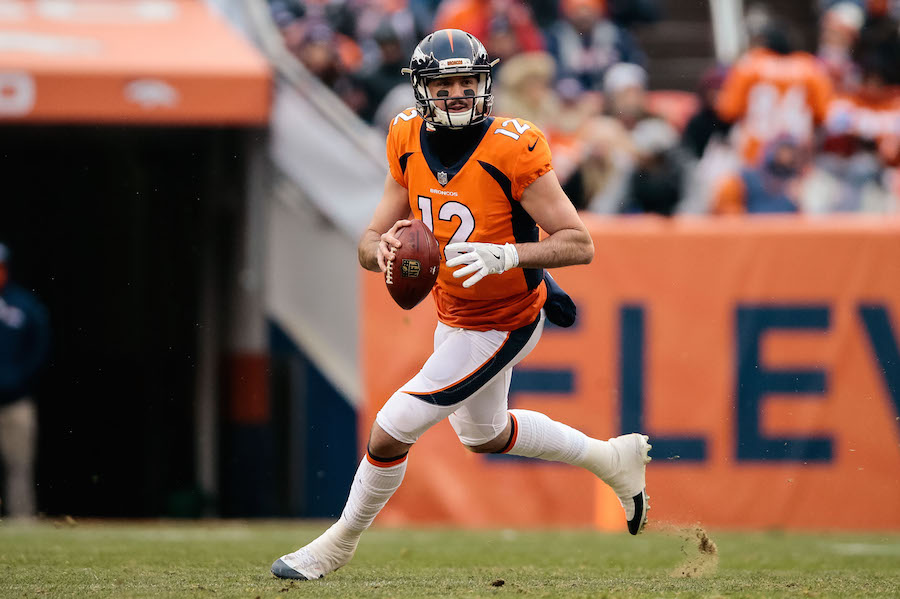 It's been one week (cue the Barenaked Ladies) since the Denver Broncos introduced Case Keenum as their starting quarterback. Yet it feels like the biggest storyline in Denver (other than the Nuggets' collapse) since then has been which quarterback the Broncos should select with the No. 5 pick in the 2018 NFL Draft.
Okay, in fairness, that conversation has been going on ever since it was clear the Broncos were going to draft in Cleveland Browns territory this year, but still.
On the one-week anniversary of Keenum and the Broncos gushing over one another, half of the Denver press corps was in Laramie slobbering over former Wyoming Cowboys quarterback Josh Allen.
There's a firm belief in Broncos Country that Denver has the hots for Allen — who at 6-foot-5, 230 pounds and with a cannon for an arm is the exact type of quarterback that General Manager John Elway tends to covet. Look back on the last two quarterbacks he's drafted in either the first or second round, Paxton Lynch ('16) and Brock Osweiler ('12), and you can see the pattern. In case you can't see it, Head Coach Vance Joseph was more than happy to talk about it multiple times last year. "Tall guy, big arm," became a punchline of sorts for how Joseph described those two backup/starting/backup and injured/backup/starting quarterbacks last season.
Sure, top-5 picks only come around every so often (unless you're the Cleveland Browns), and that this year's draft class is stacked with more quality quarterbacks than the last two or three years combined (sorry Mitch Trubisky), but all this craziness over Allen is just that: Crazy. And fans were just as crazy last week when everyone was fawning over Baker Mayfield after his pro day.
Yes, the Broncos are in a rare spot to draft a top quarterback from a stacked class. But in so doing, they would be creating a silly situation for themselves.
Elway and Joseph made no bones about it last Friday: Keenum is the guy in 2018. Presumably he'll be the guy in 2019, as well. If he plays well enough, he could put himself in line to be the guy in 2020 (when he will be 32 years old) and beyond. His track record doesn't suggest that will be the case, but we'll give the journeyman QB the benefit of the doubt and say that door is at least still open.
Also last Friday, Elway and Joseph made it clear that they want to give Lynch another shot at proving he was worth a first-round pick two years ago.
"We still have high hopes for Paxton," Elway told the gathered media when asked about the quarterbacks still on the roster and the possibility of selecting a QB with the No. 5 pick.
"He's a young guy that is talented. He's been here for two years and had a tough year last year with the injuries and everything, but we still have high hopes for Paxton to come in here and compete and continue to grow as a quarterback. That is the expectation for Paxton," Elway continued.
"It's a new football world where you draft these guys and they have to play early, and I don't believe in that," Joseph said when it was his time to answer questions last Friday. "For Paxton to have a chance to play behind Case—a guy who's been through a lot in his career—that can benefit him. To have a chance to watch and learn how to prepare to be an NFL starter, from a guy who's been through ups and downs, for me, that's going to help Paxton be a better quarterback."
"We thought Case was a great fit also for Paxton because they're both guys who can use their legs. To have Case and also Paxton involved in our quarterback room, the scheme should be the same for both guys so we're excited about that," Joseph said shortly after.
Neither Elway's comments nor Joseph's are ringing endorsements that the job will belong to Lynch come 2020, but the braintrust inside Broncos HQ clearly has a longer leash on Lynch than the Denver media and the fan base do.
The chorus of calls across Denver for Elway to draft a quarterback with that No. 5 pick is enough to drown out a rock concert at Red Rocks. Yet if the Broncos' brass really thinks that Lynch can turn it around, there's no sense in burning the No. 5 pick on another quarterback.
It was made very clear over the past two seasons that having a pair (or trio) of quarterbacks splitting snaps in a "competition" hurts the offense.
There were countless other issues with Denver's "O" — coaching, the offensive line, a lack of pass-catching tight ends and no true third wide receiver — that caused the Broncos to wind up 5-11 and with the No. 5 pick. Compounding those with a quarterback competition only made things worse. Using such a high pick to stack more quarterbacks on the roster won't make them better.
Lynch has two more years left on his rookie deal — the same time Keenum's contract is up. If the Broncos are ready to move on from Keenum at that time, they can select Lynch's fifth-year option or discuss a longer term contract. Of course, Lynch has to do his part and earn the job in that scenario.
Drafting a quarter back at No. 5 signals that a team plan to play that player eventually. Such a high pick can't be wasted on a "project." (It could be argued that even the 26th pick, when used on a quarterback, shouldn't be one.)
So, if the Broncos are willing to give Lynch more time, what good would it do to have two first-round quarterbacks on the roster for the next two years, splitting reps at the No. 2 behind Keenum?
Those second-team reps are already limited as they are. Whether it's Lynch, Allen or Mayfield, or any other QB from this class, there's no reason to impede that persons development by stacking multiple "high priority" players at that position and splitting their reps.
Elway made the decision to draft Lynch in 2016, and so far that decision has not panned out. He risks compounding that issue if he drafts another quarterback in the first round this year and doesn't find some way to move on from Lynch.
The trade market, if it exists at all, for Lynch cannot be very hot. Elway would have to eat some serious crow if he traded Lynch for a late-round draft pick as part of selecting a quarterback at No. 5 this year. It would be even worse to have to cut him outright.
Elway can't go into 2018 with Case Keenum as his quarterback and two first-round draft picks splitting reps behind Keenum.
That's like buying a new Tesla and a new Alfa Romeo, but driving your Volkswagen instead.
Sure, the VW is more reliable and proven — and has less risk of catching on fire and burning you to smithereens — but the Broncos don't have the luxury of leaving a pair of pricy items in the garage.
The No.5 pick could land Denver several non-quarterbacks that project to be Pro Bowl talent. And with all those holes to fill on offense, not to mention on a defensive line that can always use studs and a secondary that is aging and thinning rapidly, Elway can do a lot with that pick.
He could even send it to Buffalo in exchange for the No. 12 and No. 22 picks (assuming Cleveland doesn't do that before them at No. 4) and grab a couple players to fill those needs. He might even be able to grab a quarterback he likes as late as No. 12. (Maybe that's a big "might," but it's not outside the realm of possibility.)
Elway can do a lot of things with the No. 5 pick.
If he has his heart set on Allen or Mayfield, or any other 2018 first-round talent for that matter, so be it. Make a draft day trade of Lynch and let that player develop under Keenum for the next two years.
What Elway can't do is use it to select a quarterback and force that player to spend the next two years fighting with Paxton Lynch for the 2020 QB job.
There are too many other issues to address on this team to burn another first-round pick on a quarterback who may not see the field for two to four years.