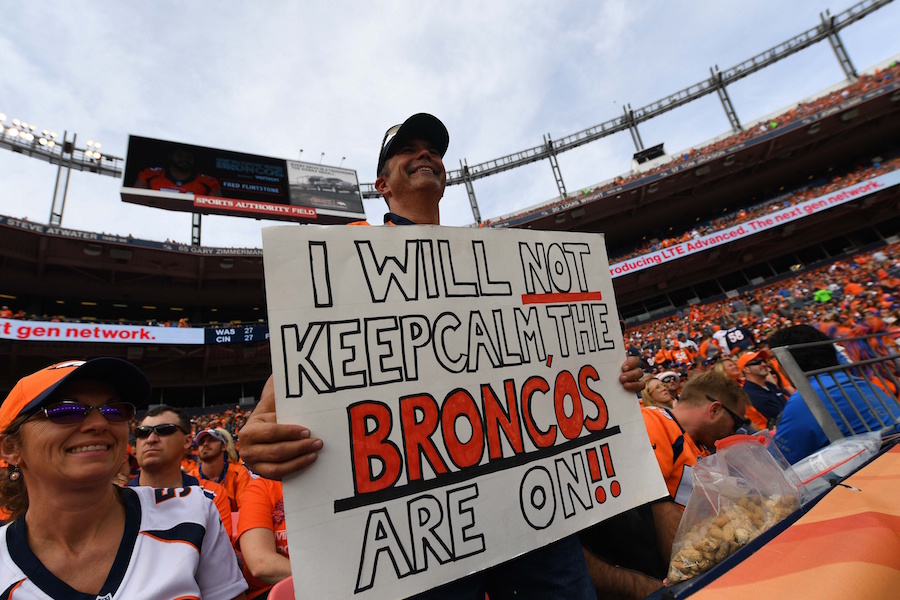 Who's tired? You tired? I'm tired.
We've been at this for 716 days, Denver. When we woke up on the morning of Jan. 11, 2015 and learned that John Fox would be bolting town – win or lose against the Colts that day – it all began. Heck, if you wanted suggest that we've been on this stressful roller coaster since Feb. 2, 2014, that fateful day in the Meadowlands, I wouldn't argue. If you prefer that date, call it 1,059-and-a-half days (we knew by the end of the first quarter, give or take).
Aside from one, single day – a beautiful, sunny day in Santa Clara – has following the Denver Broncos really been that much fun of late?
Sure, sports are supposed to be fun; this isn't life and death and we've all just stepped safely off one wild, wild ride, but I'm being serious. What percentage of the past three season has been truly enjoyable? Of the past 716 days (or 1,059.5 if you like), and speaking only of your relationship with Denver Broncos, how many of them were spent stressed, pissed, confused, worried, frustrated or apathetic?
When you watched the Broncos melt in Kansas City on Christmas night like marshmallows in a cup of hot cocoa, wasn't there a part of you that simply wanted it to all be over, a part of you that needed a vacation from fretting over our favorite team? C'mon, admit it, you knew this team wasn't a bona fide Super Bowl contender, and stringing out the inevitable for one more week would have been torturous, wouldn't it?
The 1997 and '98 seasons were fun. In '97, we still didn't know what it felt like to be a championship city (sorry, the Cup just isn't the same as the Lombardi), so every step closer was celebrated wildly. In '98, Denver just dominated. We didn't have a care in the world; it was just a blast being indisputably on top. The 2013 season was fun, too. It was like watching a thoroughbred run with Shetland ponies up until the very end – man, that team was sheer entertainment!
But 2014 arrived not only with disappointment from Super Bowl XLVIII, but also pressure. That pressure ultimately wilted the Broncos. After that lackluster playoff effort against the Colts, John Fox couldn't get away fast enough and the 2015 campaign couldn't arrive soon enough. But when it finally did, the Broncos didn't look like the Broncos anymore. Peyton didn't look like Peyton.
Instead of enjoying the fact that the Broncos were 7-0, all we did was complain about how it looked. Sure, that miracle in Kansas City was fun, and yes, whipping the Packers on Sunday night was swell, but nothing about being undefeated was all that pretty. Deep down, we just stewed that what we'd been watching was all smoke and mirrors. Back-to-back losses against Indy and KC confirmed it, and that's when the griping really began.
From that point on, all we did was argue about who should be quarterback – clear up until the AFC Championship Game.
Then, for four quarters and a parade, everyone was United in Orange (®).
Until Brock bolted for Houston. Then, we were divided again and have been ever since.
Blame was the game. Until Christmas came to a close, we've all been on a nine-month mission, a quest to find out where the collective finger should most accurately be pointed. I'm not one to believe in being a blind and unconditional fan – I prefer objectivity and perspective while collectively rooting for the same end result – and I even enjoy a good-old-fashioned barstool sports debate from time to time.
But this was too much. Like I said, I'm exhausted.
I suppose winning a Super Bowl was worth it; no pain, no gain. Then again, it sure felt different in 1998. Either way, a break sounds good right about now.
Remember how torn we were about Tim Tebow? At the conclusion of the 2011 season, John Elway was the head of a house divided. Heading into 2017, he's there again.
Back then, he found the only answer that could possibly pacify both sides of a heated debate. (Who wouldn't cheer for Peyton Manning?) But surefire Hall of Famers with bizarre circumstances don't grow on trees. At the moment, Elway needs a miracle on par with The Drive.
While we're taking a breather, the Duke's work has just begun. Here's hoping he's not as tired as we are.