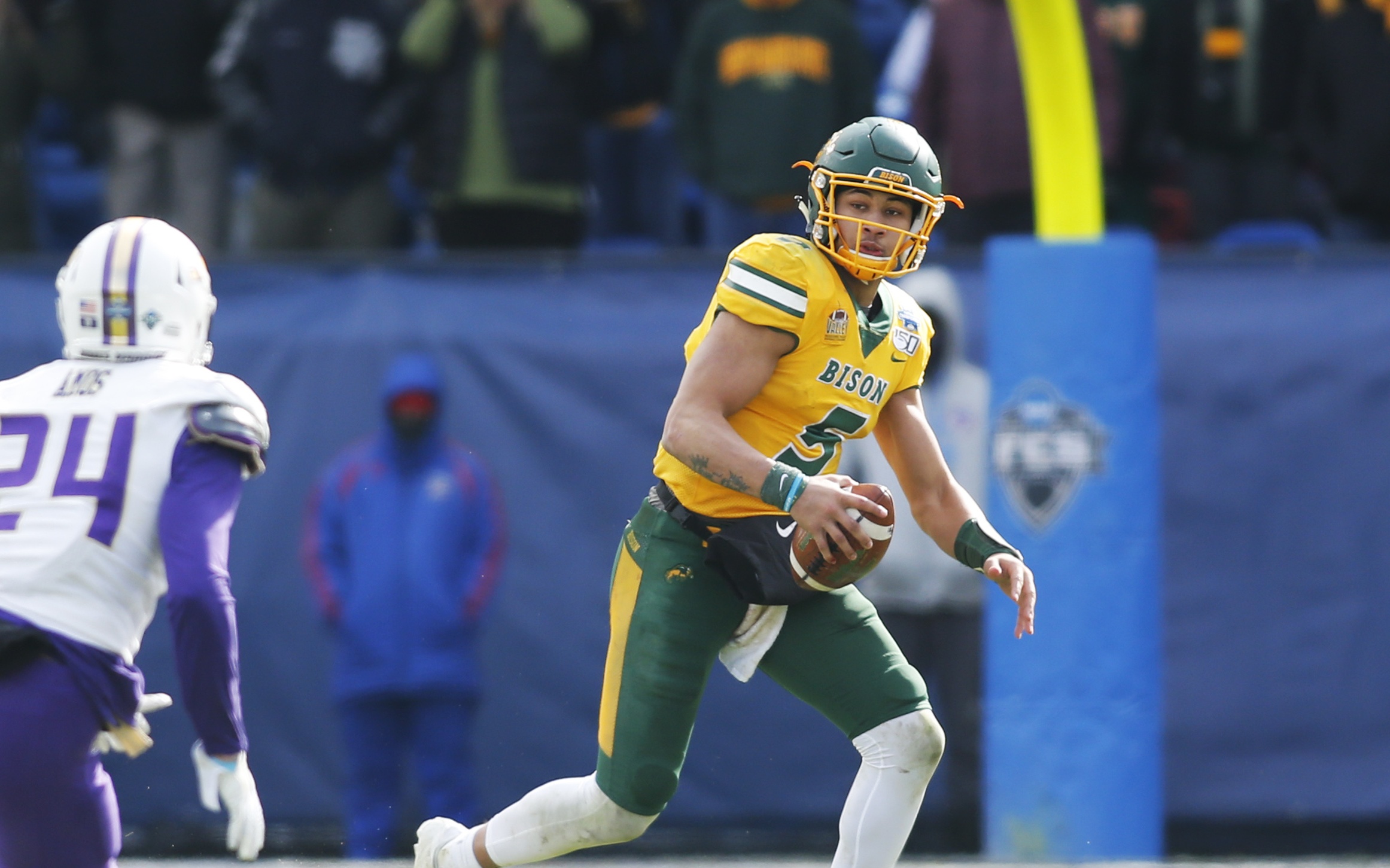 We are currently in one of the most exciting times of the NFL year, with the NFL Draft a mere 11 days away.
And for the Denver Broncos, there's one, clear piece the team needs to be instant Super Bowl contenders: A quarterback.
That's not an all-out dismissal of Drew Lock. Having criticism of Lock doesn't mean you're a "hater," it means you're being objective when looking at the stats. And it's not all bad, he's slowly, inconsistently shown some growth during his two years with the Broncos. But new GM George Paton constructed a dominant defense, and with a ton of playmakers on offense, the glaring missing piece is the most important position on the football field, QB.
It's likely why oddsmakers in Las Vegas overwhelmingly believe the Broncos will draft a quarterback in 11 days from now, with Justin Fields and Trey Lance being the probable targets.
Of course, if the Broncos want to take one of those two quarterbacks — the third and fourth-best QBs in this class — they'll almost certainly have to trade up from No. 9 to No. 4 to land one. Or, if Paton is so inclined, he could sit pat and see if one falls to him, or even draft Mac Jones of Alabama.
As of today, what seems most likely from the Broncos is a trade back in the first round in order to acquire more picks and bolster a team that needs depth in many areas. Still, many in Broncos Country are clamoring for the team to do everything in their power to take a quarterback.
Look, fans in the Mile High City are desperate for a sure-fire, gun-slinger. The team needs a consistent, above-average QB in order to truly threaten the Kansas City Chiefs in the AFC West.
But, looking at recent drafts, there's as good a chance a first-round quarterback will succeed as he will flop in the league.
Look back to 2018, when there were five quarterbacks taken in the first round. The hits were Baker Mayfield (who John Elway and the Broncos loved but went No. 1 overall), Josh Allen and way down at No. 32, Lamar Jackson. Those three AFC teams in the Browns, Bills and Ravens are now set at quarterback for the foreseeable future and those teams have made the playoffs six times combined since the respective QBs were taken.
It should be noted that Allen and Mayfield went through some rough spots before their recent emergence as stars, though Jackson was an immediate success.
As for the other two quarterbacks taken in 2018's first round — Josh Rosen and Sam Darnold — the jury is still out but both of them look like complete busts three years into their careers.
Go back another year to 2017 and Mitchell Trubisky was selected at No. 2 overall, while Patrick Mahomes went 10th and Deshaun Watson was selected at No. 12. As of today, Trubisky is a total bust while Mahomes is the best player in the entire NFL and Watson is arguably a top-5 QB.
In 2016, Jared Goff and Carson Wentz went Nos. 1 and 2, and then there was another surprise quarterback selection in the first round, Paxton Lynch. Of those three, Goff has probably enjoyed the best career, but neither his nor Wentz's careers are anything to write home about. Lynch, famously, is out of the NFL.
So, of those 11 quarterbacks taken from 2016-2018, five are legitimate superstars and six are either complete busts or leaning that way.
Back to this year's draft. The seemingly most sure-fire star quarterback at the NFL level is Trevor Lawrence, who's going No. 1 overall to the Jacksonville Jaguars. Then, Zach Wilson is the consensus No. 2 will go to the New York Jets. After that, it's Fields and Lance, with either being considered better than his peer depending on who's analysis you read.
The San Francisco 49ers already traded up to No. 3, and while early reports pointed to them taking Jones — which would be a reach — it's more likely they go with Fields there. That leaves Lance, the biggest wildcard because he not only played at North Dakota State, but also only started one season, in 2019. He played in a mere one game last year and only has 17 starts in his college career.
Sitting here today, 11 days before the draft, the quarterbacks who look to be most probable the busts of this group are Lance and Jones. Still, if Denver has a chance to take Lance, they should roll the dice.
And, one positive is this: Star quarterbacks can be found in other rounds. Dak Prescott was drafted in the fourth round in 2016. Russell Wilson was infamously taken in the third round in 2012, and the Broncos could've selected him but went with Brock Osweiler instead.
Unfortunately, with so many teams needing quarterbacks, the best ones will all be gone by the end of Day 1 of this year's draft.
That kicks off at 6 p.m. MT on Thursday, April 29.