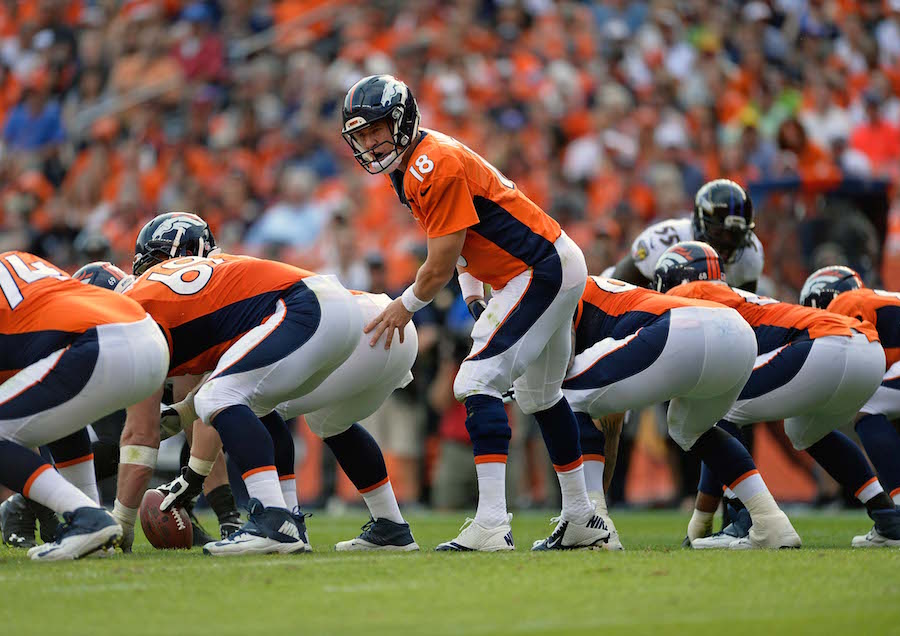 There wasn't a sense of happiness, but there was at least a little bit of relief.
As the clock wound down on the NFL trade deadline on Tuesday afternoon, ESPN's Adam Schefter hit the world with a bombshell: The Broncos, even after trading for San Francisco 49ers tight end Vernon Davis on Monday, were going all-in again.
The report was that Denver was frantically trying to free up salary cap space in hopes of trading for Joe Thomas, the outstanding left tackle of the Cleveland Browns. It turned out that cap space was not an issue, but the fact remained that Denver was indeed interested in the eight-time Pro Bowler.
On paper, it was a good fit. The Broncos have had a rotten string of luck on Peyton Manning's blind side, first seeing All-Pro Ryan Clady lost for the year early in the offseason, then earlier this week it was announced that his replacement, Ty Sambrailo, would succumb to surgery for a balky shoulder that has held the rookie out since week three.
But then there was the price tag. Cleveland had asked for pass rusher Shaquil Barrett along with a first round pick when Denver inquired during the offseason, and Schefter had reported earlier Tuesday that the Browns now had their sights set on as much as two first round picks for Thomas, a seemingly clear indicator that Cleveland general manager Ray Farmer wasn't all that interested in moving their prize offensive lineman.
Yet there it was, first from Schefter and then with more and more reporters weighing in with additional information. The Broncos seemed to be on the brink of landing Joe Thomas.
So I admit I felt a little bit surprised that the feeling I got when it was announced that the trade would not go through was… relief.
Don't get me wrong. If Joe Thomas were a Bronco today, there would be no complaining here. Upgrading such a vital position always has to be considered when a difference-making player is available, but the price on Thomas had climbed too high.
The idea of trading away any player who's contributing on Denver's all-world defense at this point is insane. Clearly, John Elway thought the same when asked to surrender Barrett back in the preseason. Then, when you're asked to trade multiple draft picks (including a first rounder) for any player that's not a quarterback, you have to ask yourself how profound of a difference-maker you can possibly be getting for that type of investment. That's not to say Thomas absolutely would not have been worth it, but that's the kind of decision that can be second-guessed for years to come.
Price aside, the current iteration of this Broncos offensive line has played together for four weeks since the injury to Sambrailo. In the first two weeks, the unit surrendered 10 quarterback hits and helped the running game to just 187 yards. Over the past two weeks, Manning has been hit just five times (without being sacked once) and the running game has racked up 312 yards. While the tackles currently on the roster may not be the caliber of Thomas, they've been getting the job done lately in a unique system that they are more familiar with than a potential trade acquisition would be. In short, Thomas is almost certainly the superior individual player, but that doesn't mean the potential upgrade in this system would be worth the investment.
Vernon Davis was a no-brainer trade. Denver essentially dropped a 2017 sixth round pick (the picks in 2016 are basically a wash) to get a player at a position where the team basically had a spot vacant. Thomas would've very obviously been different, and don't completely dismiss the difference in impact in the locker room.
We've heard time and again that the zone blocking scheme takes time to perfect, both as individuals and as an offensive line unit. Even a Pro Bowler in Evan Mathis took time to adjust early on.
While Joe Thomas is a great piece for any team, making serious changes to the chemistry of a team and unit that just began to find its groove this past Sunday seems like at least a little bit of a gamble. Factor in the price tag and you see why John Elway didn't pull the trigger. Thomas could have been a nice piece, but Broncos fans should be very comfortable moving forward without him.