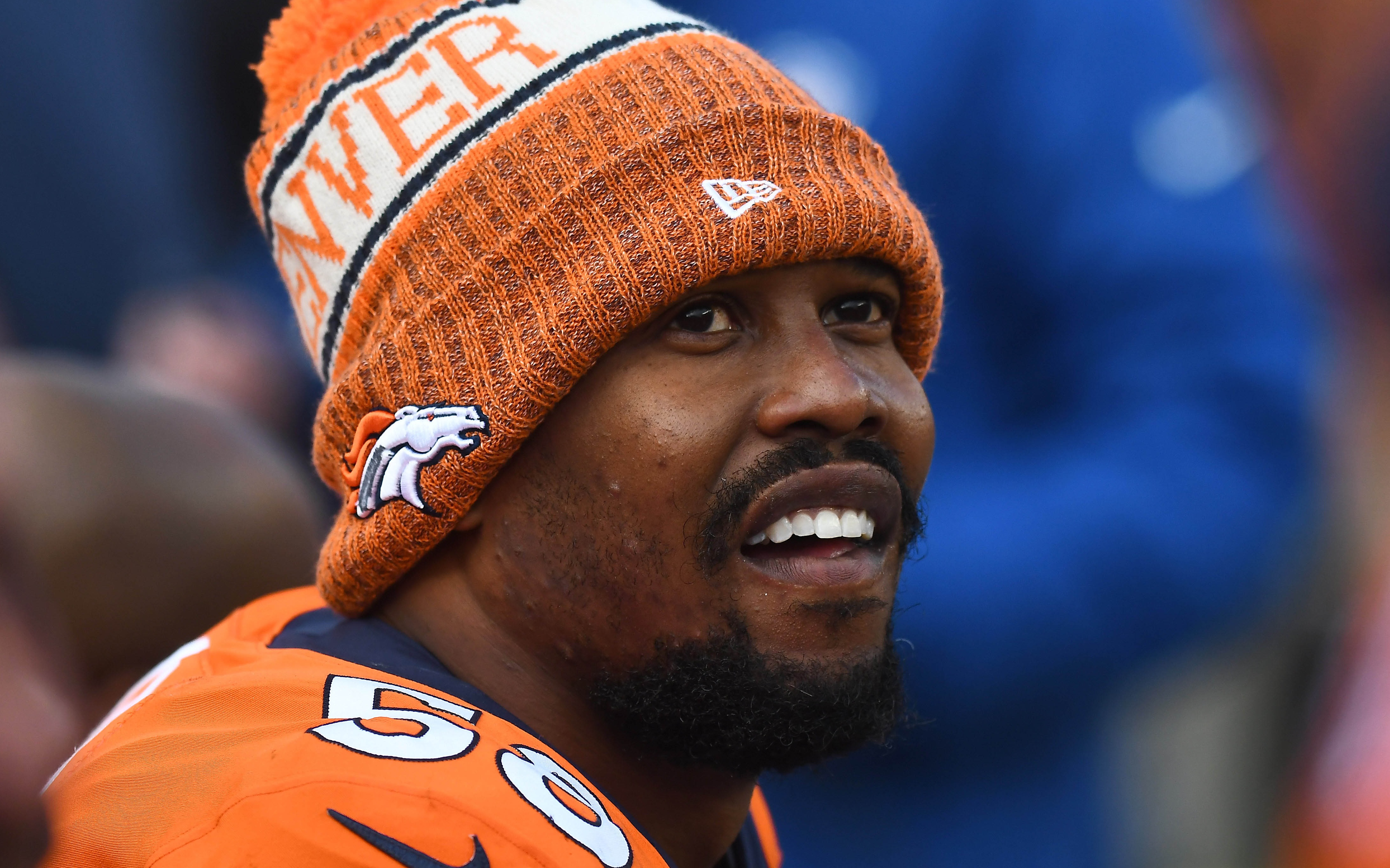 When a player on someone's favorite team gets injured, people jokingly tweet to take their corresponding body part instead. It's a way of using humor to ease the pain of a bad situation.
With the news of Von Miller needing surgery to repair a tendon in his foot after a freak injury, we probably needed something else to laugh about other than those clowns in Washington.
That could apply to the football team or the politicians. But I digress.
Miller's injury is a brutal blow to a team that was already on the outside looking in on a playoff spot and this surely won't bode well for the upcoming season. So would you? Would you give your foot for Von Miller?
I posed this hypothetical years ago: If you could somehow magically take on the injury of your favorite player so he could resume playing without interruption, would you do it? Obviously this is fantasy, but if there was a way to transfer that injury and he could resume playing, how far would you go with it?
Here are the terms: All of your medical expenses, rehab and any missed work etc. would be covered. But that's it. No special pay day, no season tickets, no guarantees of championships, just you taking on an injury so someone you've never met can keep playing. You might get a gift basket and a signed jersey, but that's it. And now you have to live with the fallout of whatever ailment you've taken on.
You are literally taking one for the team.
I asked this on Twitter and got a mixed response. Some diehards were ready and willing to sacrifice any and all body parts to keep their team in the hunt. Others were looking for a sweeter deal than I provided and some just said, and I'm cleaning this up a bit, "heck no". It's probably a tough ask for the Broncos who were iffy as a playoff team anyway, but what about the injury that felled the Avs Philipp Grubauer? The Avs might still be playing and you'd be watching them from your couch with your foot up on a pillow, drifting away on some nice painkillers as they lost 5-4 in OT to Vegas. A few people said yes, but didn't want anything like what happened to Alex Smith which was gruesome and still looks like something out of a body horror movie. But how about when the Broncos were staring down a three-peat and Terrell Davis suffered a knee injury that derailed a career that could have been even better? I would have given my knee for TD.
Most of us will never hit the big time and our sports glory is either limited or far behind us. So it's a tough decision to take on a possibly life long injury just so you can watch someone play a sport for a little while longer. But if it ultimately brought your team success, you could at least say you had a small part to play, which is more than the average fan can claim. And besides, your knee is going to hurt from here on out once you're 30 anyway, so why not.
Lots of things to bet on with the NFL firing up. Let's take a look at what you might want to jump on with Colorado Online Sports Betting.
NHL
It's tough to bet when your team has been eliminated. You have to find a reason to care. Well, rooting against the Dallas Stars is certainly a reason. The Knights absolutely smoked the Stars in their second matchup but they managed to win the third meeting. Expect Vegas to bounce back this weekend. On the other side of the conference, expect the Islanders to do that same thing after getting similarly smokethed by the Lightning. At this stage of the playoffs, you can't expect a team to sweep so fire up the Islanders in the next game. Also, keep an eye on the regular time lines. If you think a team will win outright before OT, get those better odds.
Rockies v Angels
The Rockies seem to right the ship and then immediately capsize it. The Padres certainly have their number but do the Angels? The Rockies, based on record alone, are better than the Angels, so this may be the punching bag they need to stumble into the playoffs. But the Angels have Mike Trout and those homerun props might be something to look into. Also, look at the Overs if they're not too high right away.
NFL betting is like a Vegas buffet. Too many options and you usually eat until you're sick. I've narrowed down a few that I like.
Pittsburgh -5.5 v the Giants
This line has grown a bit from a few weeks ago when I took Pittsburgh -3.5. Not sure why other than to get more action on the Giants, but Pittsburgh should roll.
Indianapolis Colts -7.5, Under 44.5 v Jaguars
Indy should dismantle the Jags and I think it ends up being low scoring because Indy will run out the clock pounding it down Jacksonville's throat. This line has also moved a bit so I'm not too keen on the Under at 44.5 anymore but you do you.
Miami Dolphins +6.5 v Pats
Miami should put up a fight against a Tom Brady-less New England team. The Pats should win but I think it's going to be closer than most think. Betting on Miami in this economy? That's how you make the big bucks, by taking risks. Good fortune to you.
Podcast
I've launched a new podcast with Nate Lundy where we provide some betting picks and ideas each weekend for you. I hope you'll subscribe wherever you get your podcasts, but in the meantime here's Episode 1: