At first glance, you couldn't tell if there was a little league game or Broncos training camp going on Tuesday night at Sports Authority Field. Entering the southeast tunnel were women decked out in typical orange and blue but also Cherry Creek blue and red, Legacy gold and navy and much more little league apparel. The hitch was, there were no coaches, no cheerleaders and no players. It was just their number one fans: their moms.
The Denver Broncos held the second annual Moms Football Safety Clinic, intended specifically for youth football moms, many of whom traveled from across the state to attend. This event was in partnership with USA Football Heads Up Football, which aims to educate players, coaches and parents about the safe way to play football.
The football moms were taken through four different sessions throughout the night, including concussion awareness, heat and hydration, equipment fitting and heads up tackling. All sessions were led by experienced professionals specializing in that area.
Additionally, there were current Broncos players in attendance including, Ryan Harris, Corey Nelson, Nathan Palmer, Chase Vaugh, Kenny Anunike and Gerald Rivers.
Former Broncos kicker David Treadwell is one of the main men behind this great event.
"As a former player, we want to make sure the game continues on in the form and fashion that it is and it's taken a lot of negative publicity hits through the concussion lawsuits and so forth but I don't think that's a game changer, I just think there needs to be better awareness, better education, and who better to start with then the moms," said Treadwell.
The night started off with food provided to the moms, photo ops with the Super Bowl trophies, tours of the Broncos locker rooms and the moms even had some fun with a throwing simulator. They then moved out to the field and Treadwell welcomed them. He explained the reason those particular moms were there was because the football league their sons participate in are USA Football Heads Up certified and that over 3,500 leagues are certified across the nation.
The coaches in USA Football Heads Up certified leagues have to go through training, so this safety clinic and training for the moms is similar to that which the coaches receive. The coaches are great in what they do, but they have a whole team to manage and who knows a kid better than their own mother?
Dr. Karen McAvoy, who runs the Center for Concussions at the Rocky Mountain Hospital for Children, facilitated the concussion session. She was the school psychologist at Grandview High School when the death of football player Jake Snakenberge occurred due to second impact syndrome, caused by his second concussion. Even though second impact syndrome is extremely rare, Dr. McAvoy dedicated herself to the research of concussions and to spreading awareness of concussions to coaches, parents and players.
Dr. Brooke Pengel of the Rocky Mountain Hospital for Children presented on heat and hydration. Her main focus was to have a strategy for hydration. Dr. Pengel compared Gatorade to an IV and her recommendation for the best recovery drink is chocolate milk. She could not stress enough on how important hydration is for young athletes.
The man who has been fitting the Broncos equipment for the past 18 years, Chris Valenti, was on hand to give the moms demonstrations of how their son's equipment should properly fit. The moms were really into this session and had a lot of questions. Football is a hard-hitting sport and if there is something more they can do to protect their children on the field, they wanted to know.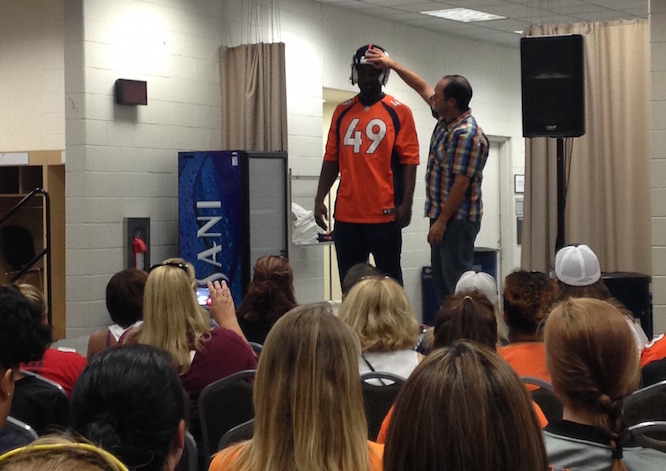 Image Credit: Sabrina Naccarato
The most entertaining session of the night was orchestrated by Legacy High School football coach Wayne Voorhees. He had the moms on the field running USA Football Heads Up Football certified drills. The moms were serious about the drills. They wanted to learn the correct way to the run the drills so they can make sure their kids are doing the drills in the safest and most effective way.
Coach Voorhees said that it is important that the moms are out here and getting involved because ultimately they can make the call to pull them. Now they have the correct knowledge to understand when that point can occur.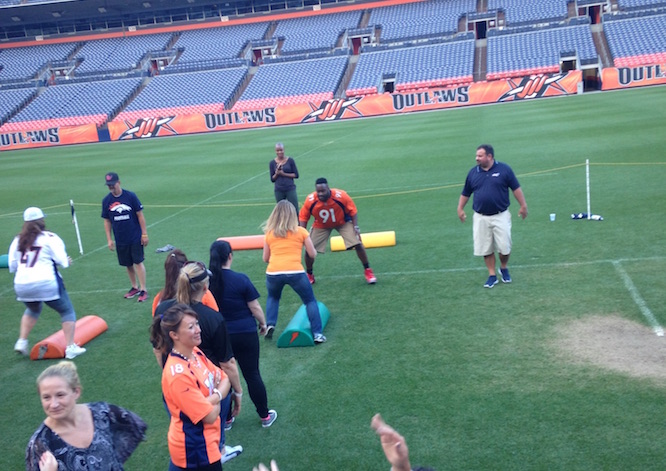 Image Credit: Sabrina Naccarato
Now in its second year, it's clear even Broncos players think the Mom's Football Safety Clinic and similar events should have been around much longer. Nevertheless, they are happy they are happening now and that they can be a part of them.
"My mom didn't let me play football for a long time when I was little and finally after some convincing she finally let me but if she had something like this where she could come voice her concerns to professionals, I think that would have made her feel a lot better," said Vaughn, Broncos linebacker.
From the smiles on the mom's faces when they were tackling pads to the intense notes they were taking in the concussion awareness session, it's clear this was a very impactful event for the moms. If we want to continue to see football played the way it is, by educating the players' biggest fans – their moms – safety needs will continue to be a main priority.