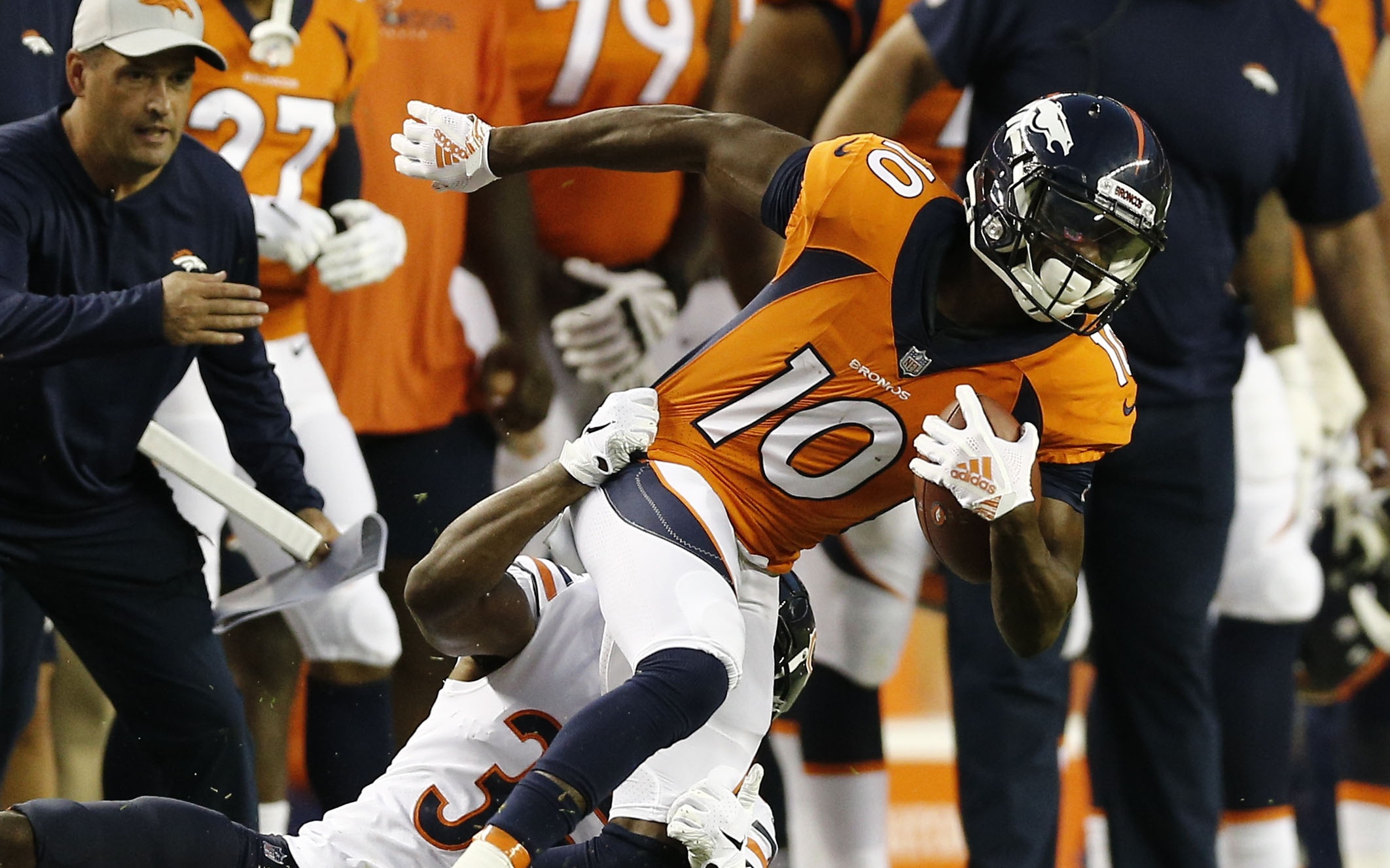 The Denver Broncos first-team needed to impress in this, the third game of the preseason, and that's exactly what they did. At least, in the first half on Friday night in Washington D.C.
Denver went into halftime leading 17-3 thanks to some electrifying offense, led by Case Keenum and Emmanuel Sanders.
The offense didn't start off on fire; Denver went 11 plays and ended up with a field goal.
But then they got it going; "Rols" Royce Freeman ran behind phenomenal blocking on a power play and trotted into the end zone with speed, and then Sanders took over to push the Broncos ahead 17-3. The defense was solid, allowing only one field goal in the half, although Adrian Peterson ran a little wild in his first action back on the gridiron.
Here are some more notes from the first half:
Adam Gotsis "got some" by sacking Alex Smith early on.
Isaac Yiadom made a boneheaded play on a punt; he was getting called off of it by Isaiah McKenzie and had the ball bounce into his knee.

Luckily McKenzie made the heads-up play and dove on the ball to keep the possession because it would've been Redskins ball in the red zone.

Keenum found Phillip Lindsay on a key third down pass out of the backfield for a first down.
Courtland Sutton finally made a huge play; he went up and caught one on the sideline for a 27-yard gain.
On Freeman's touchdown, Connor McGovern made the hole-opening block, which was a beauty.
Peterson had a lot of juice in his legs and ran like a man possessed against the strong Denver run D. He carried 11 times for 56 yards in the first half.

One of his runs went 15 yards, on a 4th and 1, which was a bit of a killer to the Denver D. Although, they held the Redskins to a field goal on that drive.

On a 3rd and 14 late in the half, Keenum connected with Sanders for a first down in the middle of the field. Then, on the next play, Sanders dove to catch one from Keenum on the sideline for 33 yards.
Sanders then carried one for 27 yards around the left end for the touchdown.
Oh, and John Elway was going to town on sunflower seeds up in the booth. He was eating them, chomping on them, like there's no tomorrow.