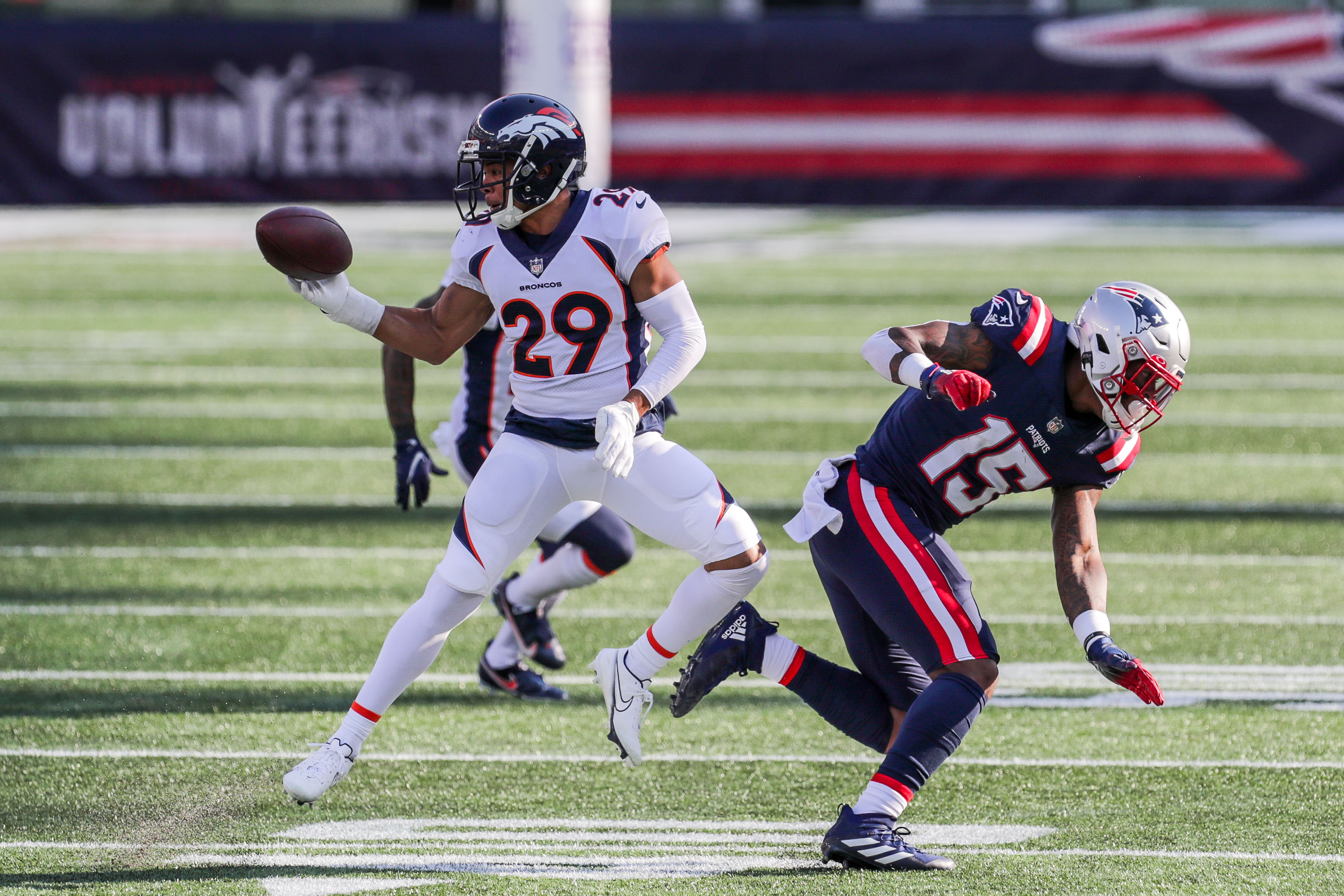 By signing Kyle Fuller and Ronald Darby and drafting Patrick Surtain II in the top 10, George Paton has done a ton to overhaul what was a dangerously thin cornerback room.
The Broncos cornerback room now looks like the best in the league, after being the biggest hole on the roster in January.
A big part of that, as Pro Football Focus broke down on Tuesday, is that two of those additions — Fuller and Darby — are among the best boundary cornerbacks in the entire league, while Bryce Callahan is among the league's very best slot corners.
"[Darby] had one of the highest forced incompletion rates in the league this past year with Washington — one of several contributing factors to the multi-year deal that Denver offered him," PFF analyst Ben Linsey wrote. "Another of those factors was health, as Darby played over 600 defensive snaps in 2020 for the first time in four seasons. He should give the Broncos some playmaking ability at cornerback if he can stay healthy."
Darby was healthy last year, but that health, unfortunately, seems to be more of an exception than a trend. With that said, Linsey is right about what he can bring to the defense when healthy, as a solid cornerback that can make plays on the ball.
Even better than the addition of Darby though, was the addition of Kyle Fuller, who was an All-Pro the last time he played in Fangio's system. Also, just last season he ranked among the league's top 10 cornerbacks in reception percentage allowed, snaps per target allowed and snaps per reception allowed.
PFF ranked Fuller 21st on their list.
"The three highest PFF grades of Fuller's career came with Fangio as the defensive coordinator in Chicago from 2015 to 2018," Linsey wrote. "According to PFF [Wins above replacement], the veteran corner was the sixth-most valuable cornerback in the league over the 2015, 2017 and 2018 seasons. His numbers have taken a slight hit in the two years since, but Fuller is coming off a solid 70.2 coverage grade in 2020. He should once again be put in a position to succeed under Fangio next season."
In part, that's what makes the Fuller signing so great. He was still a good cornerback last year, so at worst you should be able to get an above-average starter, but there's also the potential that Fuller could recapture the elite level of play he showed the last time he was with Fangio.
Last, but certainly not least, is the unsung hero of the Broncos defense — Callahan, who played like a reincarnation of Chris Harris Jr. last year.
"It's difficult to make the argument that any slot cornerback has been better in coverage than Callahan since 2017," Linsey wrote in his article ranking the top 10 slot cornerbacks in the league, in which Callahan ranked second. "Over this four-year span, Callahan has earned a 90.0 coverage grade with a passer rating of just 64.7 into his coverage when lined up inside (best in NFL among qualifiers). Health will be the biggest concern heading into 2021 with Callahan missing the entire 2019 season and part of last year due to injury."
Health will always be the concern with Callahan but his play is elite.
He also allowed the fewest yards, yards per snap, and was the only cornerback to not allow a touchdown among cornerbacks with at least 500 snaps last season.
Now 'The Specimen' Patrick Surtain II is being added to the mix.
Lord help the quarterbacks of the AFC West.