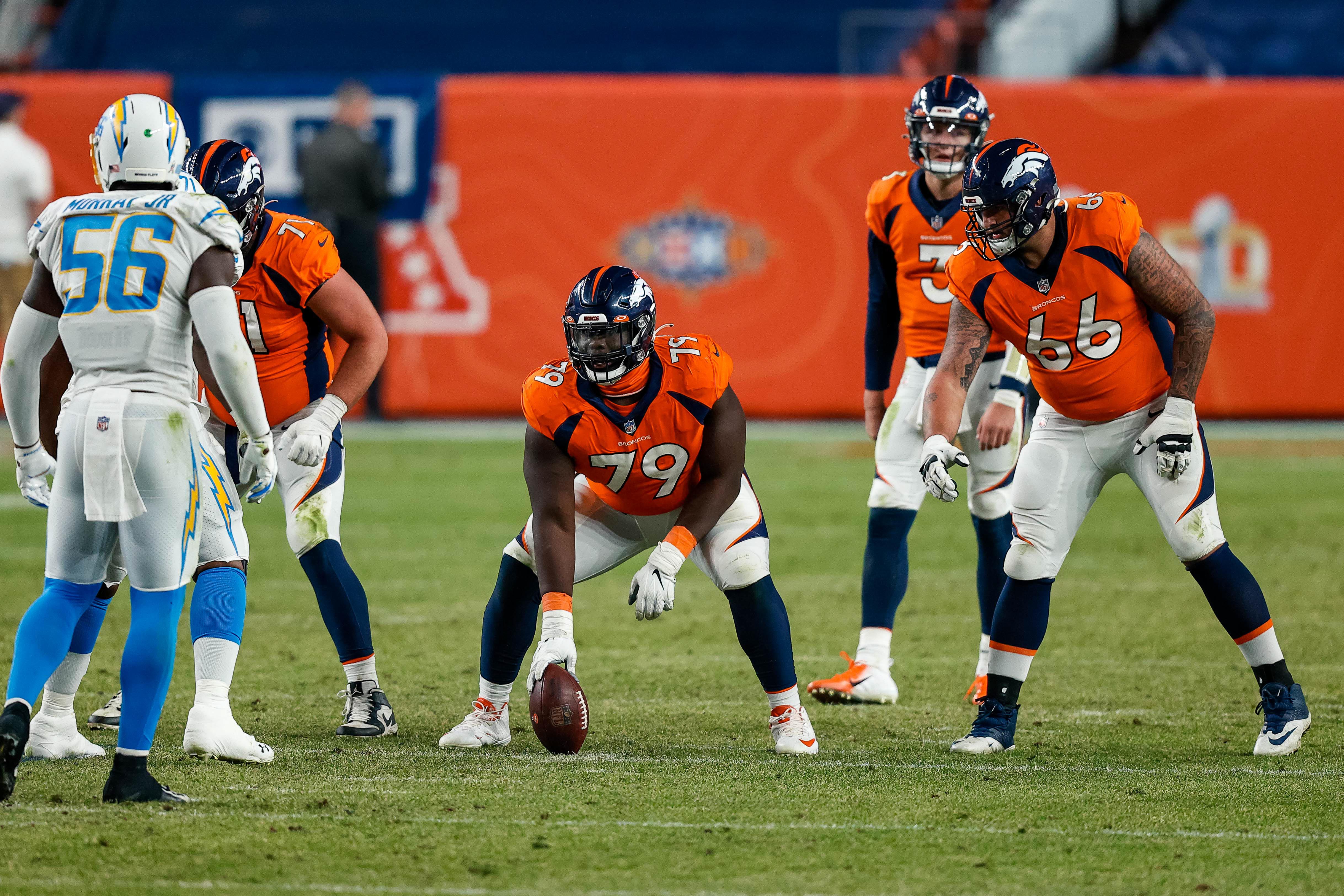 Outside of quarterback — and maybe linebacker — the only real problem area on the Broncos roster is the offensive line.
Garett Bolles will lock down one of the tackle positions while Dalton Risner and Graham Glasgow are upper tier guards, but the other two spots are looming concerns.
According to Ben Linsey of Pro Football Focus, the Broncos definitely should be concerned about how the center position currently stands, as Lloyd Cushenberry was one of, if not, the worst center in the league last season.
"Cushenberry will likely be pushed by rookie Quinn Meinerz for the starting center job, but he should hold an advantage as the incumbent," Linsey wrote, as he ranked Cushenberry 31st out of the 32 projected starting centers. "It was a rookie season to forget for Cushenberry in 2020. His 40.5 overall grade at center was nearly eight points lower than the next worst qualifier at the position. The saving grace for Denver is that Cushenberry does have one of the best offensive line coaches in the NFL, Mike Munchak, to lean on entering his second season."
The value of Munchak cannot be overstated. The Steelers' offensive line has been on a steady, yet steep decline ever since he left, while the Broncos have enjoyed steady improvement in the play of their offensive line by the week.
The greatest benefactor of Munchak's sublime coaching has been now-All-Pro tackle Garett Bolles, who now appears to be one of the best tackles in football. He came in seventh in PFF's tackle rankings.
"Prior to 2020, Bolles seemed to be an average-at-best tackle," PFF analyst Anthony Treash wrote. "He posted PFF grades in the low-to-mid 70s up to that point and played with notoriously bad discipline, leading his position with 46 penalties since 2017. But in 2020, everything changed. Bolles was a top performer week after week, cut down on his penalties significantly and provided clean play at the position. He led all tackles on the year in total starts with one or fewer pressures allowed (12) and ranked third among that group in negatively graded run-block rate. In turn, Bolles earned a 90.6 PFF grade that ranked third at the position. Not only was he the most improved offensive linemen of 2020, but he was also one of the most improved players in the NFL, regardless of position."
Time will tell if Bolles can replicate that same level of play moving forward, but if he can it'll be massive for the Broncos.
The last member of Denver's offensive line listed in PFF's rankings was Graham Glasgow, who was fine last year but 'fine' is fairly disappointing considering the four-year, $44 million  contract he signed last off-season.
One thing he did do that was incredibly valuable though, was the keep the quarterback clean for much of the season.
"After three straight solid seasons in Detroit, Glasgow backed that up in his first season in Denver, posting good grades across all facets after a rocky start to the season," PFF analyst Sam Monson wrote after ranking Glasgow as the league's 19th-best guard. "After the first three games of the season, Glasgow earned a top-10 PFF pass-blocking grade and wasn't responsible for a sack or a hit on the quarterback for the remainder of the year."