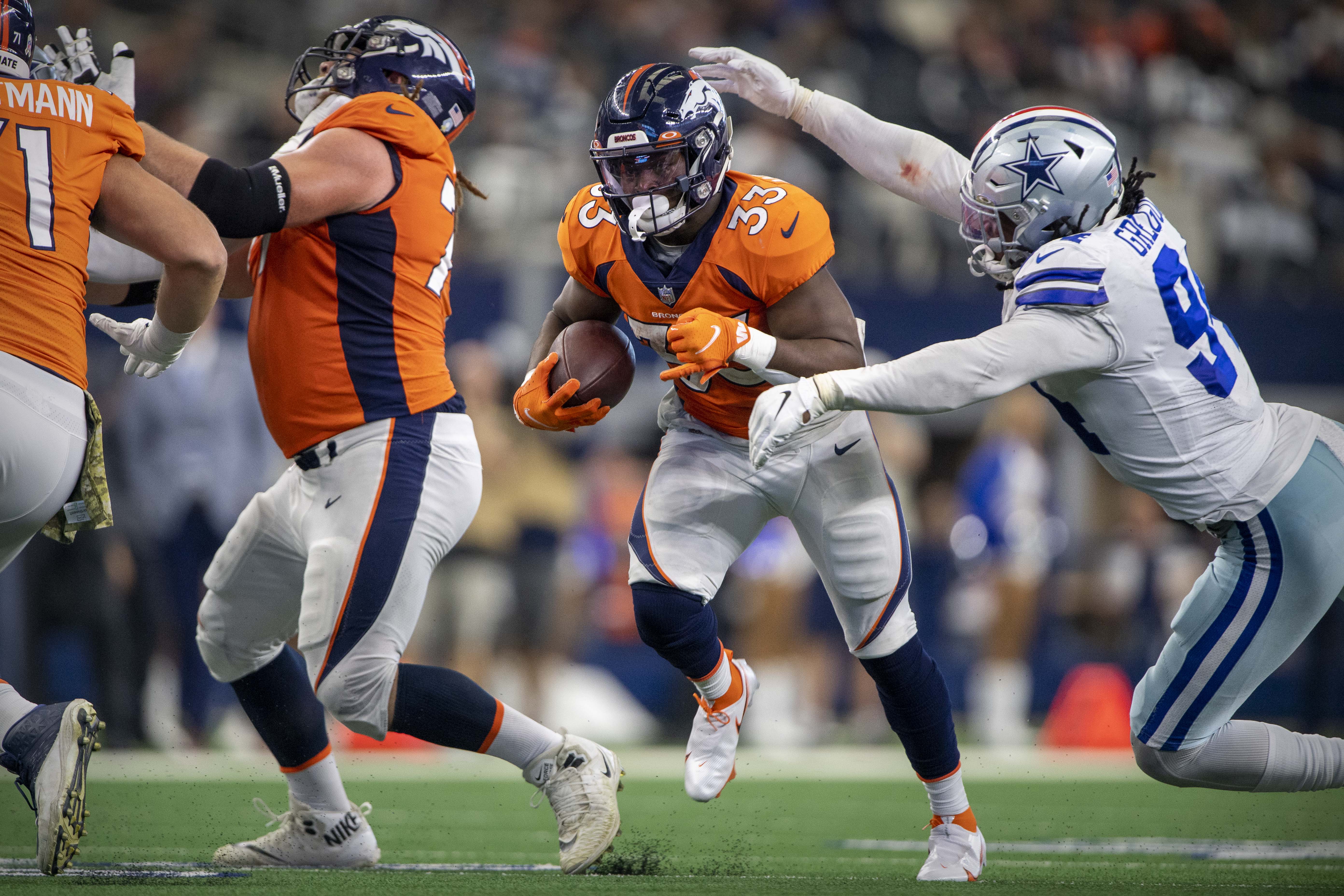 The Denver Broncos finally lived up to the high-end potential their talent provides, with a monstrous 30-16 beatdown of the Dallas Cowboys, that didn't even feel nearly that close.
Which Broncos helped the most in leading the team to their biggest win in several years, and which Broncos nearly cost the team the game? Let's look.
Stock Up
Rushing Attack
After being bland and average at best through four weeks, the Broncos ground game finally sprung to life in Dallas, as they managed to run all over the Dallas Cowboys defense.
The Dallas defense is far from the 'Doomsday Defense' of eons past, but it's been a surprisingly frisky unit through eight weeks. They were especially staunch against the ground game, ranking 11th in run-defense DVOA and 15th in run-defense EPA.
You would have no idea the Dallas defense has been so solid, both generally and when defending the run, if this was your first exposure to them.
The Broncos' backs had no problem galloping through the Cowboys' defense, reaching the second- or third-level on seemingly every carry.
On their first 10 carries of the game, they gained 65 yards and scored a touchdown. Their production slowed down a little, but when all was said and done, the Broncos finished with 190 rushing yards on 38 carries.
Javonte Williams was the star of the day on the ground, but we'll dive further into that briefly.
Denver's Defense
One could make a strong argument that the Broncos' defensive performance today was the most impressive performance any defense has turned in this season. It also feels like it's undeniably the most impressive performance of the Fangio era.
Unfortunately, some garbage-time drives from the Dallas Cowboys made things look much closer, and the defensive performance less impressive, than it truly was.
Sure, the Broncos didn't complete the shutout, but holding the beyond-elite, virtually unstoppable Dallas Cowboys offense to 16 garbage-time points in the final four minutes is far more impressive than shutting out a bottom-feeding Jets offense, that has improved since their second overall pick has left the lineup.
Until that drive that scored Dallas those garbage time points, the Cowboys had gained just 136 yards across their first eight drives, and of course, hadn't scored. On those first eight drives, Dak Prescott's stat line was 8-for-23 for 102 yards and an interception. He was arguably the MVP frontrunner when he entered this game.
Dallas' revitalized run game was also held in check, as they gained just 78 yards on the ground, only 62 of which came from the talented tandem of Ezekiel Elliott and Tony Pollard
Against the league's most invincible offense, we finally got a look at what the Broncos' defense was supposed to be this season. During the pre-season, it was discussed as being similar in quality to the legendary 2015 unit, but they've consistently underperformed and never came close to reaching that peak.
Today, we got a glimpse of something special, and hopefully, that glimpse can provide optimism as to the talent of this team, despite what their final record ends up being.
George Paton's rookie draft class
The Broncos' new general manager, George Paton, has made some questionable moves during his short tenure, but at no point, has anyone argued that he doesn't know how to draft talented players.
There's a good reason for that, as Paton's first-ever draft class appears to be a smashing success nine games into their careers. Now, that final point is an important one to note — they have only played nine games — but the early returns are hyper-promising.
Patrick Surtain II left the game with a knee injury today, but now with Bryce Callahan done for the season, there's no debate that he's the best cornerback on the team, and that's remarkably impressive for a rookie that got limited reps in (what figured to be) a star-studded secondary this summer. The sky's the limit for Surtain, and his floor is already well-above ground level.
Javonte Williams has had breakout moments all season long, but today, he finally had his breakout game. Williams ran the rock like a man possessed against the Cowboys, trucking through defenders, running with impressive burst, and seemingly always picking up a big gain. He gained a jaw-dropping 6.5 yards per carry and got the first 100-yard rushing game of his career.
If the Broncos get this version of Williams more often, he'll be worth the second-round trade necessary to acquire him, and then some, which is saying a lot for a running back in the modern NFL.
Quinn Meinerz entered the game in relief of Graham Glasgow and played great, especially given the circumstances. Fellow third-rounder Baron Browning, also in relief of some injured Broncos, got the start at linebacker once again today, and once again he looked fantastic. Caden Sterns has been getting snaps in Denver's dime package for weeks now and lodged his second interception of the young season, and it helped serve as the dagger in this one.
Those three players were the three biggest 'boom-or-bust' prospects that Paton picked, and every single one of them is trending towards being a thunderous boom.
That's the type of draft that turns a franchise around.
Tim Patrick
Tim Patrick had himself a game today. Without him making a series of big plays on each of his first four receptions, this game could've been very different.
His first reception came on a third and long near midfield, and kept the Broncos' drive alive, when an incompletion would have likely resulted in the punt team entering the field. It was a good thing he kept the drive alive, as on the very next play Bridgewater fired one down the field, which Patrick came down with, to help put the Broncos up 13-0.
Patrick's third and fourth catches also came on third-and-long situations that helped move the sticks.
The fact his knee injury suffered late in the game wasn't more serious, is a huge relief for the Broncos offense.
Stock Down
Offensive Line
The Broncos' offensive line suffered two major injuries during their matchup against the Cowboys, and they really didn't have the bodies to spare, forcing them to be a down for this game.
Though to be fair, injuries aside, the unit didn't play well in pass protection. Bridgewater was frequently under pressure and sacked all too often, which limited just how productive the offense could be. Don't get us wrong, the offense performed very well today, but it would have been even better if sacks didn't hamstring multiple drives.
Bridgewater was sacked three times in the first half, but just once in the second half as the line found its footing.
The greater concern for the line though, is the aforementioned injuries. Fortunately, it seems like starting right tackle Bobby Massie should be ok, but losing him during the game and the potential for him to miss more time certainly hurts the line. Especially with Garett Bolles already injured.
Bobby is out for this game, but he's going to be fine! Not a serious injury. Thank God.

— Angel B. Massie (@AngelElliott) November 7, 2021
The more serious injury came at the expense of starting guard Graham Glasgow, who required an air cast before being carted off the field. At this point it seems likely he'll be out for the season, or at the very least, an extended period of time.
Can the Broncos pivot and keep Bridgewater clean, when they've already struggled to do so with a fully healthy line?
Denver's special teams
The Broncos are lucky an ugly day from the special teams didn't cost them this one against the Cowboys.
Had you told any member of Broncos Country that — on top of playing a much more talented team in Dallas — they'd also have to survive a missed extra point, field goal, blocked punt, and a 50-yard kickoff return, they probably would have opted to not even turn the game on.
Yet, against all the odds, the Broncos survived.
However, their victory aside, we must acknowledge the damage these special teams' gaffes could have caused, and arguably should have caused.
McManus' misses undeniably cost the team four points, which could have easily flipped the outcome of this game.
The same could be said for the remarkably fluky blocked punt the Broncos also had to deal with following their first possession of the second half. After going three-and-out, Denver was set to punt to Dallas when their punt was blocked, but because it was later touched by a Cowboy past the line of scrimmage, the Broncos were allowed to recover it — ultimately resulting in a first down, as it followed the rules of a muffed punt.
It's a wild circumstance that has potentially never happened in NFL history before and served as a massive swing on the scoreboard.
It's worthing saying again. The Broncos are lucky these mistakes didn't sink them.