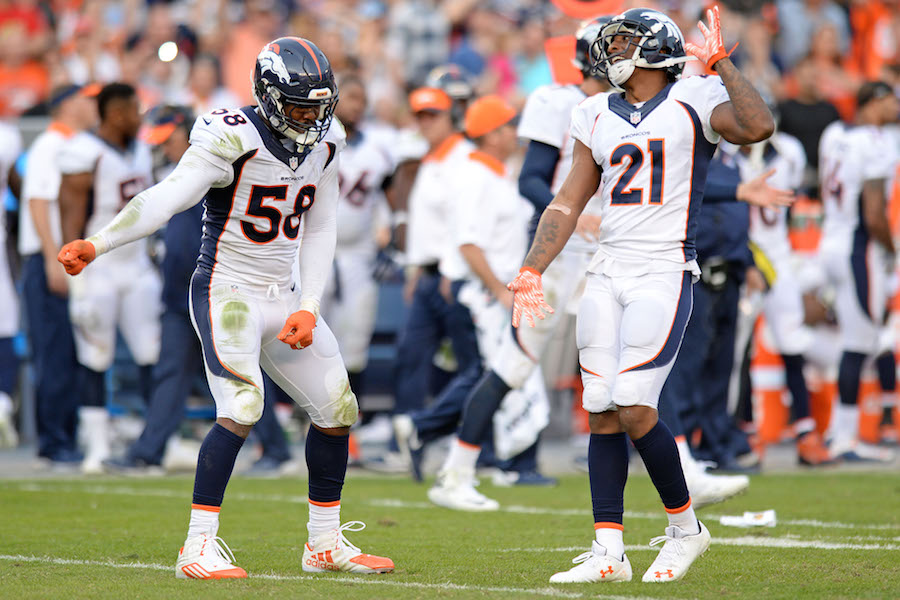 The Broncos have lost three of their last four games and currently sit in second place in the AFC West, trailing only the Kansas City Chiefs. This team, in the early-going at least, has shown what they are capable of — and started the season with impressive wins against the Chargers, Cowboys and Raiders. The last two losses (Giants and Chargers) have Broncos fans frustrated and begging for answers.
While it seems like the season is in a tailspin, this team still has time to turn it around, and it all starts with the 'Monday Night Football' game against the Chiefs. The Broncos look to swing the momentum to their side against their division rival. Look for these key players that could help the Broncos turn things around on Monday night.
Aqib Talib
Aside from making the big interception against the Cowboys to seal the win, Talib has not made much of an impact this season. He has defended just five passes halfway through the season with one interception. Talib has always come to play each and every game, and with the Broncos in this funk, a loud and aggressive Talib can spark this team.
Talib, who has a feel for the dramatic, is the veteran on the defense that the backfield has looked up to the last few years. If Talib can make a big play early in the game, that could set the tone for this explosive defense. If they can create momentum on defense, they can potentially shut this Chiefs passing game down.
Von Miller
Rookie phenom Kareem Hunt has burst opun the NFL scene. The Chiefs' running game is in fine condition. But Von Miller has also made his mark in the NFL by penetrating the offensive lines of opposing teams, and making quarterbacks and running backs second-guess themselves.
Miller has seven sacks and 20 tackles this season and has continued to make opposing offenses uncomfortable. In order to contain this Chiefs' offense, Miller — who rightly consider a pass-rusher first — will have to attack early and make Alex Smith and Hunt change game plans and think on their feet. Like Talib, Miller is another player that could definitely get this Broncos team off and running.
Trevor Siemian
Siemian has made more than a few questionable plays of late, including his fourth-down interception last week. But when Siemian has been on, he can compete against any defense. He has the players to support him, in the likes of Emmanuel Sanders, Demaryius Thomas and C.J. Anderson. Some would have thought his playing time would be in jeopardy after last game, but coach Vance Joseph made it very clear that he is the quarterback they will stick with.
The big question is the offensive line. Siemian has been sacked 22 times this season. But when he's protected and has time in the pocket, he is an accurate quarterback that can make the big play downfield to one of his All-Pro targets. With protection from his line, Siemian will be able to move the ball down field and score often against this Chiefs defense.
The Broncos are looking to move forward after the disappointing losses they have suffered through. If Talib, Miller or Siemian come out firing on all cylinders Monday night, look for the rest of the team to follow.
This is a must-win for Denver, not only for the team, but for the city. Denver is built around football and the fans don't accept anything short of success. Right now, everyone involved is frustrated with the play of this team. With a win against the Chiefs, consider the Broncos a contender for a possible wild card — or even finishing the season on top of the AFC west standings — but they must find some way, some how, to get that win…